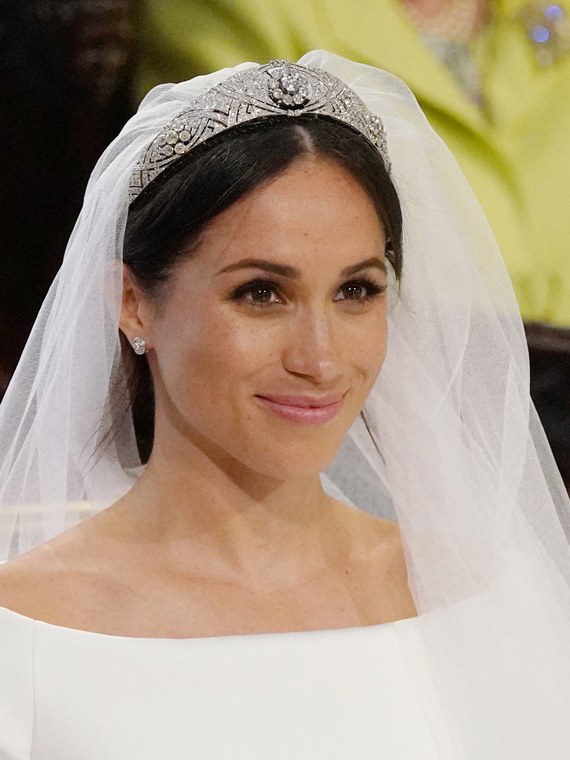 When it came to the Royal Wedding 2018, the biggest question was what Meghan Markle would be wearing — which ended up being Givenchy's new designer Clare Waight Keller. But at Allure, almost as big a question was what Markle would do with her hair and makeup. We had been told she'd be doing her own makeup (however, we now know that it was actually her friend, makeup artist Daniel Martin). Would she stick to business as usual with subtle makeup and pair it with a messy ballerina bun? A smooth blowout perhaps? Totally shake things up with a red lip?
Myself and the other Allure editors had our strongest bets on a messy bun and we were about half correct. Under her veil and tiara (details on that in a second), Markle's hair was secured into what I would describe as a mega bun — created by hairstylist Serge Normant — much more stylized than we're used to seeing on her. Instead of throwing her hair into a ponytail and twisting the tail into a knot, Normant curled the ends and pinned them into a hair "sculpture," the sides of which could be seen peeking out behind her ears as she sat listening to the sermon and choirs.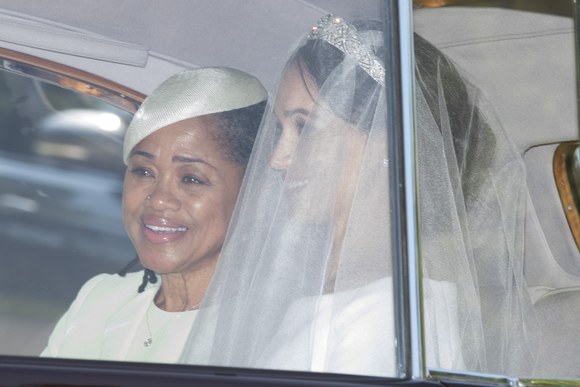 She kept her middle part with face-framing layers left loose (some even left unpinned and hanging over or tucked behind her ears), giving the intricate updo a casual touch — a common feature we're so used to seeing in America, but not so much among British royals. According to People, Normant called it a "messy bun." "Messy in a controlled way — making sure it doesn't become a whole mess after a few hours!" he reportedly said at Kensington Palace in London. I'm sure people will be divided on whether or not it was too messy and easy for a royal wedding, but I personally think the easiness of it was a great way to infuse a bit of modernity into a very traditional event.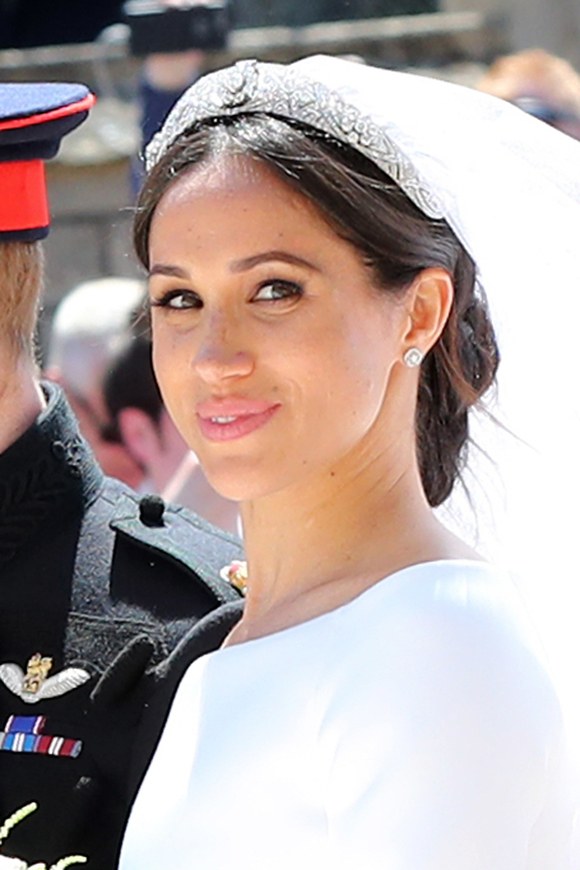 Normant has his own line of hair-care and styling products, so I would bet he had them handy for such an important an event. The French-born hairstylist has worked on many Allure shoots, some of which I've had the pleasure to be on, and I would guess for this look he probably used his Meta Luxe Hairspray and the Allure editor favorite, the Meta Sheer Dry Oil Finishing Spray.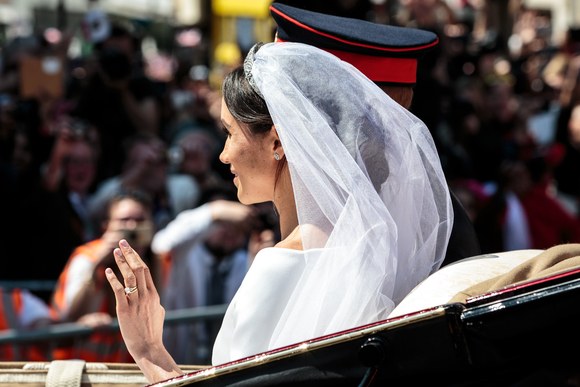 Markle's makeup was a slightly more amped-up version than what we're used to seeing her in. She kept her skin looking fresh, leaving her freckles on display, most likely thanks to her favorite lightweight foundation, Giorgio Armani Luminous Silk. Markle was glowing from the minute she stepped out of her car, so she didn't need much blush — although a hint of peachy-pink color was noticeable on her cheeks. We know she's a fan of Nars Orgasm Blush, a peachy-pink powder with a smattering of gold shimmer, and she definitely could have been wearing it as she walked down the aisle. She probably also used a dab or two of Yves Saint Laurent Beauty Touche Éclat under her eyes, as she once told Allure: "My routine is very simple — I call it the five-minute face. It's just Touche Éclat, curled lashes, mascara, Chap Stick, and a little bit of blush. "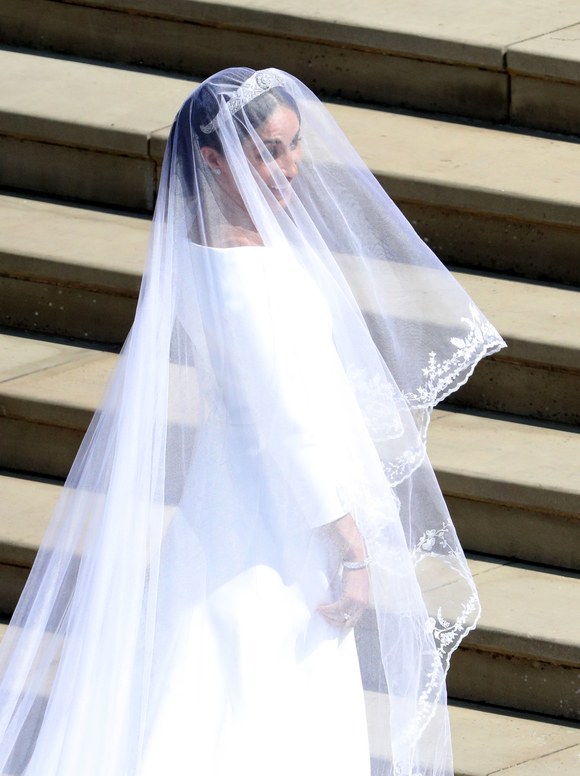 Makeup artist Daniel Martin defined her eyes but didn't overly line them or add a lot of smoke, instead opting to add a layer of taupe shadow on her lids (the shades from the forthcoming Dior Backstage Eye Palette in Warm Neutrals would work well to re-create the look). When Markle blinked, you could see a glint of something, which could quite possibly be her favorite eyeliner, M.A.C. Eye Kohl in Teddy which is a medium-brown eyeliner pencil with a touch of gold that she traced along top and bottom lashes. Her lashes were full and feathery — most likely thanks to false lashes — but also probably some swipes of mascara (her past favorite being Diorshow Iconic mascara) and the fact she's a fan of night-time eyelash treatment. As the camera zoomed in on the now duchess of Sussex, you could see her bottom lashes were coated with mascara as well.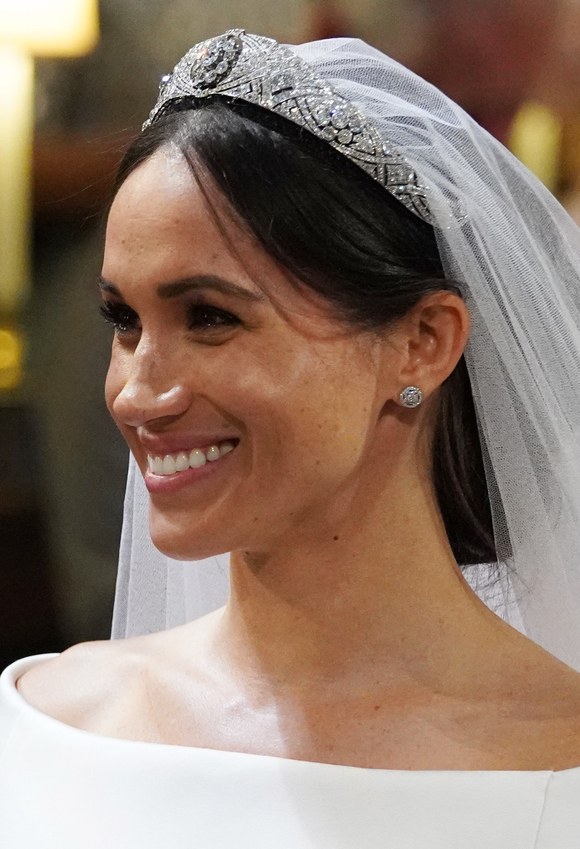 Her lips were a soft shade of pink, with a hint of sheen that looked more like a balm than a gloss. It looks a lot like the new Jane Iredale LipDrink Lip Balm (wonder if the brand sent her a set this week?) or a product like Dior Addict Lip Glow, which gives lips just a tint of pink and a healthy shine.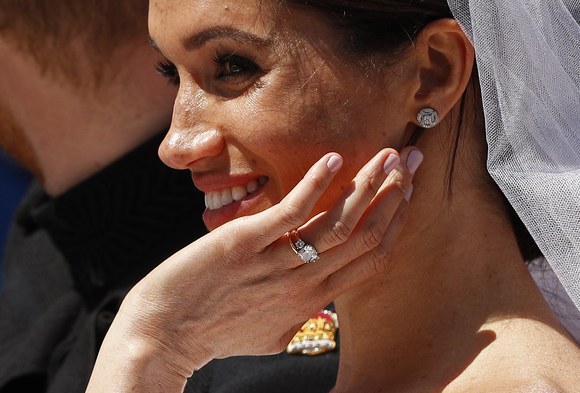 Markle kept her nails short and natural. I would bet my money on it being Essie Mademoiselle, but I'm biased (it's one of my favorite sheer nail polishes). It wouldn't be too far off though, Kate Middleton wore Essie polishes for her wedding and Queen Elizabeth is a fan of the brand.
HEIR & MEG-UP
We recreate Meghan Markle's wedding day hair and make-up following her stylist's revelation it took just 45 minutes
Stylist Serge Normant revealed people could recreate Meghan's wedding locks at home – and the make-up's not tricky either
By Lynsey Clarke
MEGHAN'S wedding locks might have taken only 45 minutes to create but the 'do elevated her to the title of Her Royal Hairness in our book.

Stylist Serge Normant has revealed he mastered it using plain old hairgrips and a bit of mousse and said: "People could recreate it at home."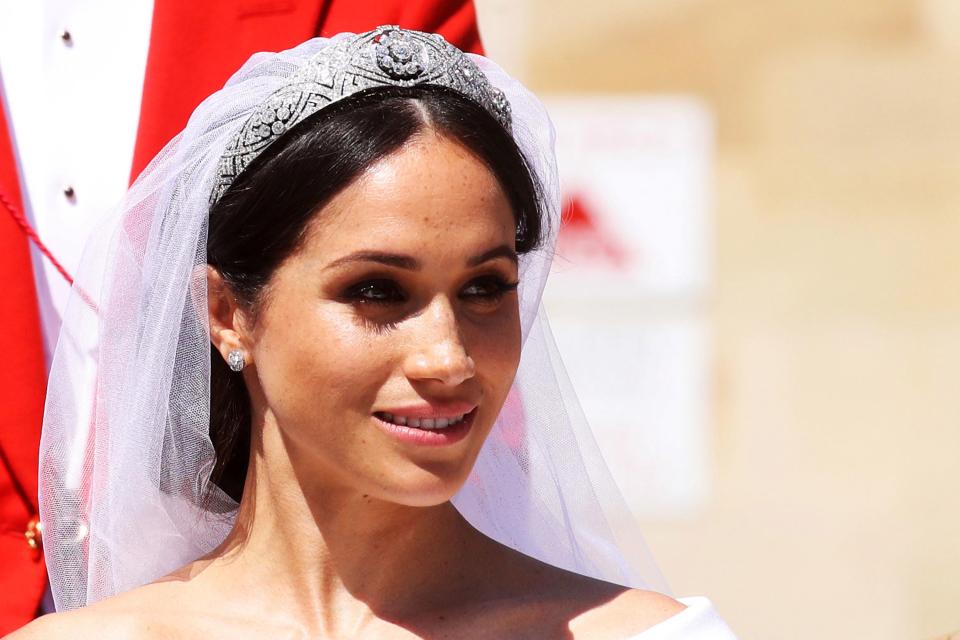 He's right – and the make-up's not too tricky either, as Lynsey Clarke explains.
HAIR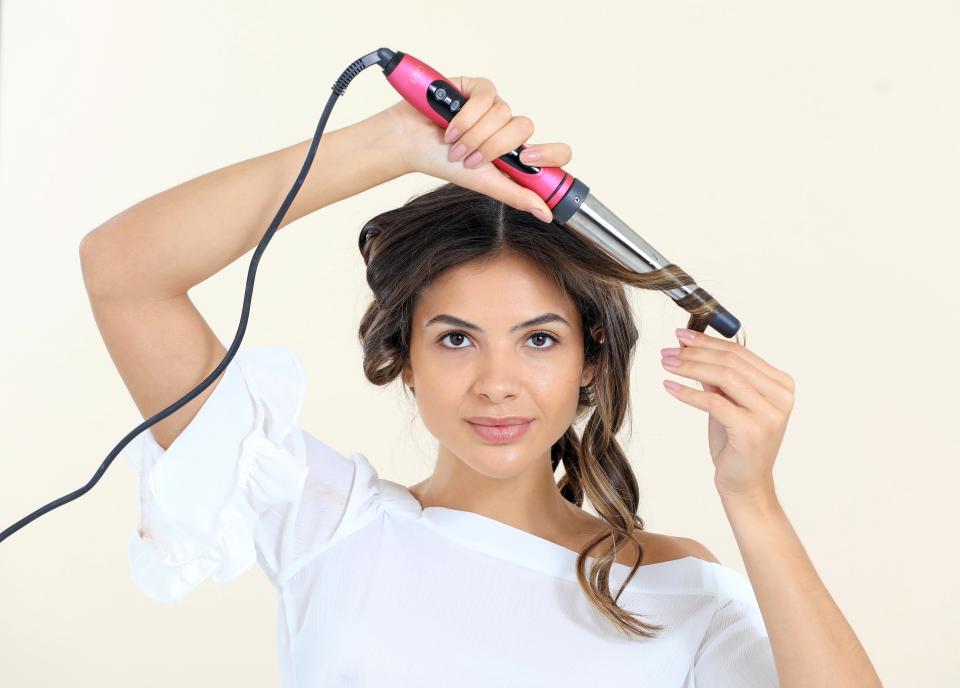 USE L'Oreal Elnett mousse (£5.99) and then blow dry hair using a round bristle brush.
Part your hair in the centre, tousle with tongs to create texture and backcomb for height.
Finally, sweep hair round from one side across to the opposite shoulder, and pin.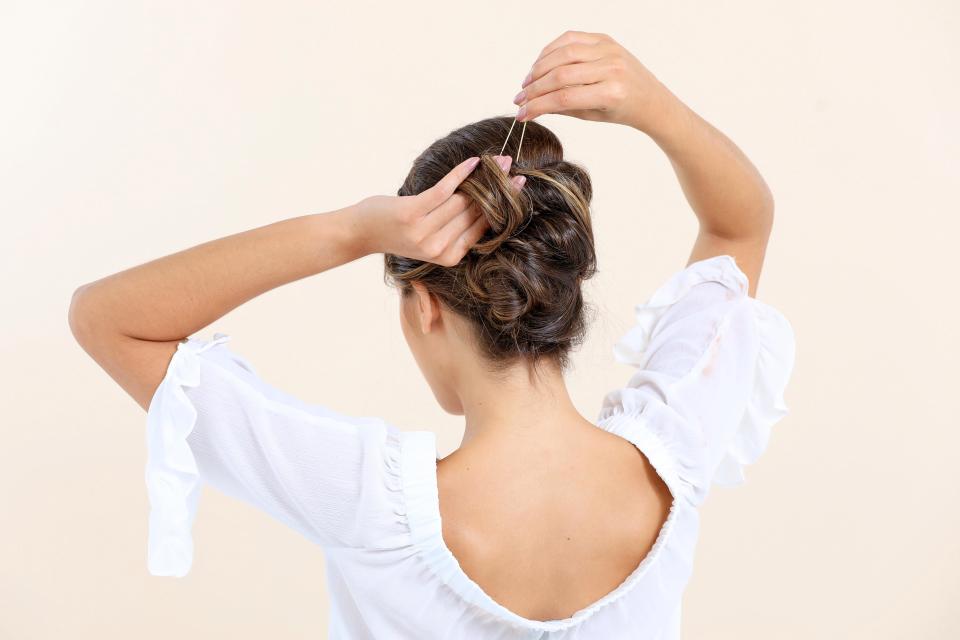 TAKE the remainder of your hair from the other side and divide it all up into three sections.
Twist the section closest to the nape of the neck upwards around two fingers, and then pin. Repeat with other sections.
The more sections that you have, the messier the look you will get.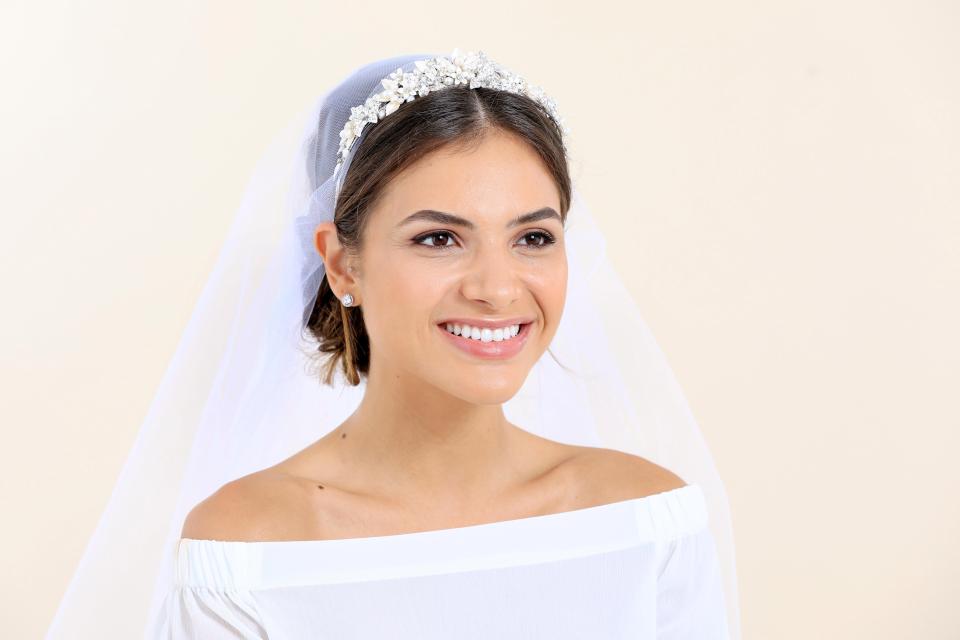 LEAVE the ends of the bun loose so that it is in a more relaxed style and then you can mess it up using your fingers.
Pull out strands around your ears and hairline.
Set the style using L'Oreal Elnett Flexible Hold hairspray (£2.59).
Veil supplied by MacCulloch & Wallis Ltd
MAKE-UP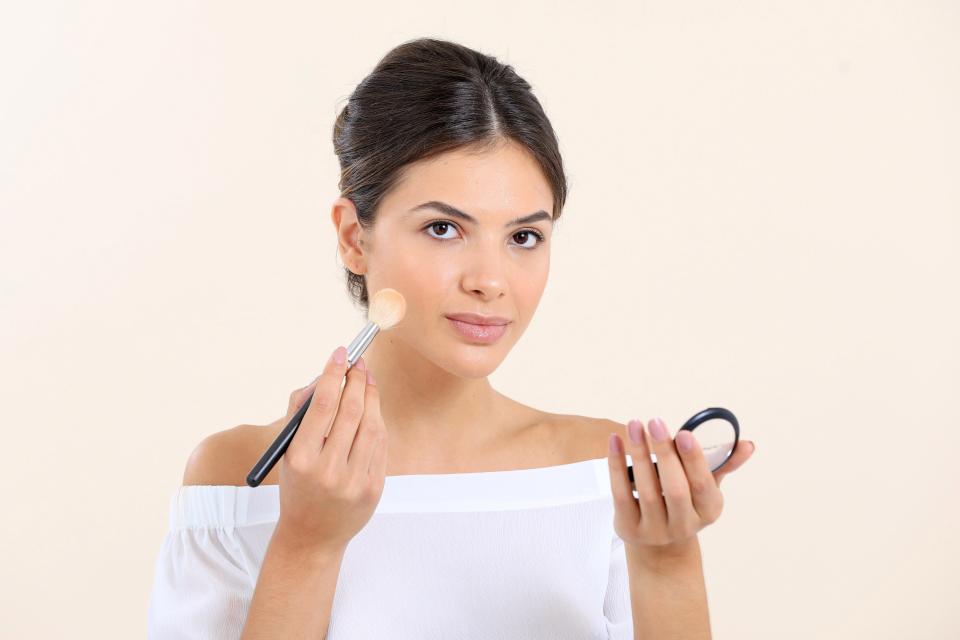 HERE'S a great technique for making sure you get your complexion looking perfect. Mix highlighter (Elf Liquid Highlighter, £5) into foundation for a dewy look and then blend a small amount on cheekbones, down the bridge of your nose and on the Cupid's bow of the lip.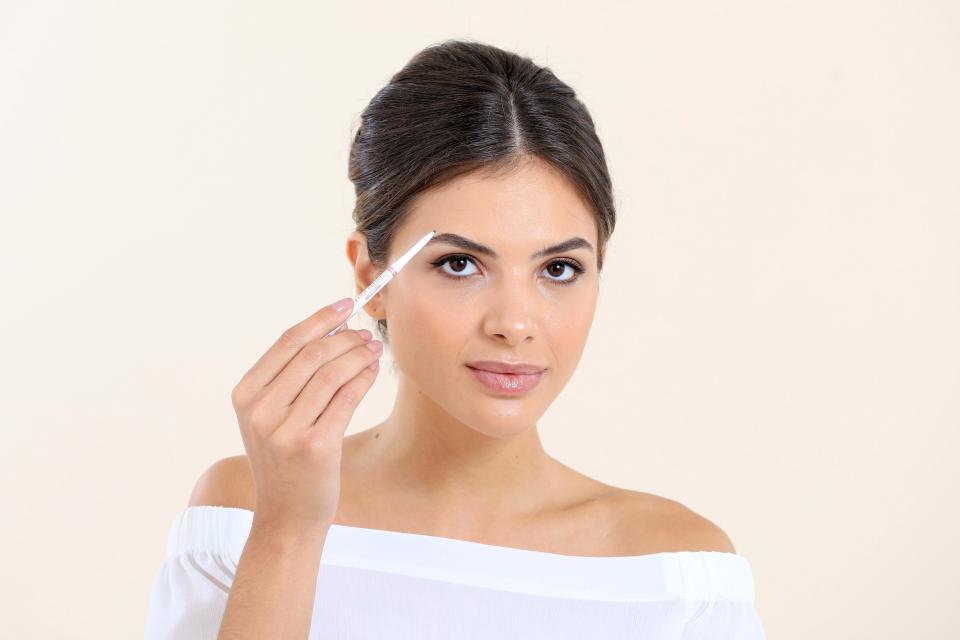 APPLY bronze shadow over the lid and under the eye. Apply darker shadow to the outer corner and socket. Blend using a peachy shade, use gel eyeliner for the flick, apply waterproof mascara.
For the brows, fill with a pencil, brush with a spoolie to soften edges and use a clear gel to fix.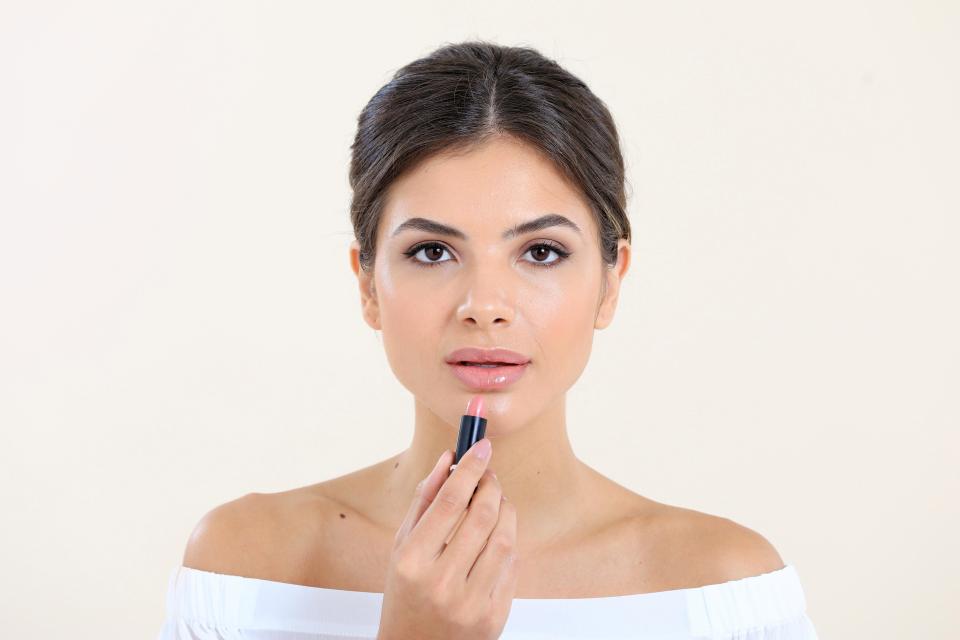 LET's get to work on those lips. You need top prep them with balm and apply (Mac Subculture lip liner, £14) all over. Then apply one coat of a peachy lipstick (we recommend Topshop Lips in Mind Your Manners lipstick, £8), blot, and reapply. Finish off with a clear gloss.
TRY ROYAL BRIDE'S EVENING LOOK TOO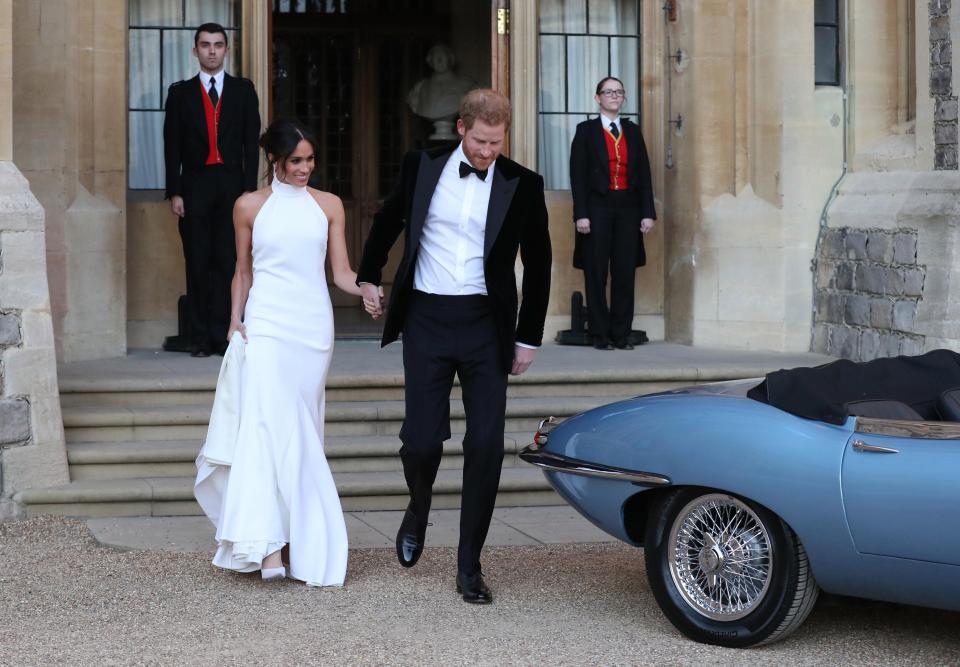 HAIR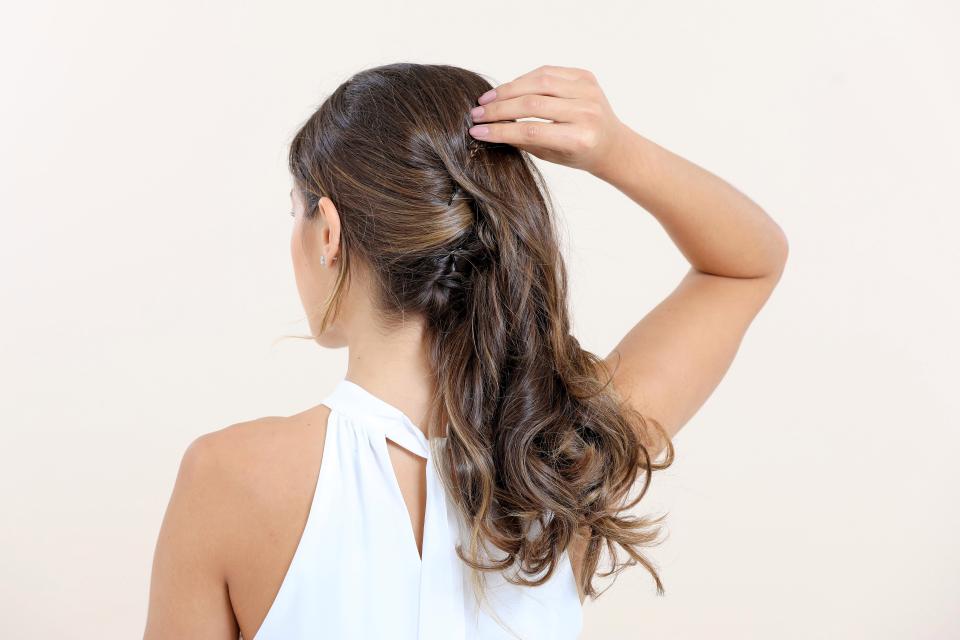 FLATTEN backcombed hair, leave the grips in from the side of the earlier 'do but take out twists. Make smaller sections and twist them tighter and higher. Pin.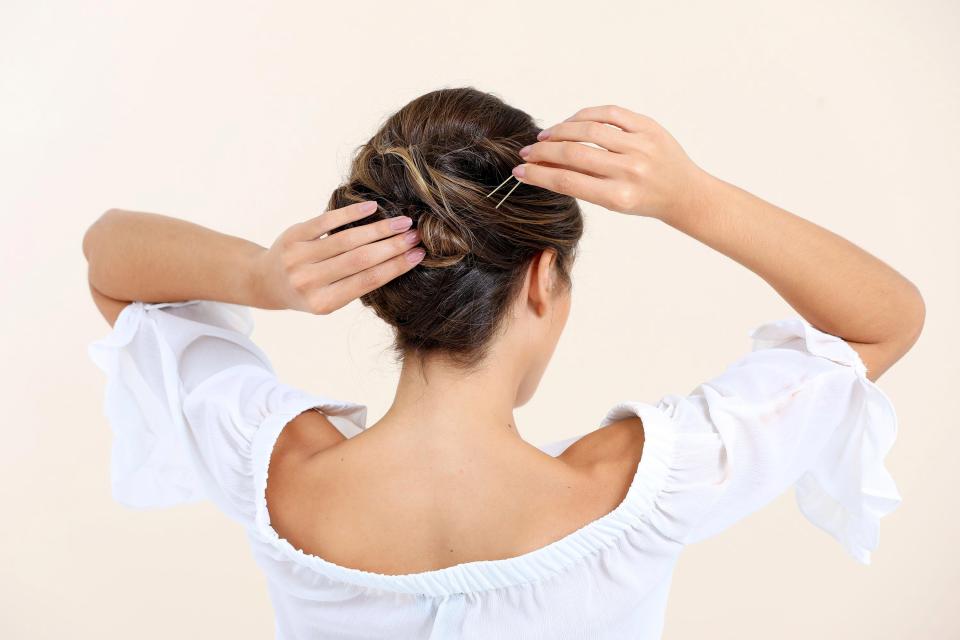 Pull out more hair from the front and wave using tongs. Leave some strands loose at the back for Meghan's carefree Californian vibe.
MAKE-UP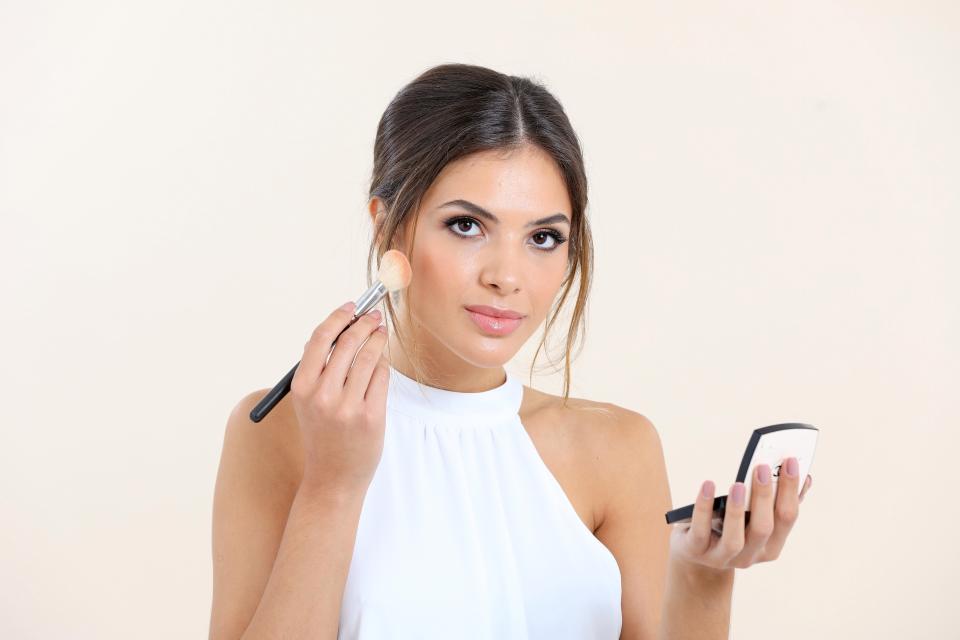 CONTOUR by swiping bronzer into hollow of cheeks and use a pink blush on cheekbones.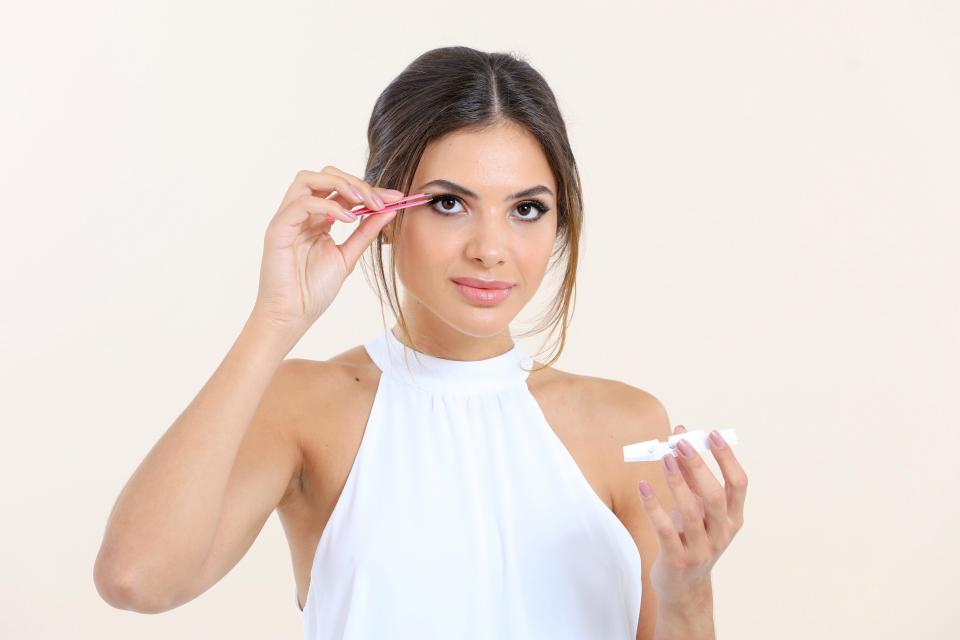 Add individual lashes (Eylure individual combination false lashes, $5.99), slightly more of the darker shade shadow and a brighter lippy (MAC Nippon, £17.50). With individual lashes, you can have sexy flutter in less than few minutes.  They are great to customize any makeup look. Like strip eyelashes, you can sleep with fake eyelashes on if needed but best to remove nightly before sleep.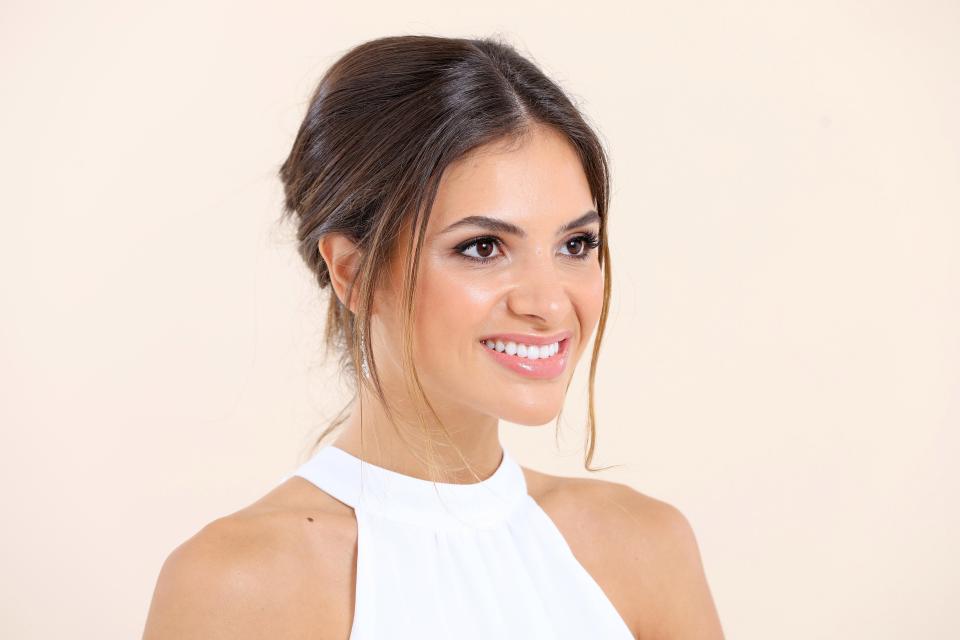 Read More
Related Article:
Four women tried magnetic false eyelashes for the first time, here's what happened…
The results were… interesting.
Will you try magnetic eyelashes?
Read More: