Check out the following lash looks…
For the natural look…
These lashes look natural but also add a bit more density and length. The name is correct as they do look very natural. They are pre glued , so you dont have to worry about dealing with glue. Just apply them straight to lashes.
Eylure Naturals 031 Pre Glued Lashes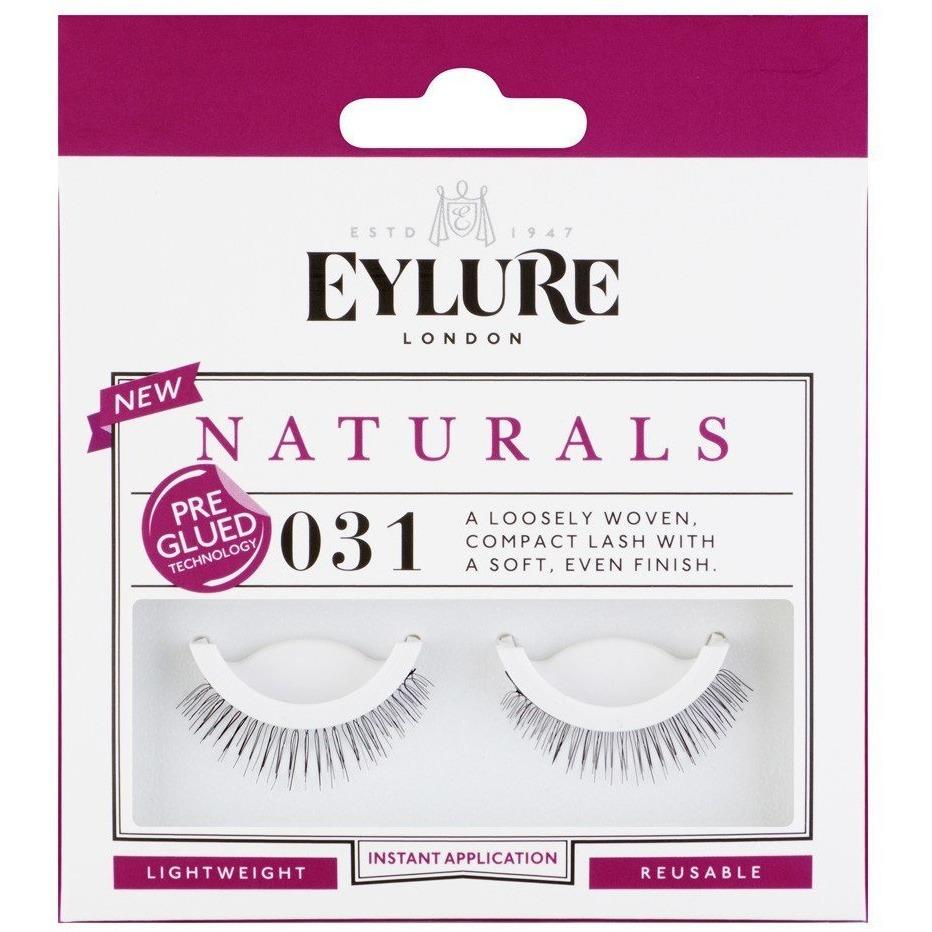 If you are seeking a more natural look (that will even trick people into thinking they're your own lashes), try the Naturalites from Eylure. These natural look lashes will mimic your lash line and add just the right amount of definition for you.

Eylure Lashes Naturalites Strip No. 20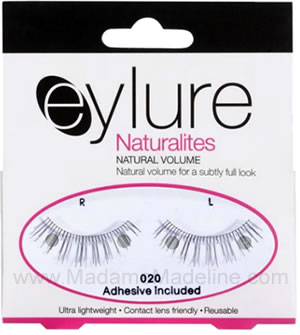 For the doe-eyed look…



With Ardell Professional you can find many different looks and styles of false lashes from super dramatic, wispy, long and naturals style. Make sure you let the glue get tacky before applying the lashes so you can avoid a messy problem. Once its tacky enough place them on the lash line. By allowing the glue to get tacky, you will get a sticky and not slippy application.
These go perfectly with a strong winged liquid eyeliner.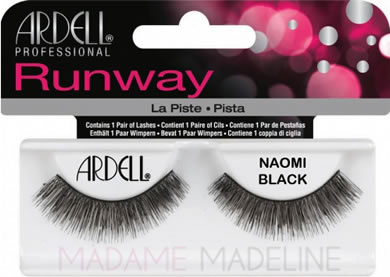 For a flared edge…



These lashes are what extensions are for hair except these are for lashes. You place these at the outer corners to help your natural outer lashes as those sometimes seem to thin out. This happens when you tend to sleep on your side a lot or constantly rubbing your eyes. If you are a newbie then these are perfect for you as well as placement isn't so difficult.
Modelrock Lashes Kit Ready #318
For the full and flirty look…



These lashes are perfect if you desire a full thick set of wispy lashes that still look natural. These look natural by them having natural criss-crossed bundles layered in between the lashes to give a full and natural look.

ModelRock CANDID CANDICE False Lashes


If you are going for a dramatic exaggerated look, Eylure Exaggerated Lashes No140 is the product for you. These will create a sleek, full-lash look and put emphasis on the outer edge of the lash.


Eylure Exaggerate Lashes No140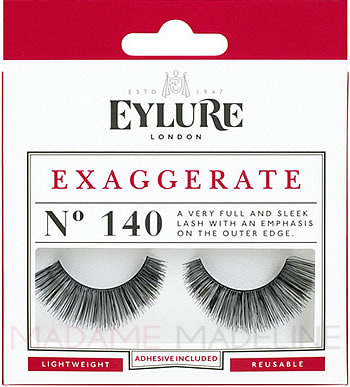 For a customisable look…



Don't make the mistake and take these lashes as nonsense. Just know that these lashes can easily get you a natural looking thickness. You decide where you want to place them for a bit of extra coverage. Just take a pair of tweezers, grab a lash and dip the base into your lash glue. When the glue is tacky, pop the lash into any spaces to fill and thicken up lashes very naturally. These double individuals have 60% more lash strands as the regular individual lashes for more dramatically intense eyes. Get double the volume in half the time!
Ardell Duralash Knot-Free Double Individual Lashes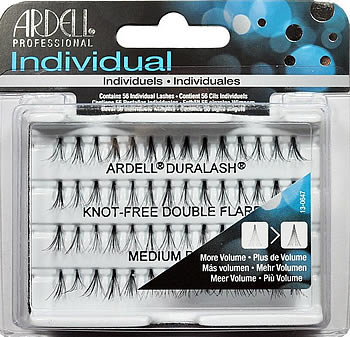 For glamorous night out look…

Planning for a gorgeously glamorous night out? MODELROCK LASHES Kit Ready #DW – Style 4 would be the perfect lash purchase for you. Are you ready to feel like a golden glamour queen? These criss-crossed patterned style lashes provide added volume to glam up for eyes perfect for your next weekday or weekday night out.
MODELROCK LASHES Kit Ready #DW – Style 4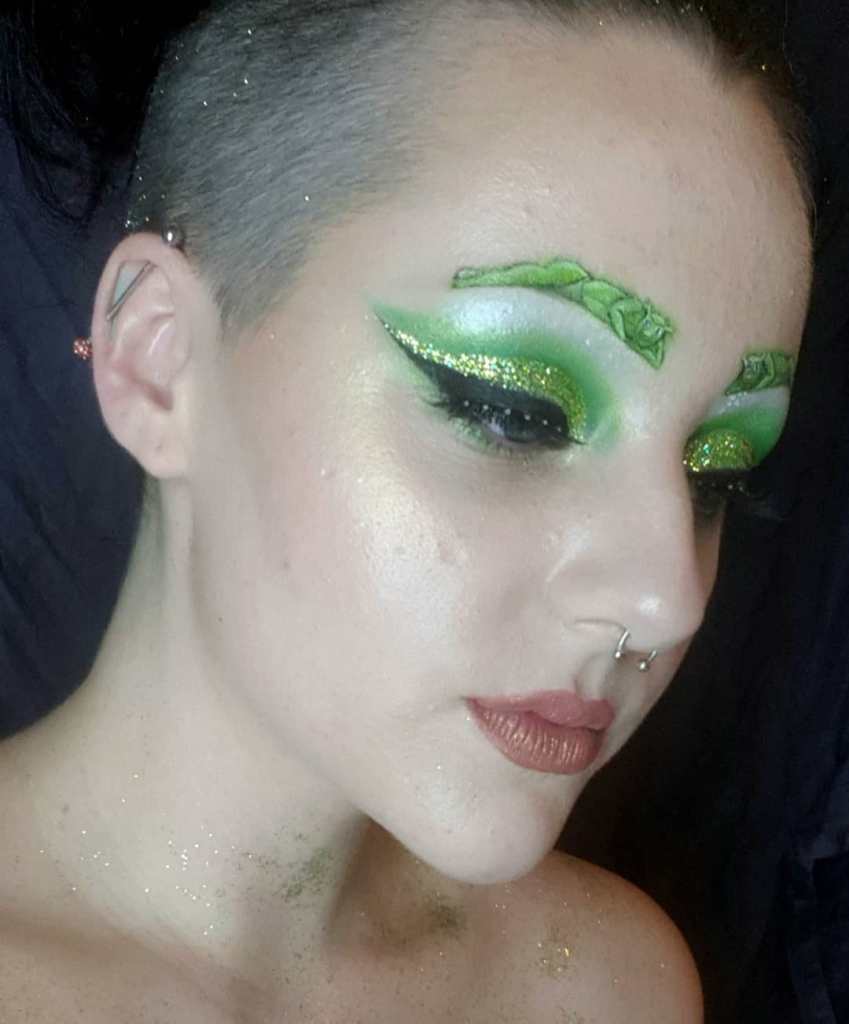 Another fun eyebrow trend is in town; it's called the Shrek Eyebrows. Created by Sydney-based makeup artist Audrey Addams in an attempt to outdo her own Shrek-inspired looks, this one is all about green glamor! At first glance you might think that the eyebrows are just green with no particular detailing except for, perhaps vines.
Until you take a closer look and realize that's two Shreks reclining along said artist's eyebrow lines! Why did the 21-year-old choose Shrek? We all know that; because he's awesome. In an interview with Teen Vogue, Audrey explained, "Shrek has been a running joke in my group of friends for a few years now, and I do really love both the movies and the memes. It's gotten to the point where even my birthday party was Shrek themed and we all went to see Shrek the Musical together."
More Shrek brows ur all welcome xoxo pic.twitter.com/t2UyRklfXA

— Audrey Addams (@audreyaddamss) April 9, 2018
Currently, her tweet showing off her cutesy Shrek-inspired eyebrows has almost 9000 retweets and about 30,000 likes. She gave Instagram a good glimpse of this look as well, captioning her post, "Only shooting stars break the mold I'm literally never going to stop drawing Shrek on my face and ur all welcome xoxo."
Here's how she achieved the look: Audrey used NYX Jumbo Eye Pencil in Milk to draw the outline of the two reposing Shreks. Then she used Ben Nye Cream Paints in three colors; green, white, and black and filled in the brows with an eyebrow brush. She then used Sugarpill Pressed Eyeshadows to set the brows. Then she added the final touches with a pencil eyeliner.
But because that wasn't enough glam itself she added glittery green eyeshadow (because one just cannot compromise on the sparkle factor.) Plus, she pasted on fake eyelashes to complete the look. These Shrek eyebrows can serve as a perfect way to express your love for the ogre this year, so you better keep your notes safe!