Let's get ready to rummmmmmmmble!
In the world of beauty Anastasia Beverelly Hills is very well known and to some it is known as the queen or brows. One of their very well known and legendary products is their Brow Pomade. But being legendary comes at a bit higher pice and usually hard to find. Now Ardell is nomally known for lashes but also in brows. Recently they have come out with an answer to Anastasia's Brow Pomade with their own brow pomade. Let's put them to the test and see who the winner is?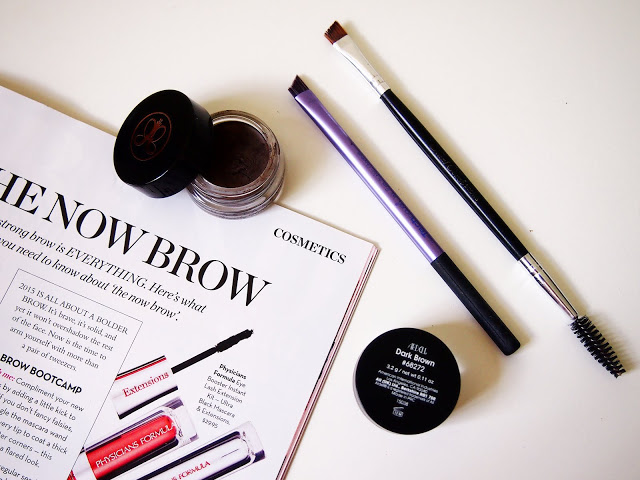 Anastasia Beverly Hills Dipbrow Pomade in Dark Brown
PROS
Good range of colours
Awesome for bold brows
No need for brow gel
More product, 4.0g
CONS 
Expensive
Thicker consistency, harder to use
Dries out easily
Ardell Brow Pomade in Dark Brown
PROS
Affordable
Thinner consistency, easier to use/blend
Easy to find
CONS 
Limited range of colours
Less product, 3.2g
And the winner is…..
ARDELL BROW POMADE!
Anastasia BH's bow poduct is fantastic, but honestly the Ardell bow pomade works much better in suiting my needs. It is a whole lot eaiser to use. Now if you run into trouble finding a certain color that helps you achieve a more bolder look then ABH might be a better choice for you, but for the test Ardell is definitely the winner 🙂
So which one do ou prefer?
Article credit: danithegirlxo follow her fb => @danithegirlxo

Checkout "NEW Ardell Brow Pomade- First Impression, Demo & Review: Is it a NO or a GO?? Review by youtuber MissbeTruly. Follow her =>@MissbeTruly
Hi guys I'm back, and today I'm going to be doing another series of my is it a no or a go first impression demo and review and its gonna be on a drugstore product and not only that it is a brow product ! I'm super excited just because I feel like there's not enough brow products in the drug store anyways. Enough rambling I'm gonna show you what product it is and it is this tadaa! It's the Ardell brow pomade. I got mine in medium brown so it looks like this and lets read what it claims to do.
So it says sculpt fill in and set brows in place all day with just one product.  Ardell's brow pomade combines the work of a pencil powder and gel into one easy to use pomade, this formula is light highly pigmented glides on smooth and blends effortlessly. A little goes a long way and lasts all day, so it comes like this in a plastic jar plastic lid and it looks like that.  Again it has 3.2 grams, It also comes with a brush an angled brush like that, and an spooly on the other side.  Ok honestly I'm super excited to see if this works so let's just go ahead and jump to the demo.
Ok so I'm going to use the spooly to brush it up, and Im going to dip it in the product just a little bit like that and then sorry if I sound stuffy I have like a cold but and then I'm going to just kind of uh go like that on the lid, and I'm just gonna start filling in my brows. K so it's starting to dry up now I don't know if you can tell but the hairs are starting to like not budge it's kinda like making my eyebrow hair stiff ok so I"m just gonna clean up with concealer and do my other brow and I'll be right back ok so this is how it looks with both brows done like that and ill zoom you out real quick ok so this is how it looks from far away.
Um I don't know if they are coming off too harsh but in person they look alright. I feel like if you use a lot of pressure it can look very caterpillarish  if you know what I mean.  Very intense but again that happens with a lot of brow pomades anyways . So you just have to be very light handed with your hands. Another thing I notice is that it sets right away so you do have to work pretty fast and after it sets your brows do feel a little stiff and I don't know how it looks in daylight.
So I'll check it out because I am going out to grab a package.  So far aside from the fact that it's a little stiff.  I'm actually liking it I feel like it's quite easy to use when you apply it  applies very smooth. Alright now it's around like 9 I believe, I'll go grab my phone I'll be right back.  It is actually 10 o clock sorry I thought it was 9, and yea so Im gonna run out do some errands and I'll be right back.
Ok so I'm back and it is now 3:49.  I did redo my face makeup, thank god just because I looked horrible this morning and yea anyways.  Just because I went and dropped off my girlfriend off at the airport and we literally like balled our eyes out.  If you're watching Amber hi I miss you already.  Anyways so yea to redo my face makeup but I think that works because now I feel a little bit more like presentable for you. Anyways enough with that lets talk about the brows.
I have not touched up the brow or like touched it at all since I put it on and it's been a few hours now  and I noticed while I was wearing them they felt very very light weight. I forgot I was wearing like a pomade. Sometimes when you use a pomade it's very thick and you can feel it on your brows. I also asked my friend if like it was cakey or if it looked unnatural and she actually said no your brows actually look on point today. So I really liked that and when it says that it sets it I feel like it definitely does cuz I don't know I just feel like you know when you apply a brow gel it kinda like stays in place with this pomade.
I feel like you don't need to have an eyebrow gel.  It's really weird,  I did not think that it would do that but like I mentioned during the demo I felt like it was getting hard, but what it actually was doing was setting my brows in place if that makes sense. Also it's been really hot outside so I was sweating a bit and they have not budged, but I am gonna do like a smudge proof test. I don't know what I'm gonna insert it also. I will be heading to the gym in a few minutes so that will test it out too cuz I really wanna get a sweat on today but yea I'm gonna go and get ready head to the gym and then I'll check back in just a bit so again it is 3:51.
Ok so I'm back its the next day it is now 7:55 in the evening.  I am wearing the brows again today or at least the pomade today, but yea last night my baby ended up falling asleep super early and my filming room is right by her room so I can't really talk super loud but I did try and like film this part. I  don't know if it's gonna be on this side or in this side but I did film this part right here just to test out the brows after I went to the gym. So as you can tell I was super sweaty here and I tried to see if it would smudge and it did smudge, also I did test it out today again um I put some on my hand ill put the clip in right and now. So yea I let it set for a little bit I feel like I should have let it set a bit longer.  But yea anyways I tried to smudge it on my hand and it smudged as well but now I'm back to give you my final thoughts  on the Ardell brow pomade.
So applying  it today I did notice that if you dip your brush into the pomade and straight into your brows it's a lot more pigmented of course, but also you can move the product a lot better compared to like what I showed you in the demo and like I'm swiping it on the lid it's  kind of  like  just moves the product around.  So when you apply it you don't get as much and it's not as pigmented.  Also I did get a chance to use the brush in the demo I actually used my Mac 208 brush I forgot to mention.  Just because I'm so used to this and I just wanted to actually test out the product itself but today I used the brush that came with it and my brows look like this. I actually think it did a pretty good job I did at the beginning pick up the product and then do that lid thing just to get the brush more precise, but now let's go through each claim and then I will answer this Ardell brow pomade if it's a no or a go.
So at the front of the packaging here it says that it sculpts fills in and sets the brows and I do agree that it does sculpt the brows it does a great job filling it in and it sets the brows.  I think that's the one thing I really really like about this product it's that you don't need a brow gel on top just because after it dries up your brows are like locked in place and I think that's great just because you don't have to use two products. Is it creamy easy to blend formula ? It is definitely creamy you do have to kind of work with it but I feel like it's so creamy and pigmented that it's kind of like fool proof like,  I think it's a great pomade to use for beginners just because you can see the product and its very creamy and blendable so you won't have a hard time just like filling in certain areas.  You can just move the product around if that makes sense. Is it smudge resistant?  I don't think that it is smudge resistant just because we tested out on my hand and also the clip I showed you with me rubbing it on my brows I do think though that it will stay in place for quite a long time because it sets on the hair that you actually have to really rub it a lot to kind of  like smudge it out. So I think you'll be ok like wearing it throughout the day as long as you're not like a festival and you're like dancing and moving around.
I think it might smudge a bit there but I think if your just gonna wear it through summer days like going in and out of places, running errands,  I think the product would last quite a long time throughout the day. Also in the beginning of this video I also mentioned some claims such as this product being light weight. I do feel like it's very light weight even if it sets the brows it doesn't feel hard or sticky and it doesn't clump up or anything so it doesn't look unnatural in daylight. It actually looked pretty natural as natural as a pomade can be as long as you are very light handed with it.  I think you can definitely achieve a natural affect with that so again it is light as well and looks natural in daylight.
Does a little bit of this product go a long way?  I'd have to say yes you can get a lot of use especially with 3.2 grams just because it's so pigmented and smooth and easy to blend that you only have to use the tiniest bit.  The one thing that I  didn't quite like about the pomade is that it sets very fast so you do have to work with the product quite a bit faster than other pomades. so that's just one thing  I wanna let you know, but if you were to ask me if this Ardell brow pomade if it's a no or a go?  I think the answer is pretty obvious for this one, and it is a go.
I really really like it I feel like it's so easy to use especially if your new to the pomade world. I definitely recommend this and I don't know if I mentioned it in the beginning of the video this was like $7 at Sally's beauty supply.

That's where I got it and the one I've been using by Anastasia Beverly Hills the brow pomade.  That one is like $24 $20 something I believe, and it's like a fraction of the price. I still love my Anastasia one don't get me wrong,  but I feel like if you just wanna try pomade out and your just learning I think this is a great product to have.  This is like a great starter kit to trial and learn and like experiment because its super easy to use.  I really really lovin it! I was surprised I also really like the brush, I did not expect that either it's pretty precise and the great thing about the brush is that it works well with the product.
So yea that's pretty much it for this video.  Thank you again for always supporting and watching. I appreciate you so much, also if you have any video request please comment down below just because I'm always looking for different ideas on what videos to do.  Anyways I'll stop rambling, thank you again for watching.  I love you and I'll see you again soon.  Have a great day or night wherever you are, bye <3