How to wear false eyelashes: Step-by-step guide to apply falsies perfectly to glam up your eyes!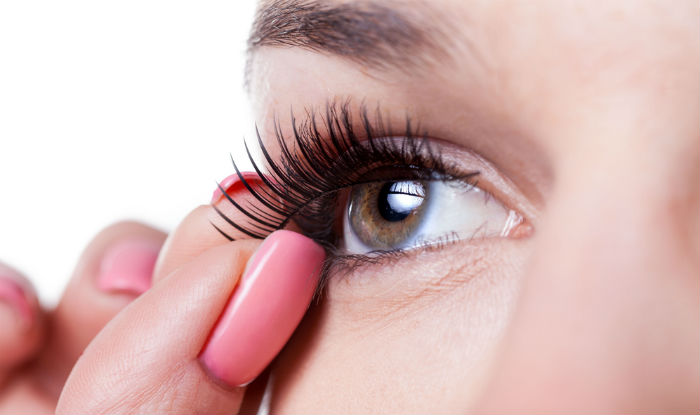 Follow this simple step by step guide for easy eyelash application. Putting on and removing false eyelashes has never been so easy. Just follow the eight-step makeup tutorial below for perfect false lashes for all occasions each time.
Making your eyes pop and stand out is as easy just putting on a dash of mascara. Another popular and effective way is to reach for a pair of false eyelashes for added drama. If wearing falsies has crossed your mind but thought it might be a difficult task to do then we are here to help you with the application of falsies with a step by step guide. With this you will not have to worry about putting the, on the wrong way.
The first thing you want to do is to make your lashes look as natural as possible.  Trimming down your falsies so they blend in a bit more seamlessly with your natural lashes is vital. You don't want your lashes looking fake. Measure them by placing them on your eyelid above the lash line and trim the false lash where it is too long. This will give you a more natural look.
Use an eye primer over your eyelids. Define your eyes using some kohl and then proceed with the application of eyeshadow. You need to get your basic eye makeup done (except mascara and eyeliner) before applying the fake lashes.
Use a small brush or an applicator to take adhesive out and also apply it to the outer seam of the falsie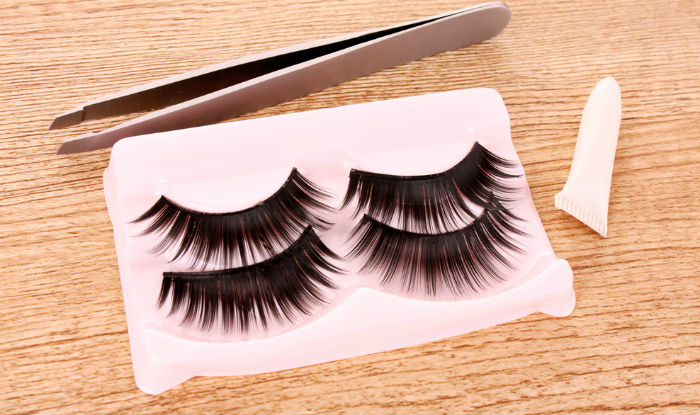 Standing in front of a mirror put the false eyelash strip on your eyelid in a way that is close to your natural lash line. Make sure to place it as close as you can to your lash line, beginning from the outer corner of your eyes. Try to make sure you do not place the inner corner part of the falsie too close to the tear duct so you do not make your eyes look too narrow.
Give the adhesive time to dry naturally. If in case you end up getting glue in your eyes, make sure to rinse it out asap with warm water. Or you can also give self adhesive falsies a try as well.
Mascara can really help in having you false lashes blend in with your natural lashes. Carefully apply the mascara to fill your real lashes to achieve a more natural look.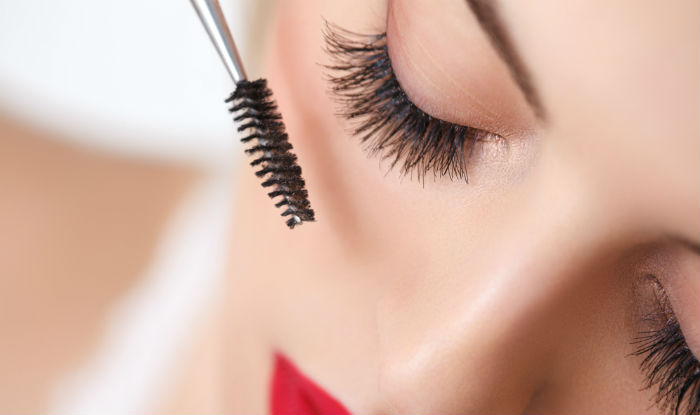 Filling the gap between your falsies and natural lashes can be done easily with liquid eyeliner. When you apply liquid eye liner your real lashes get filled for a more natural look.
Removing you false lashes is not a difficult task. Simply use makeup remover to clean off the lash adhesive. Make sure to clean your falsies really good and properly store them for reuse.
Pro Tricks: Do's & Don't of False Lashes

Pro Trick To Make Your False Lashes Last Longer than Ever!
Be it the drugstore version or the high-end one, making sure your false lashes last more than one night is every beauty lover's achievement.
Depending on what you're going for, you can find a perfectly good set of false eyelashes for daily wear at great deal at your local drugstore, or shell out for more for professional designed Studio Effects Lashes for special occasions your favorite reality TV star swears by. The decision to save or to splurge is up to you, but if you choose the higher-priced road, you can still get the most bang for your buck. It's all in how you care for the lashes after each wear.
In the video, the dried glue is carefully removed from the false lashes with a tweezer. Next, lightly presses each strip between two make-up remover-soaked cotton pads (any water based makeup remover solution will work) for 30 seconds. Tthen removes any additional mascara and residue with a cotton swab and places the lashes back in their original packaging.
'If you attach them firmly to the band and press them down this will help curl them,' the vlogger comments.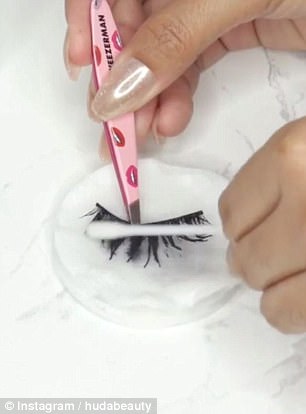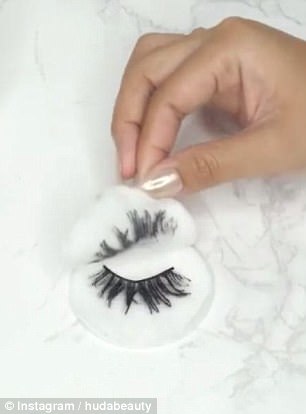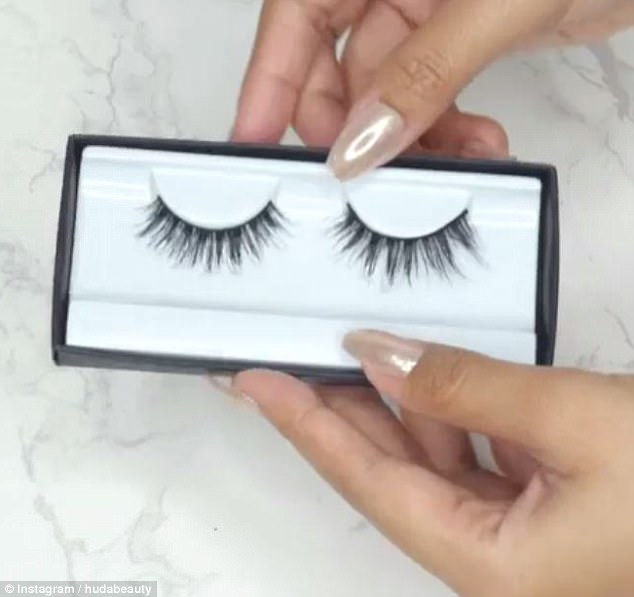 "I completely believe spending money on quality lashes is worth it and really cost-effective in the long run," Kattan (vlogger) wrote on her website. "But they're only cost-effective if you know how to take care of them properly." And that's where this step-by-step video of the thorough but gentle method she uses to keep her lashes looking as good as new for up to 20 wears.
The best part? Everything you need is probably already in your bathroom cabinet — except, of course, for patience. You're going to need plenty of that.