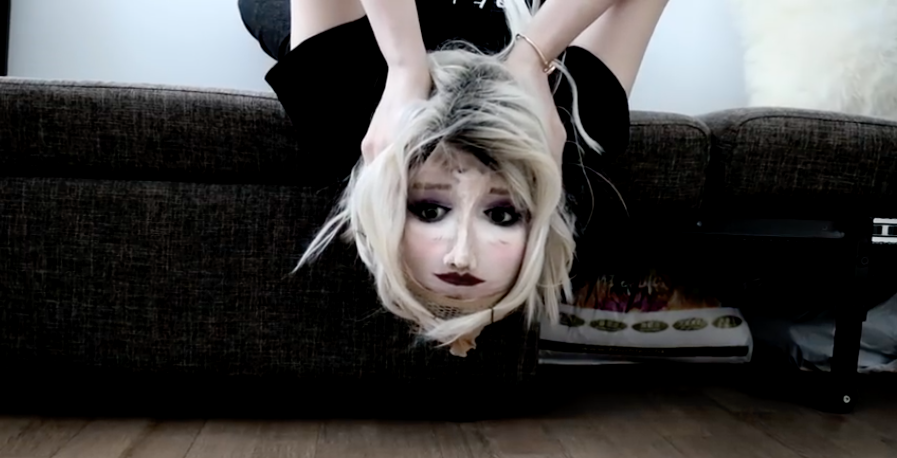 Every Halloween it seems that many YouTube bloggers come out and try to outdo each other with very creative and crazy Halloween make-up tutorials.
Seems that for this year there is already some one way up front from everyone else to inspire your Halloween night aesthetic. You wont even need a costume.
YouTube vlogger Taylor R shared her tutorial on the platform on how to achieve a very impressive "upside down reverse make-up" look:
Products used:
Glue stick
Kryolan Translucent Powder
Kryolan TV Paint Stick
Anastasia Beverly Hills- Brow Wiz (Taupe)
Benefit Brow Volumizing Fiber Gel (#1)
Ben Nye- Clown White
Morphe Eyeshadow Palette
Jill Stuart Gel Eyeshadow (Diamond Snow)
Kate Liquid Eyeliner (Black)
Kylie Cosmetics Eye Pencil (Black)
Makeup Forever Eyeliner (Beige)
Majolica Majorca Lash Expander Edge Meister (Black)
Kryolan Nose & Scar Wax
Kryolan Spirit Gum
Kylie Cosmetics LipKit- Rosie

To achieve the Halloween-ready look, Taylor began by masking her eyebrows in glue and powder in order to hide them.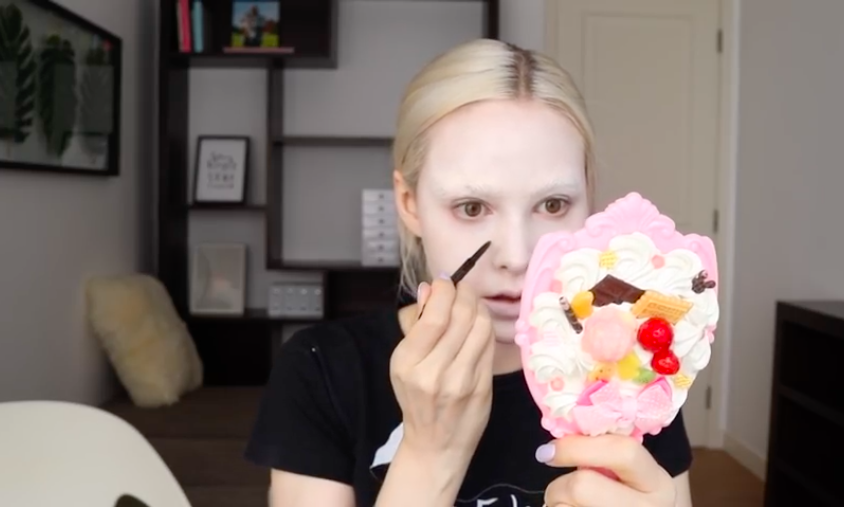 Then, she began to apply her make-up upside down by drawing faux brows beneath her eyes and applying fake lashes.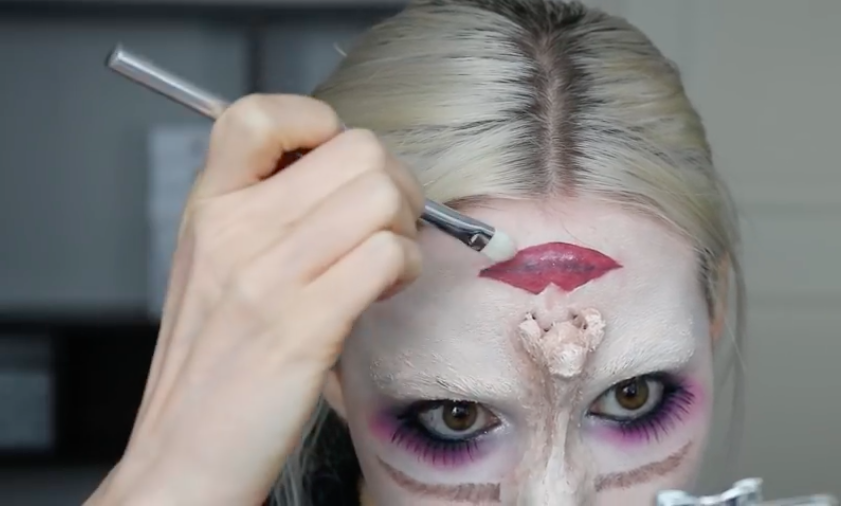 The Canadian blogger drew fake lips and also added a prosthetic nose which is something you will definitely need to practice a few times before Halloween.
She also concealed her hair to finish up the cool upside down effect. Then she threw on a wig to show off the final look which I'm sure will be pretty popular this Halloween.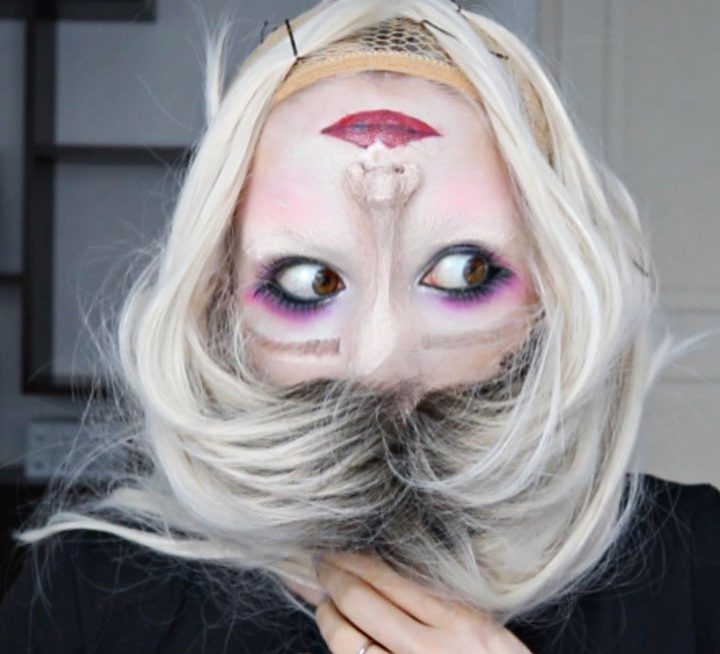 If you master this crazy looking aesthetic then you deserve all the candies and treats! One thing for sure is this look completely beats those boring cat ears from last year!


$10.00 OFF YOUR ORDER AT WWW.MADAMEMADELINE.COM – CONTINUE READING BELOW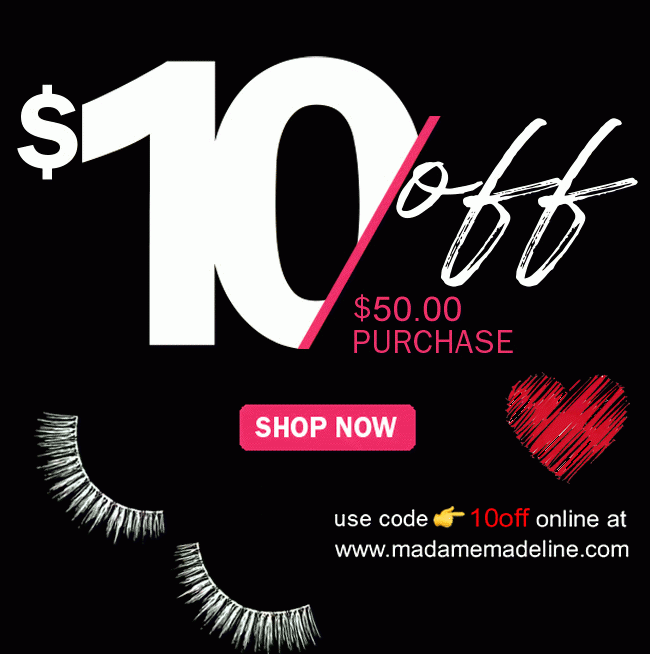 NEXT LOOK: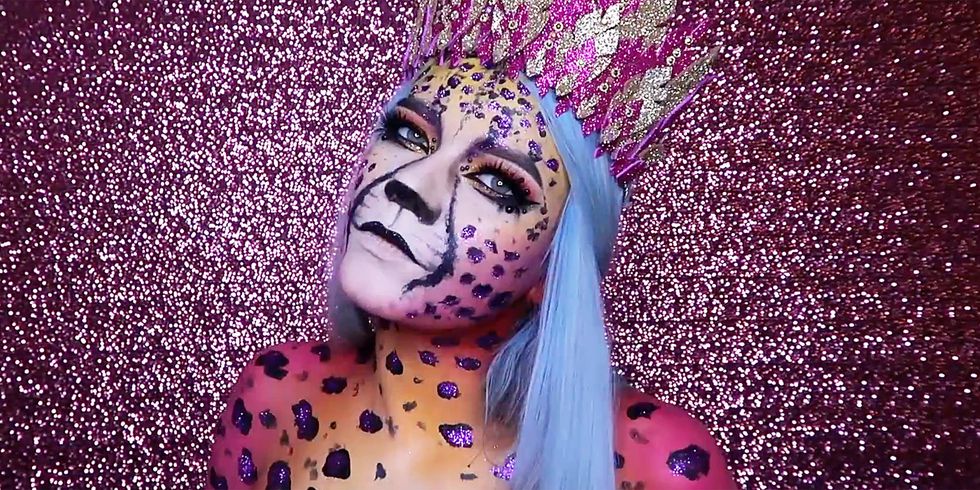 This Lisa Frank-Inspired Cheetah Makeup Look Is the Ultimate Throwback Halloween Costume

Like a walking trapper keeper.

Source: Cosmopolitan (http://bit.ly/2Pdv1lK)

With body makeup this intense, you don't even need to do an eye look. But if you want to take your costume to the next level, like makeup artist Yana Kravchenko did, start with a bold cat eye and big false lashes. Then, follow the below steps for how to execute the rest of the look.
Product Used:
@mehronmakeup
Paradise AQ: black, brown, yellow, pink, red.
Paradise Glitter: Black, Gold
Celebre PRO HD foundation.
Water based adhesive.
STEP 1: APPLY YELLOW FACE PAINT.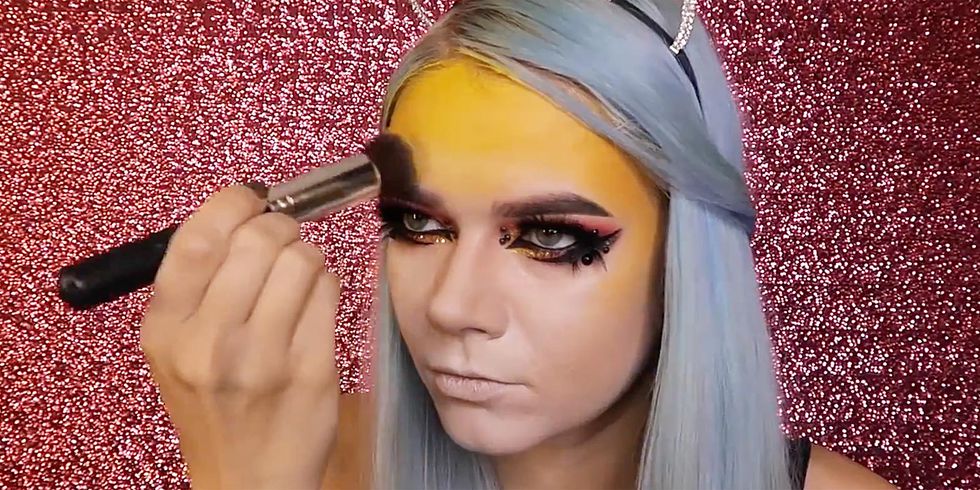 Use a dense, flat foundation brush to blend yellow paint around your forehead, temples, and along your hairline.
STEP 2: ADD PINK FACE PAINT.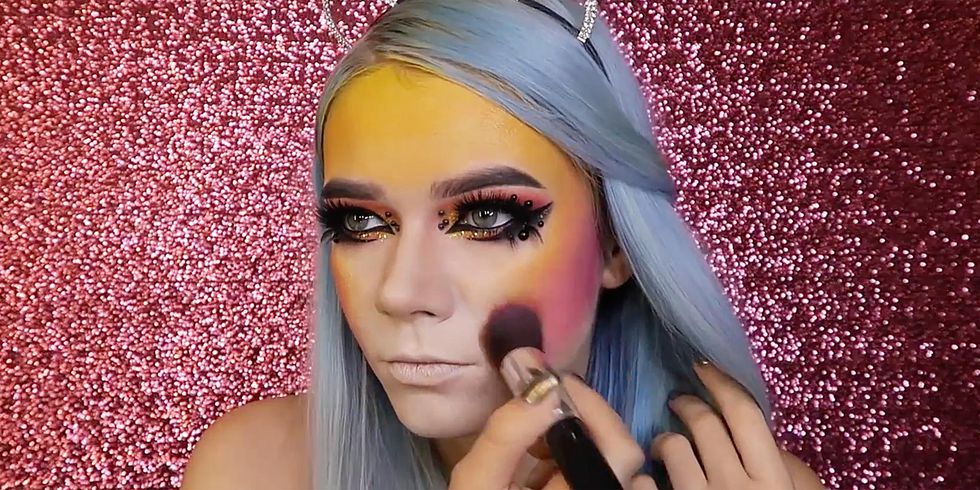 Use a similar brush to blend bright pink paint onto the lower half of your face. Then, blend the pink into the yellow along your cheekbones to create a gradient effect.
STEP 3: DRAW YOUR NOSE.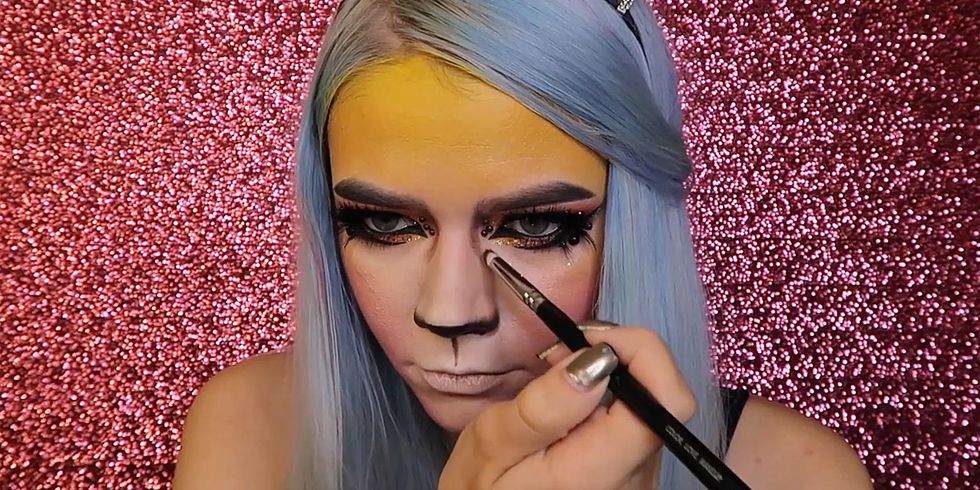 Use a small compact shadow brush to paint the tip of your nose black, and then paint a thin line down the center of your upper lip. Next, use black eye shadow to contour the sides of the bridge of your nose.
STEP 4: SHADE IN YOUR FOREHEAD.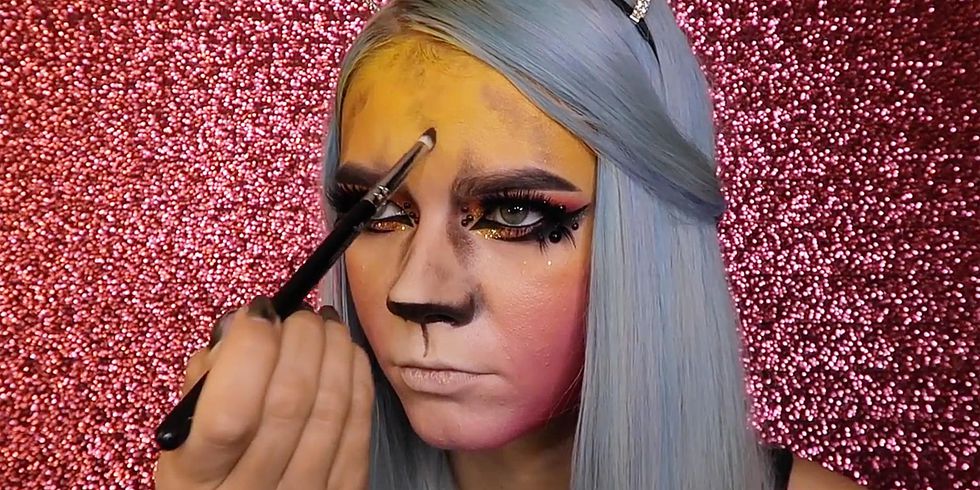 Smudge the same black shadow in small abstract shapes on your forehead to create the texture of fur.
STEP 5: DRAW THE SHAPE YOUR MOUTH.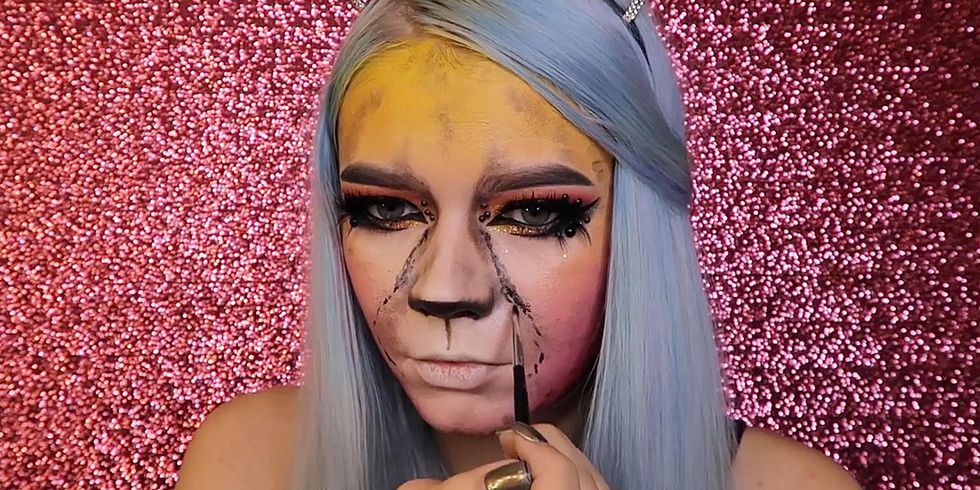 Use a fine-tip brush and black paint to draw a pear shape around your nose and mouth using tiny imperfect strokes.
STEP 6: ADD WHISKERS.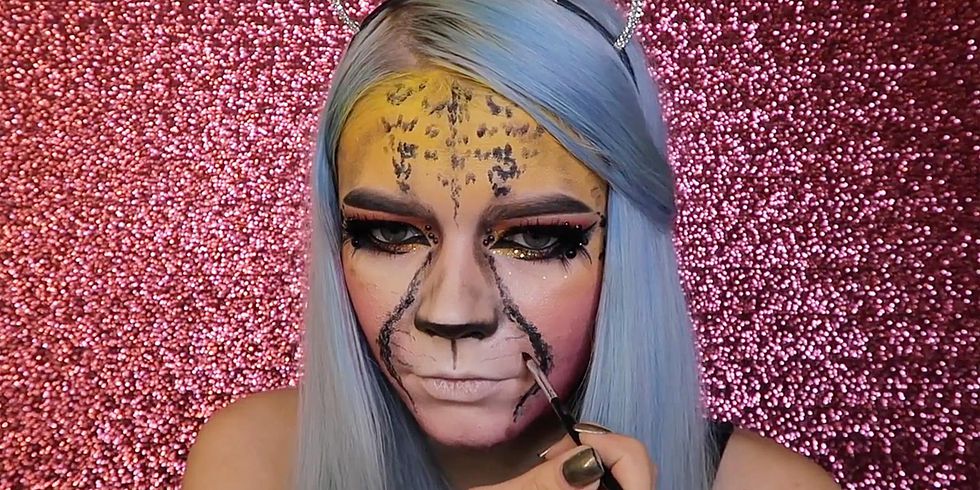 Use the same fine-tip brush and black paint to sketch out faint whiskers around your mouth.
STEP 7: PAINT YOUR SPOTS.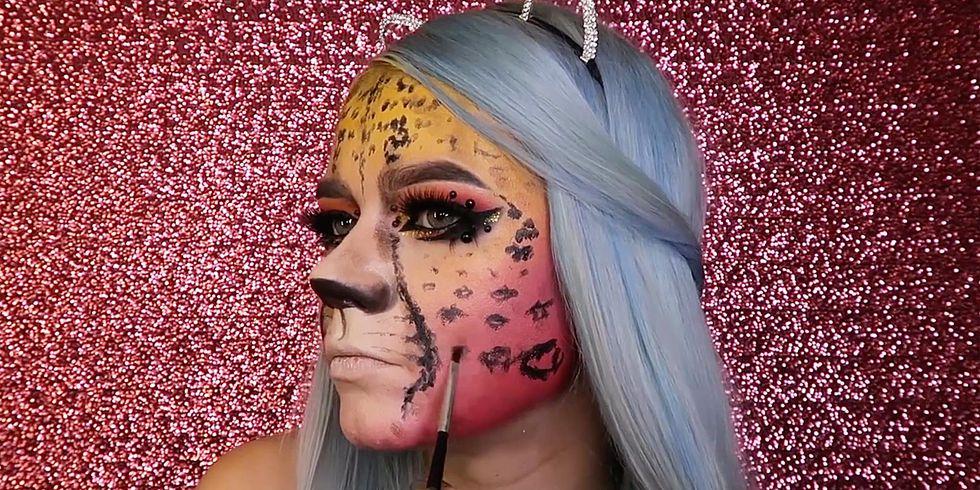 Then, using the same brush and black paint, create spots around your entire face. The more organic and abstract the shapes, the more realistic your makeup will look.
STEP 8: PAINT YOUR UPPER LIP.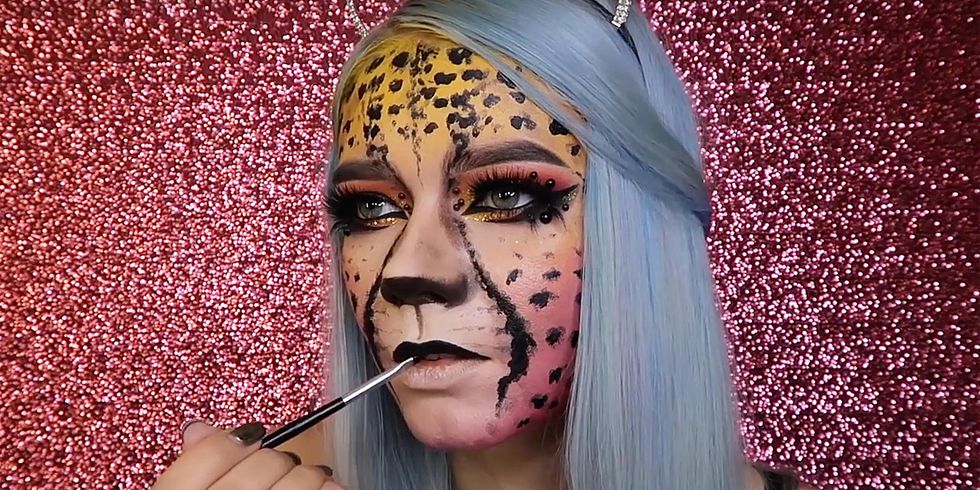 Use black lipstick, or the black paint and brush you've been wielding, to fill in your upper lip completely.
STEP 9: ADD GLITTER.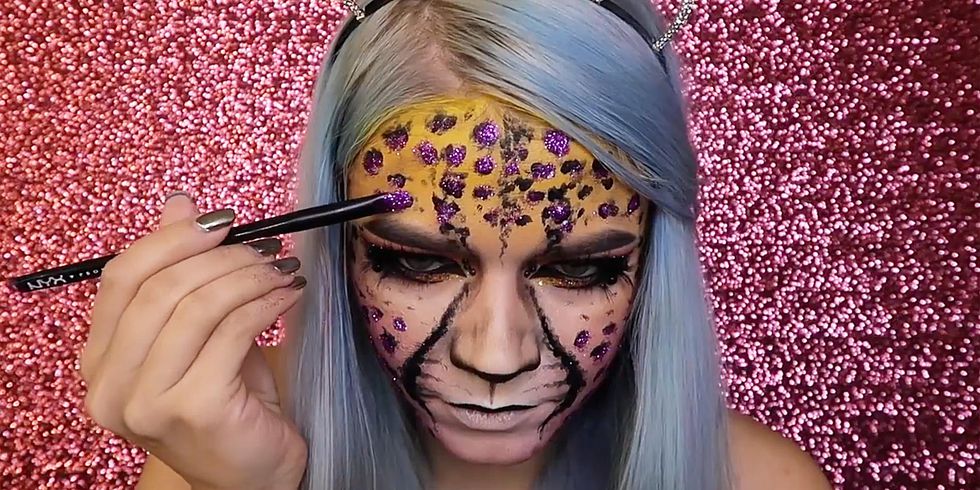 Top the black paint around your mouth with black glitter to make it pop. Then, add purple glitter to the center of the black spots around your face.
STEP 10: PAINT YOUR NECK AND SHOULDERS PINK.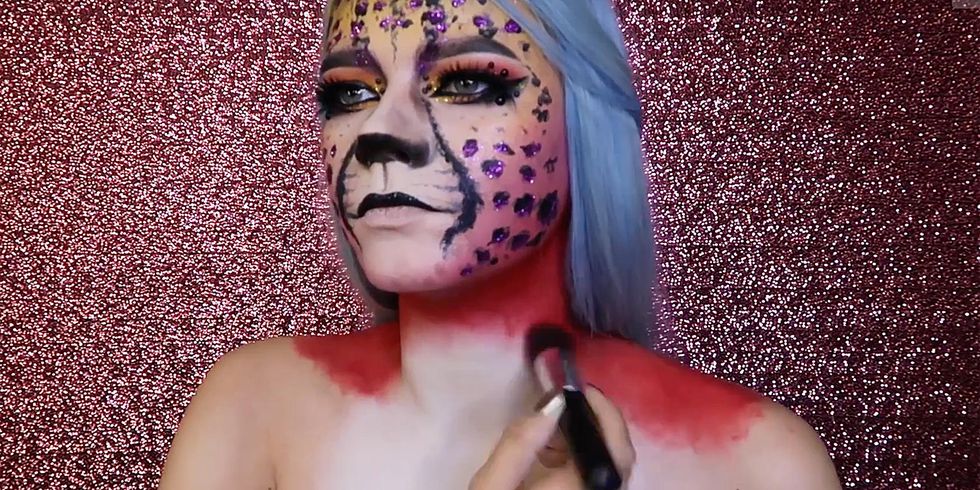 Now that your face is complete, begin painting your upper body. Start with the same pink paint you used on your face and apply it on the underneath of your jaw, the top of your neck, and tops of your shoulders, blending it downward.
STEP 10: PAINT YOUR CHEST ORANGEY YELLOW.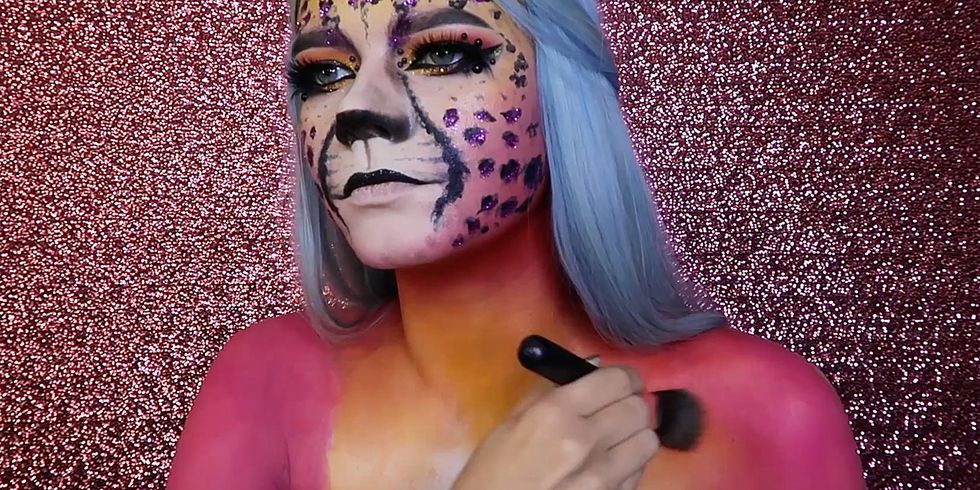 Paint the center of your chest with an yellowish-orange shade, before blending it out and fading it into the pink.
STEP 12: DRAW BLACK SPOTS ACROSS YOUR UPPER BODY.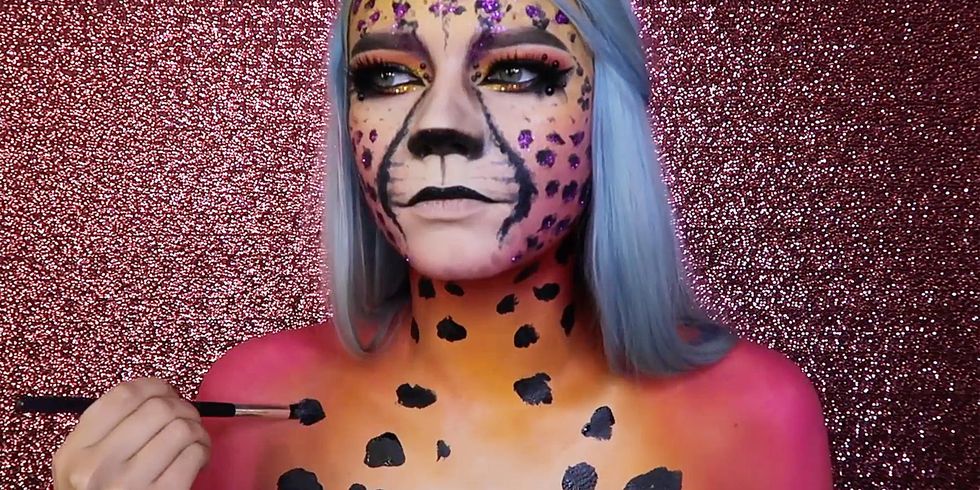 Paint black spots in varying sizes over your chest and shoulders.
STEP 13: ADD GLITTER.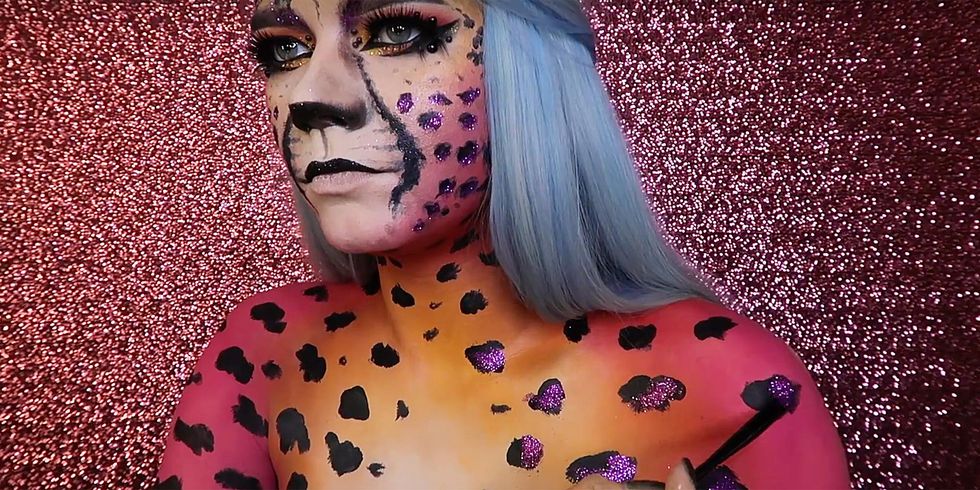 Just like you did on your face, add purple glitter to the center of each of your black spots.

FINAL LOOK: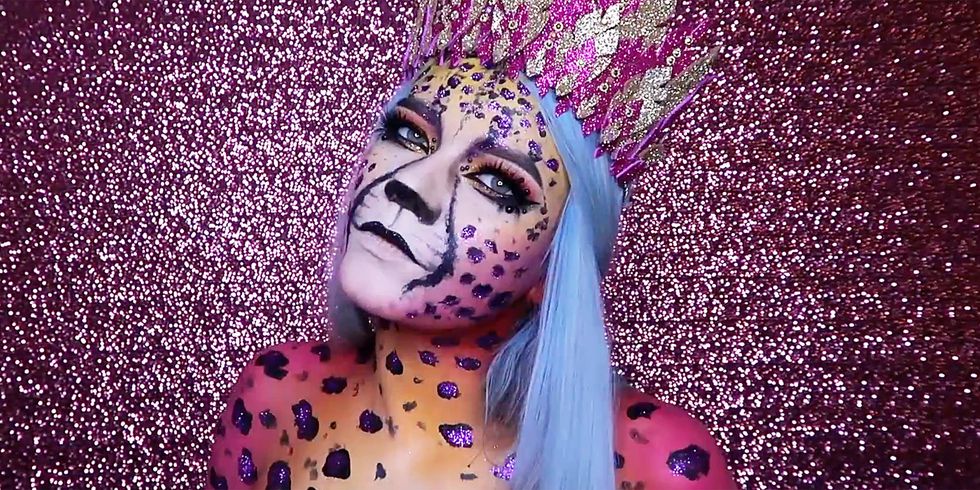 CLICK BELOW TO GET THE NEW DUO QUICK SET ADHESIVE FREE!!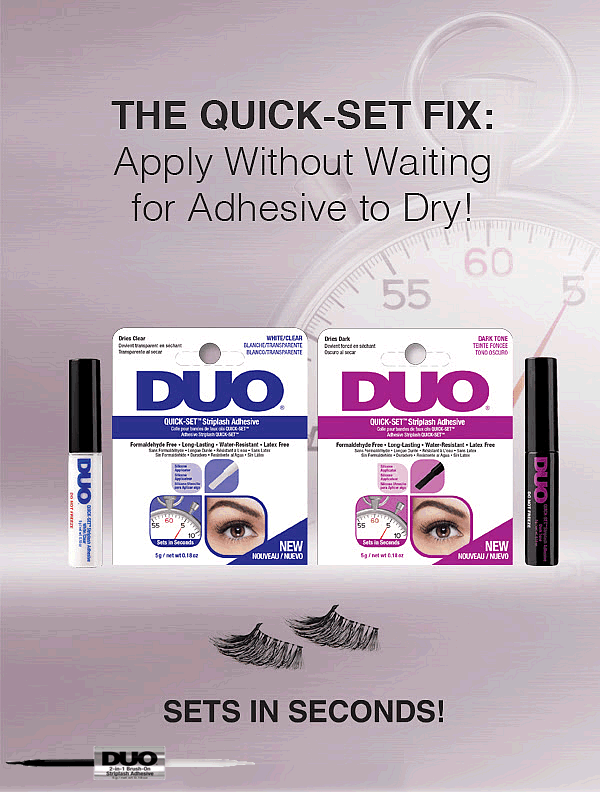 WATCH NEXT
This Lion Halloween Makeup Look Is Ferociously Gorgeous

Or lioness, if you will.
Source: Cosmopolitan (http://bit.ly/2EMcEk2)
Sure, you could just throw on a pair of cat ears and call it a costume, but where's the fun in that? Keep reading to learn how to transform the shape of your eyes from human to cat-like in this easy-to-follow tutorial by artist Madison McNabb.
Makeup tools used to create this look:
Details:
@lorealmakeup true watch W6
@urbandecaycosmetics naked concealer
@anastasiabeverlyhills brow wiz in dark brown
@anastasiabeverlyhills modern renaissance
@anastasiabeverlyhills Contour kit in medium
@sigmabeauty loose shimmer in midsummer
@nyxcosmetics jumbo eye pencil in milk
@lauragellerbeauty calligraphy liquid eyeliner
@vickylashes_ in Vicky
@nyxcosmetics lingerie lipstick in satin ribbon
@lauragellerbeauty gilded honey
@tartecosmetics blush in paaarty
_______________________________________
STEP 1: SHAPE YOUR BROWS.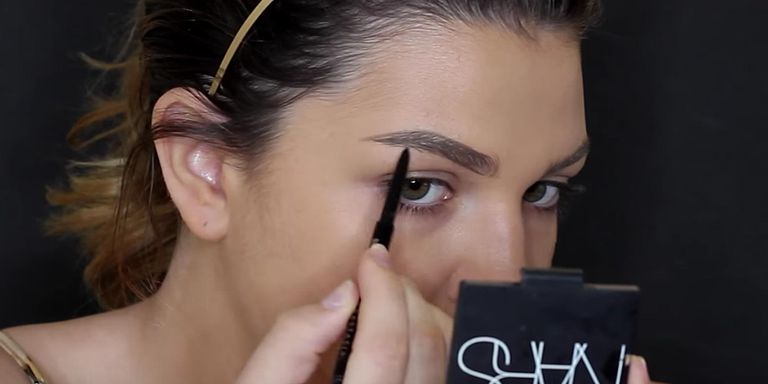 Use whichever brow products you prefer to shape and fill in your brows. Now is the perfect time to try the brushed-up look.
STEP 2: BLEND BROWN SHADOW INTO THE CREASES OF YOUR EYES.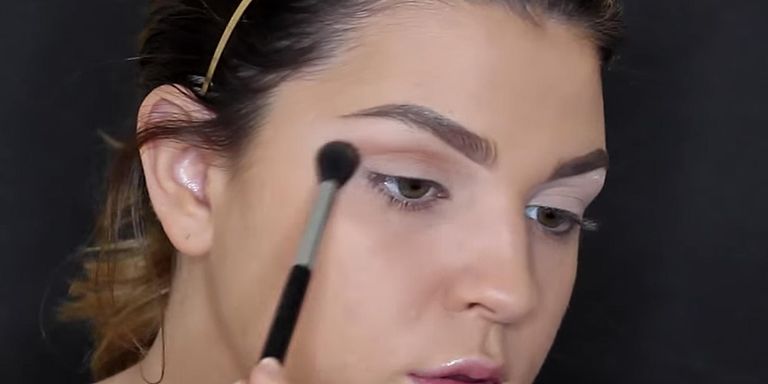 After you've coated your lids with concealer or primer, dust a light neutral powder on top to set the base. Then, use a fluffy brush to blend a matte brown shadow into the crease of your eye, slightly extending it past the outer corner.
STEP 3: ADD A CUT CREASE.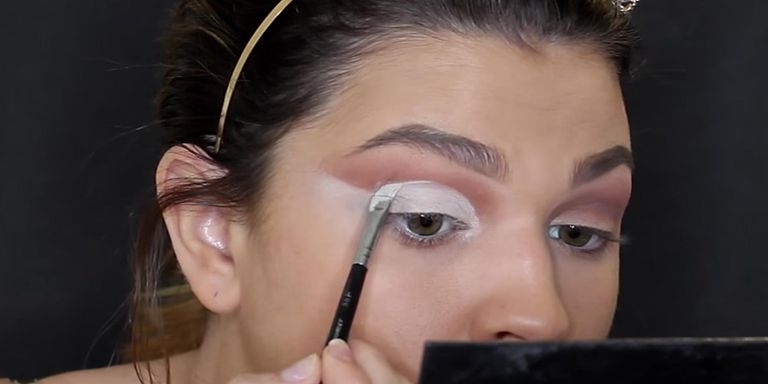 With your concealer and a flat, compact brush, cover your entire eyelid with a super light cover-up. Extend the formula past the outer corner of your eye to create a winged shape, prepping that area for the cat-eye you'll soon draw on.
STEP 4: DEFINE THE CUT CREASE.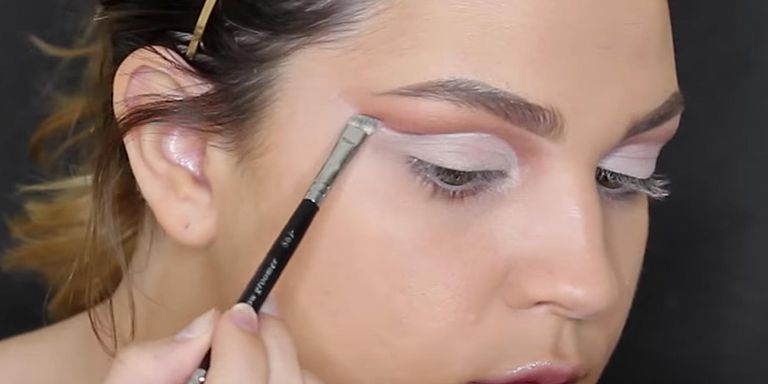 Use a fine-tip brush and a dark matte brown shadow to sharpen the edge of the concealer, making your cut crease more intense.
STEP 5: ADD GLITTER.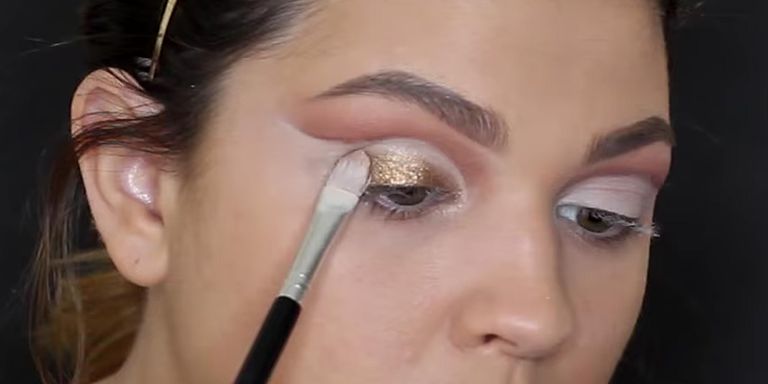 Then, cover your entire eyelid with gold glitter or pigment.
STEP 6: DRAW A CAT EYE.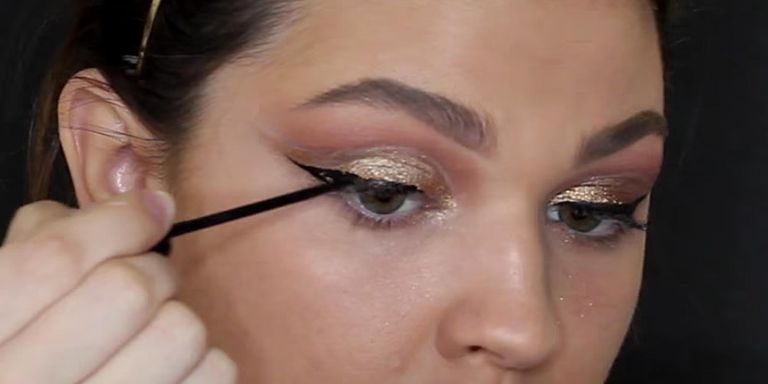 Use black liquid liner and draw an exaggerated cat-eye. Apply a few coats of mascara to your top lashes only and top them with falsies to intensify your eyes.
STEP 7: CONTOUR AND HIGHLIGHT.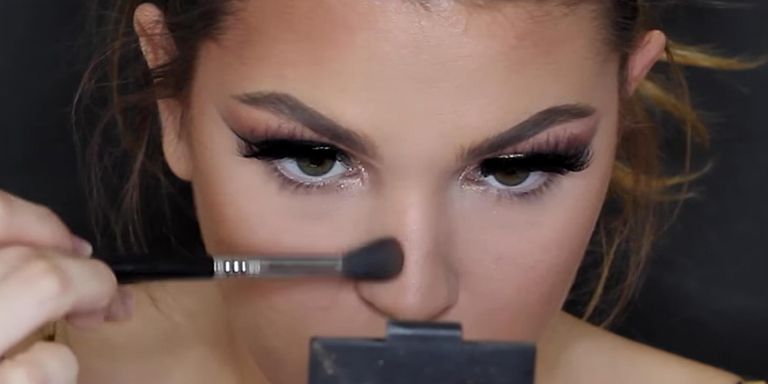 With a matte contour powder, chisel out the area under your cheekbones, along your hairline and temples, and down the sides of your nose. Then, use a gold shimmer highlight to make the tops of your cheekbones, the middle of your nose, and the top of your Cupid's bow pop.
STEP 8: LINE YOUR BOTTOM LASHES WITH WHITE EYELINER.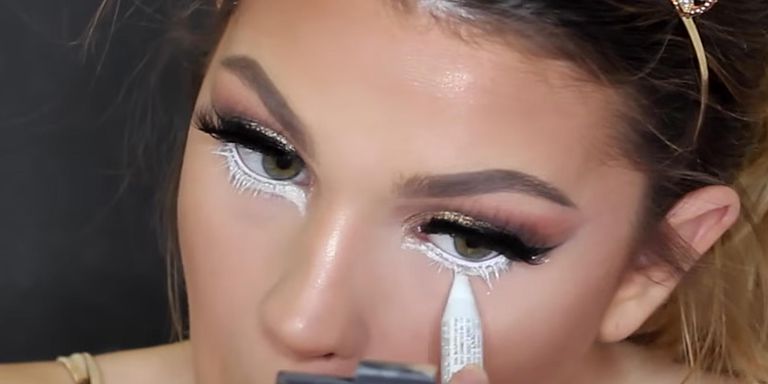 With white eyeliner, line the inner rim of your bottom lashes from the inner "V"corner of your eye to the outer corner. Then, continue lining underneath your lashes until the entire lash line is covered in white. This will create the illusion that your eyes are much bigger and more cat-like than they are.
STEP 9: DEFINE THE WHITE LINE.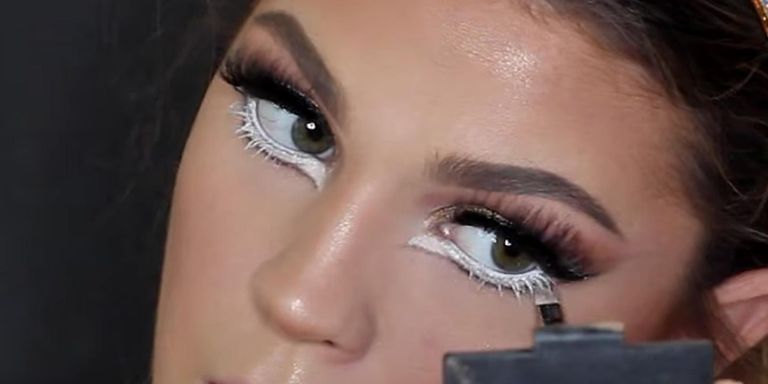 Next, line the outside edge of the white liner with a fine-tip brush and dark brown shadow. Then, use a pointed shadow brush and a lighter brown or taupe shade to crate a smudge out the brown line underneath the white.
STEP 10: PAINT YOUR NOSE AND TOP LIP BLACK.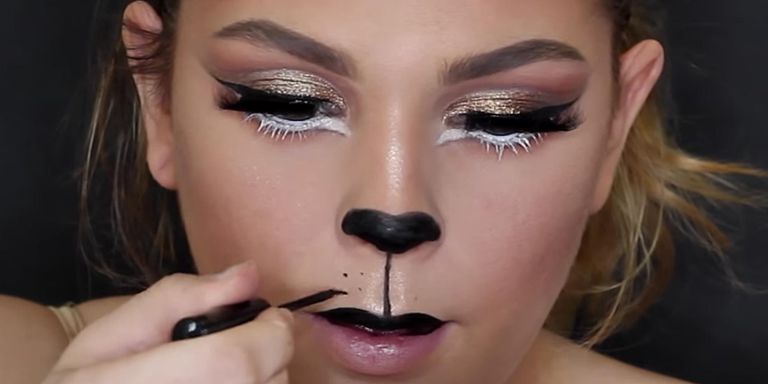 Use black liner or face paint to color in the tip of your nose in the shape of a lion's. Next, draw a line from your nose down the center of your upper lip. Fill in your upper lip solid black, and then use the tip of the brush to draw tiny whisker spots.
STEP 11: APPLY NEUTRAL LIPSTICK TO YOUR BOTTOM LIP.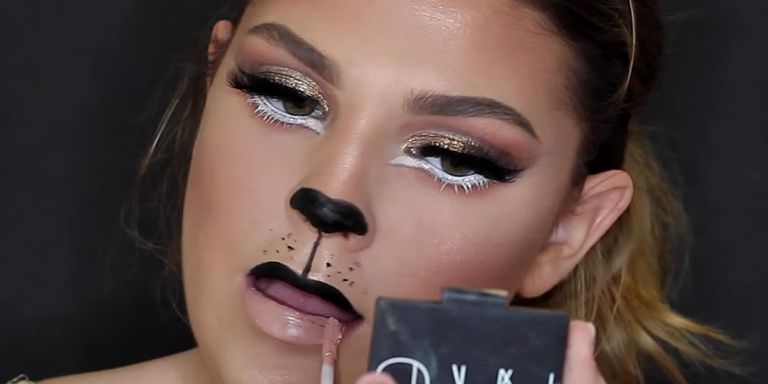 Apply a neutral lipstick that works for your skin tone over your bottom lip and you're done!
FINAL LOOK: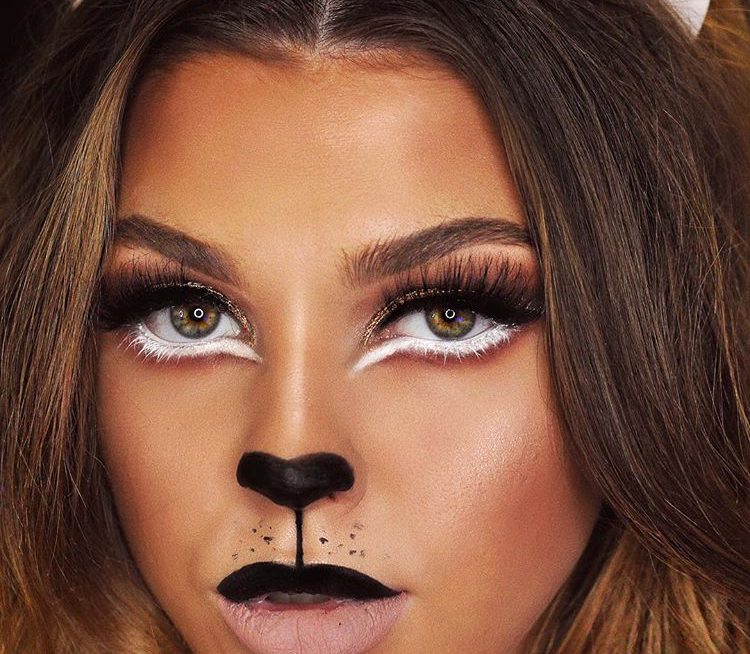 $10.00 OFF YOUR ORDER AT WWW.MADAMEMADELINE.COM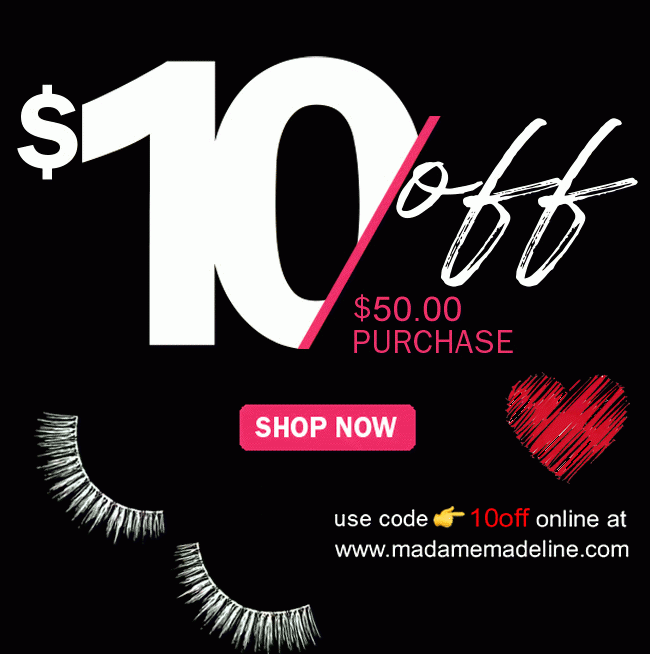 Bizarre Beauty Trend Uses Fake Eyelashes Adhesive To Plump Up Lips3>
Source: false-lashes-blog
Another bizarre trend has arrived and take social media by storm!! This one has to do with your lips and eyelash glue!
It began on TikTok and has now become a viral beauty challenge that has gained popularity on social media sites like Twitter and people feel strange by this one. People are using false eyelash glue and dabbing a tiny bit on their upper lip to achieve a little more of a plump look to their upper lips.
This chea, yet potentially painful, alternative to lip fillers involves applying strong adhesive, either false eyelash glue or as some have used, superglue, right above the top lip. Then you fold your lip up and affix it to the glue. This creates the 'illusion' of a fuller top lip.
The question is, how long before having to retouch in a bathroom to keep the plump look going? What's your thoughts on this crazy trend?
Many people have uploaded themselves attempting the unique DIY large lip look.
Despite the popularity of this "lips hack," no one has shared how long the fuller lip look lasts – or how painful it is when the lip rips off from the eyelash superglue.
Despite the dangers, the videos have racked up countless views, as people commented on the extreme new trend.
Another wrote: "Why do females want big lips so bad." And this person said: "If you want a bigger lip just fill it in with lip liner or something ."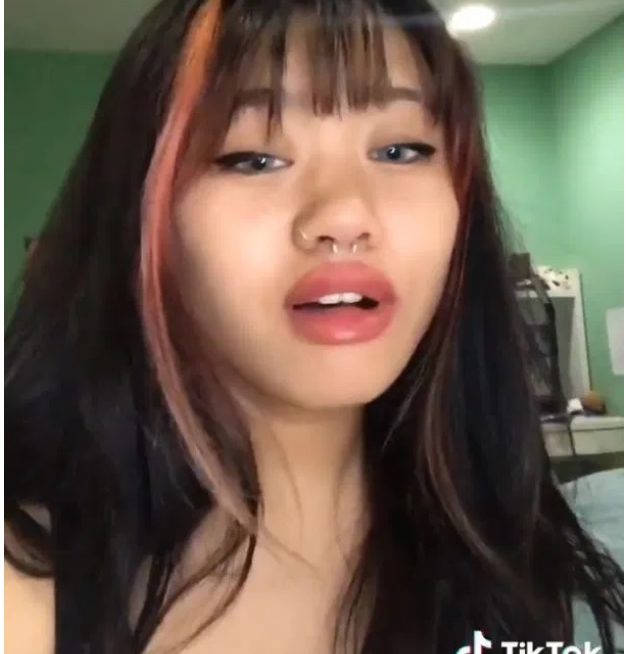 A dermatologic surgeon commented: "The new trend in trying to DIY lip plumping is quite concerning. "Not only can significant pain, swelling and bruising but also there is potential risk for scarring with repeated attempts."
Would you attempt to try this one ? …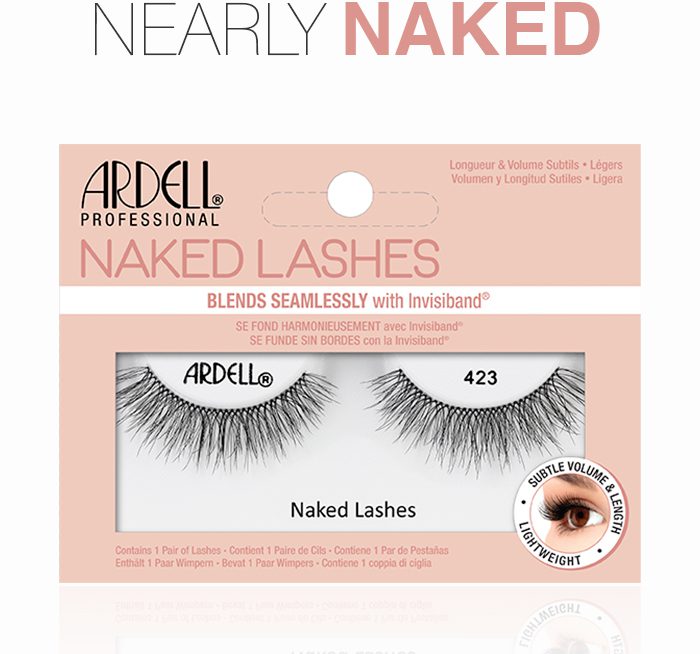 Read More..
Gucci Gives Fake Eyelashes a New, Creepier Purpose
Source: thecut.com
Nope, big no. No, no, no. Why do people think that fake eyelashes are the only way to spice up a fashion trend? I get that eyelashes make your eyes pop, I mean yeah, I use fake eyelashes all the time. But what we are NOT going to do is put them up our noses or on our eyebrows to give us an "exotic look." No sir, good day.
Still, this is what fashion brands are doing to their poor models for some reason, and I really don't get it. Gucci's Spring 2020 Funway Show featured just that, as the models walked the runway wearing fake lashes applied directly on top of their brows.
Alessandro Michele might have given new purpose to all of those false eyelashes you end up accidentally stretching out after a single wear.
At Gucci's spring 2020 runway show models wore fake lashes applied directly on top of their brows, courtesy of makeup artist Thomas de Kluyver's idea who himself glued on.
For some of the models — who had walked on a moving runway, underneath harsh, fluorescent lighting — the layered lashes created an exaggerated doll-like, Twiggy look. On others, the lashes appeared more surreal and jarring, no doubt due in part to the juxtaposition of the fuzz against their bare faces.
Now, I don't have anything against Kluyver or Gucci, in fact, I think they are so talented and I admire all their hard work. But there has to be an end to all of this madness. Are people really out of ideas that they resort to these kinds of dumb "hacks" such as sticking false eyelashes on your eyebrows?

Come on people, this is so cringe-worthy! I'm barley adjuting to the whole eyelash extensions thing.
The only other somewhat noticeable makeup was a thick layer of clear lip gloss, from Gucci's Baume à Lèvres shade 1 in Joslyn Clair. According to the brand's Instagram, the makeup was left bare in order to highlight "the unique and natural beauty of each model."
Hairstylist Paul Hanlon paired a variety of looks, including TERFbangs, messy bobs and geometric braids, with de Kluyver's simple complexions. The collection aimed to "allow people to walk through fields of possibilities, cultivate beauty, make diversity sacrosanct and celebrate the self in expression and identity," the brand tweeted.
The inspiration is said to come from Twiggy, who was known for her exquisite and fashionable looks. The models were all laid with lashes appearing more surreal and well..fake if you ask me. Some of these models even look so mad and unfazed in photos. Between you and me, I bet they are angry because these women know this is beyond the line and it is kind of scary.
To "highlight the unique and natural beauty of each model," makeup artists also decided to only have the model wear a heavy thick layer of lip gloss for the special occasion. Each model also had a messy bob, Terf bangs and geometric braids that compliments their face. Which is quickly ruined by faux mink lashes on their brows.
I'm not saying that these models look bad, of course not, they are gorgeous. But those two tarantulas on their face, yeah that doesn't look pretty good to me. I get Halloween is around the corner, so maybe that was the inspiration behind it too, but nope. I'm gonna pass on this one. Using my eyelashes where they are supposed to go…on my eyelids and on my lash line.
Fashion is getting exhausting these days. I can't wait for someone to use nail polish as lipstick.
If you need something easy but effective for Halloween, consider taking a page from Gucci's runway and aiming a little higher when you apply your falsies!
Read More..
Basic Tips To Take Care Of Your Eyelashes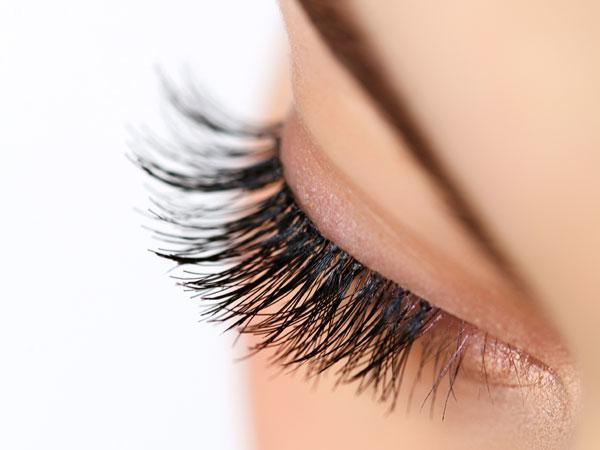 For every individual whether male or female, our eyes are one of the most important and priceless possessions; by extension, our eyelashes.
Little wonder fake lashes have become an integral part of our make up routine, especially for the female folks.
It's not out of place to say that we all, male and female, want to look good and beautiful, but then, only a few know how to do that.
It is very important to include taking care of our eyelashes into our daily personal grooming as this is a very important aspect of taking care of the eyes.
Your eyelashes are one of your most striking features as they give an instant lift to your eye makeup and also frame your eyes beautifully. But, for some people, this isn't so easy.
For various reasons ranging from advancement in age or perhaps an underlying medical condition, one's eyelashes can either begin to fall or thin out.
The funny thing about eyelashes is that while they're the target of much product-related talk, no one is really talking about how to care for them.
They are very much a part of our faces and so should be paid the same attention we lavish on our skin and hair. Truth is, the better care you take of your lashes, the less you'll need products to make them healthier, fuller, lusher and perhaps longer.
The basic tips needed for everyday eyelash care are:
Make it a daily routine to thoroughly clean your face every night before going, including the eye area.
Use hypoallergenic cleansers specially recommended for gentle skin or the eyes or baby oil and clean the eyes gently with the sponge to remove any dust or makeup.

Choose your mascara wisely. Watch out for an everyday mascara that is made with natural ingredients like mineral pigments that can clog your pores.

Use vaseline, castor oil, vitamin e oil or eyelash conditioner treatment to moisturize the eyelashes, to lenghten and to improve eyelash health. Be careful not to allow it to enter the eyes.

Avoid plucking or waxing the eyelash area.
Never use soap to clean your eyelashes as soap can overdry the delicate skin around the lids.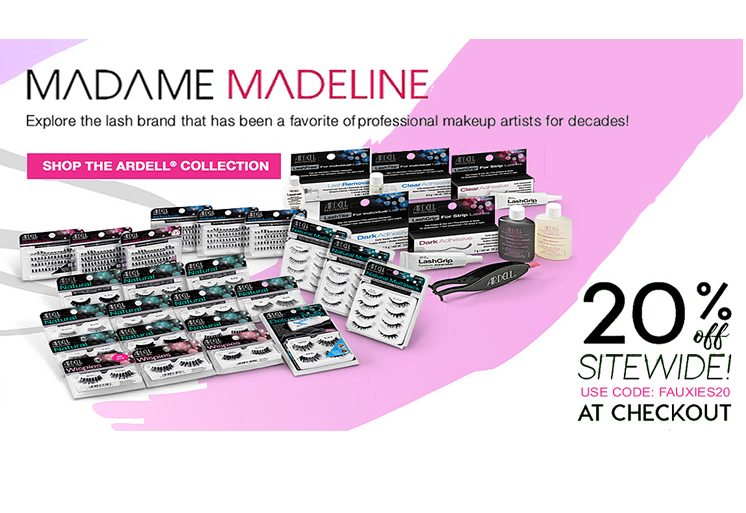 CLICK HERE TO SIGN UP FOR OUR FALSE LASHES NEWSLETTER