1. Have naturally more awake and younger looking eyes with light shade blush on the crease.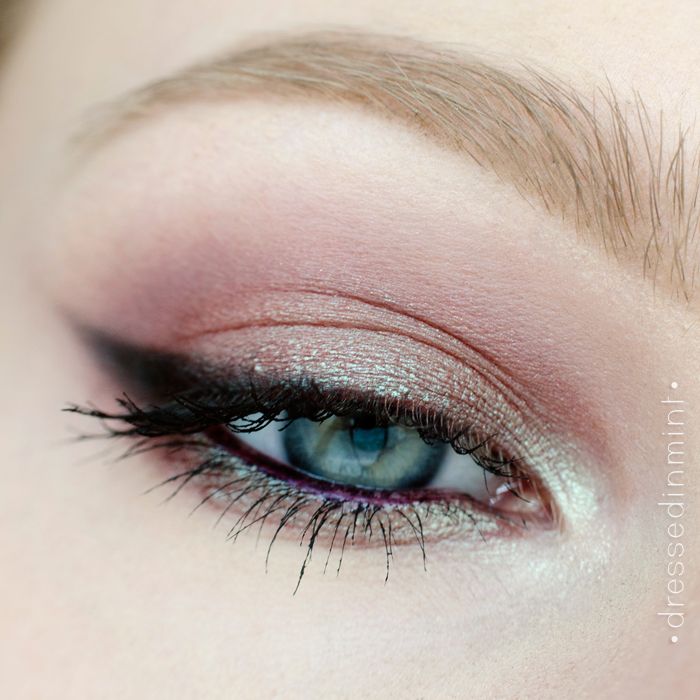 Light shade blush can give more youthful appearance. Apply soft pink blush on the eye crease can create that effect.
2. Bend the brush of the mascara wand so it makes it easier to use.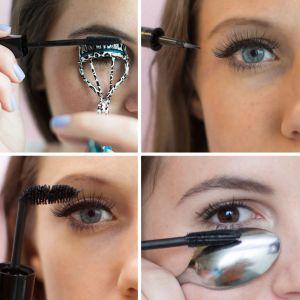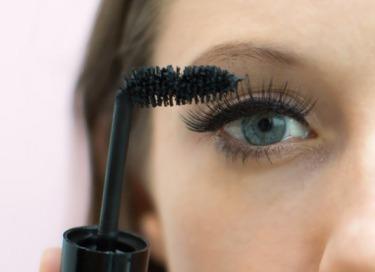 When pulling the wand out of the tube, gently bend the tip so it's perpendicular to the handle. Reaching those hard to reach areas like those tiny hairs toward the inner corner of your eyes  when applying multiple coats of mascara should be easier to get to with this new shape.
3. To make it easy to remove, make sure you layer your waterproof mascara on top of your regular formulas as it will also make it last longer.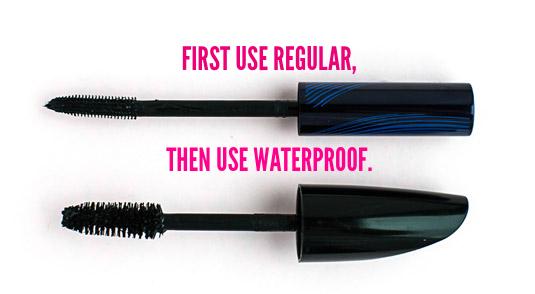 Holding a curl and keeping your mascara from smearing through out the day is a task suitable for waterproof mascara, but it is not easy to remove as to why we would suggest on applying your regular mascara first and then a coat of waterproof mascara.
4. If you want thick looking lashes then hold the brush at a horizontal angle, or if you want more of a natural finish then turn it over vertically.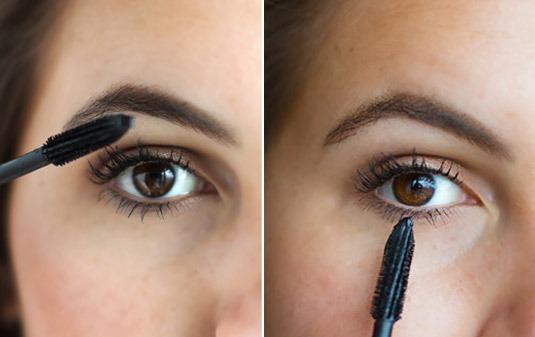 One important thing when applying your mascara is how you hold the brush. To get voluminous lashes look you need to hold the brushhorizontally and wiggle it back and forth. For a longer and more natural look hold it vertically and run the tip of the brush along the length of your lashes.
5. Another good tip is to soak your mascara in a cup of warm water to make the formula more liquidy instead of clumpy.  Makes application easier with a thinner formula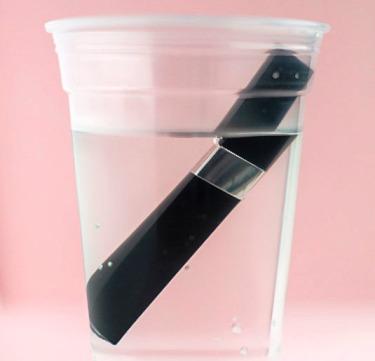 Set you closed tube of mascara in hot water to loosen the product from the sides so that you can get as much of the liquid that you can get. Remember to prevent eye infections you need to toss your mascara if its older then 3 months.
6. To avoid getting those annoying marks on your skin when applying mascara, you need to hold a spoon underneath your eye on your lower lashes.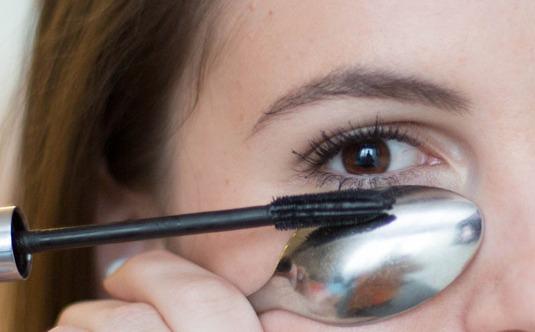 To do this first place a spoon below your eye with the curved side facing down, and just apply your mascara like you normally would. this helps to prevent the mascara from getting on your skin and instead ending up on the spoon. This can even be done for you upper lashes as well.
7. Make your mascara do double-duty as a gel eyeliner.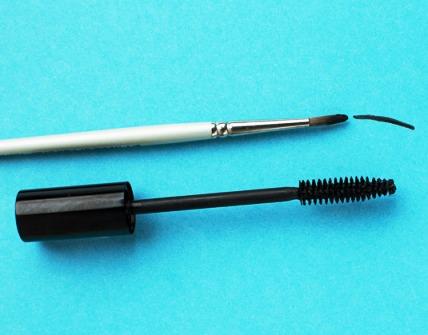 Swipe an eyeliner brush over your mascara wand, and then use the formula on your liner brush to trace your upper (and lower, if you so desire) lash lines for a gel liner finish.
8. Plump up your natural lashes by applying some baby powder on your lashes between the 1st and 2nd coat of mascara using Q-tip or old mascara wand.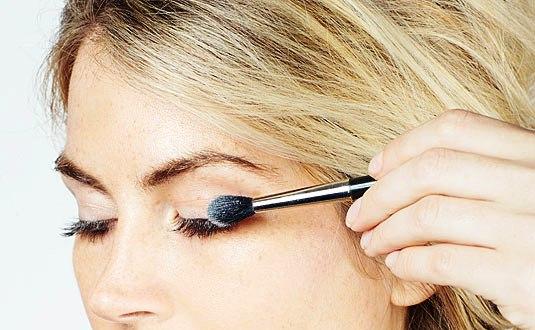 Try out this tip by using this tutorial for super long lashes without wearing false eyelashes. Baby powder or translucent powder has grip, so it sticks to your lashes pretty good in between the coats of mascara and gives a voluminous look to your lashes.  First apply one coat of mascara follow by one coat of baby powder using a Q-tip or an old mascara wand. Next apply a second coat of mascara and you now have beautiful longer lashe!
9. If your mascara formula seems flaky, you can fix that by adding a few drops of saline solution to the mascara tube.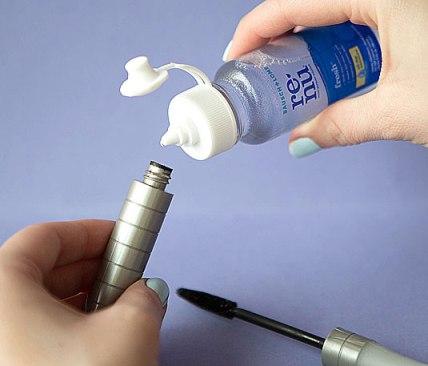 If your mascara is getting flaky but hasn't reached the 3 month expiration date, then you can revive it by adding a couple drops of saline solution. This will help dilute and break out the clumps without altering the efficacy of the mascara!
10. Spinning a cotton swap over dried mascara mistake can remove it with our ruining your eyeshadow.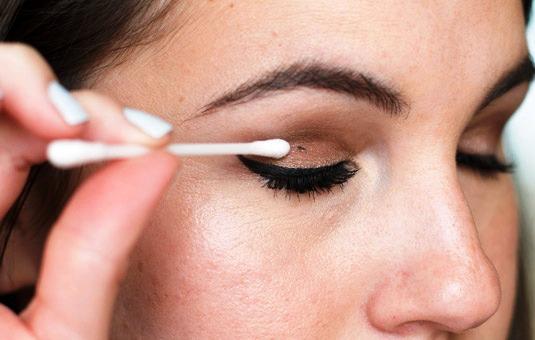 If you happen to accidentally touch your eyelid with mascara after you applied your eyeshadow, wait for the spot to dry, then place the tip of a cotton swab on top of the spot, and spin it until it's gone. Don't do this while the mascara is wet because you will smear it and make it worst.
11. De-clump your mascara by combing through your lashes with a cleantoothbrush.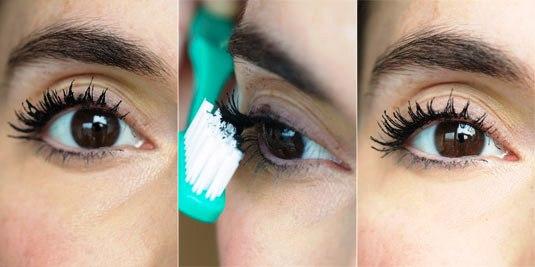 To get clump free lashes, grab an extra toothbrush preferably new because a used one can lead to irritation or infection and comb it through your lashes from root to tip.
12. Messy fringe hair look with dry shampoo.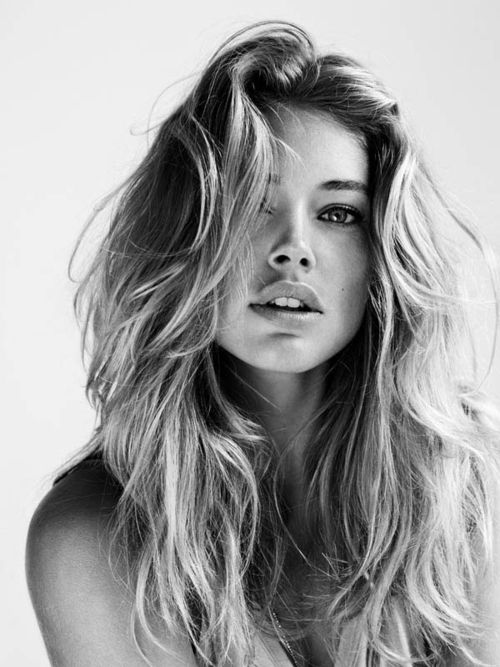 After work in dry shampoo to area where you like the sexy wild child look, next spray generous hair-spray followed by massage the two products into your hair for a few seconds before styling with your hands to create the messy fringe look.
13. Wear a base lash for a double stacked false lash look!
For a fuller and voluminous lash look, we recommend wearing a base lash (any dense, regular strip lash such as Ardell Fashion Lashes #110) with your regular false lashes of choice. This will provide an extra volume 3d lash look making your eyes look more open.
To get clump free lashes, grab an extra toothbrush preferably new because a used one can lead to irritation or infection and comb it through your lashes from root to tip.