False Eye Lashes: What You Need To Know
A while ago, your costume wouldn't be complete without long false eyelashes, when dressing for a costume party. But now a days, these beauties aren't just limited to costume parties, they are now a must to complete your over all look. False eyelashes have been trending for quite some time now. False eyelashes are now as important as mani-pedis; they make your eyes and your face stand out. You can step out directly out from your bed looking beautiful if you have them on, because if you have false eyelashes you don't need more makeup. If eyes are the windows to your soul, then the curtains, i.e. the lashes, should be voluminous fringes of gorgeousness.
What are false eyelashes? False eyelashes are extensions for your eyelashes, to make them look longer and thicker. There are two types of eyelashes, synthetic (plastic) and natural (hair). The synthetic ones are cheaper as they are made out of plastic, and are shiny and stiff. Synthetic eyelashes don't blend in with your natural eyelashes but the natural ones do. The natural false eyelashes are expensive and after putting them on, they mix up perfectly with your natural eyelashes making you a batting beauty.
False eyelashes are available in two forms; strip eyelashes and individual eyelashes. Strip eyelashes are more popular as they are easy to put on. They are a strip of eyelashes, synthetic or natural, of the eye's length and shape. All you need to do is get a pair of these, get some adhesive eyelash glue and put them on. The individual eyelashes are a bit time consuming. They are individual eyelashes that have to be attached individually, hence take a lot of time. The selection between both of them depends upon the amount of time you have.
Ready to get voluminous eyelashes? Here is how you attach them:
Before gluing the lashes on, make sure the lash isn't too long for your eye lid. Hold the eye lash against your eye and trim it. If the length of the eyelash is too long for your personal taste, trim each lash individually in order to make them look more natural. Once you have the right size, you can continue the next step.
Squeeze a thin layer of the glue on your hand and press the back of the strip against the glue. Allow the glue to dry for a bit and then attach it to the eye lid.
Bring the strip from above the eye lid and attach it, keeping it as close to the eye lid as possible. Once the strip is attached, you don't have to press or hold it.
Apply mascara, to merge both natural and false eyelashes, and apply eyeliner to complete the look.
You can also get eyelashes attached by professionals. By doing this they last longer and look more natural. You can also get semi-permanent false eyelashes. These eyelashes are attached individually and can last up to six weeks. If you have these eyelashes on, you can roll out of bed and head straight out without giving them a touch of mascara and still have gorgeous eyelashes.
Having false eyelashes is a tricky business; you need to be careful about the glue and the product itself. There are many things that can go wrong when getting your eyelashes done, so make sure you have done your research when buying them or getting them attached.
Some of the risks that come with professional eyelash extensions are below. Most of below are never heard of by using quality lash glue and with proper eyelash application technique from licensed and certified lash extension technician.
Keratoconjunctivitis: an infection or inflammation of the cornea and conjunctiva, a result of glue or removing agent leaking into the eye during the application and removal process.
Allergic blepharitis: inflammation of the lids, as a result of an allergic reaction to the glue, particularly to fumes of the glue (can be avoided with mini fan), or an allergy to the eyelid fixing tape used during the procedure.
Conjunctiva erosion: from the eyelid fixing tape and a risk of sub-conjunctivahemorrhage (bleeding under the conjunctiva) from compression on the eye during lash extension removal.
Traction alopecia:where the natural lashes fall out as a result of the constant weight of repeated eyelash extension treatments. In some cases the lashes may not regrow at all.
Alternative to false eyelash extensions, strip and individual false eyelashes can be safely applied at home without the above risks.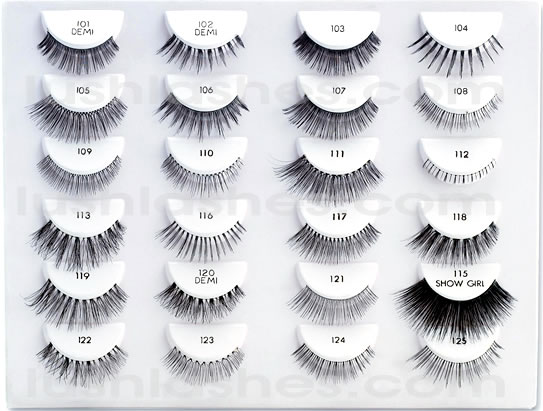 Shop Cheap False Eyelashes Here.