Internet makeup moguls and influencers are obsessed with false lashes as a tool to make their eyes pop while for others false eyelashes is a must-have, every accessory. But no one has ever anticipated surgical mask becoming a everyday must-have accessory as well. Covid-19 is making mask wearing 'Normal' in western countries for the first time in history.
These days mask wearing is now seen as a pro-social, selfless act — a measure of kindness for your fellow humans, as wearing a mask not only protects you from others but also protects others from you. According to the CDC, people may spread COVID-19 before they show symptoms

Twitter is cringing at a makeup tutorial circling the internet in the time of coronavirus panic: A video featuring an unknown makeup artist completing her full face of makeup while wearing a surgical mask sparked outrage from nearly all commenters, who claimed it was wasteful and unnecessary.

The video, which was shared by New York Times Styles reporter Taylor Lorenz and others, takes viewers through a step-by-step way to recreate one's everyday makeup look on top of a surgical mask.
The mask can be seen to represent an attempt to keep safe from the spread of coronavirus, or COVID-19, a flu-like respiratory illness that's making its way around the globe. Medical professionals claim a surgical mask, like the one featured in the video, cannot stop you from getting sick, and should be reserved for sick patients and caregivers.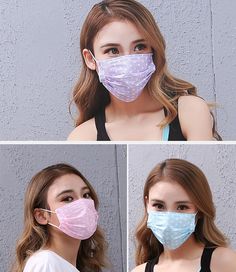 The unknown makeup artist's video shows them covering the entire, blue surgical mask with tan foundation. When the whole mask matches the creator's skin tone, they continue to contour the mask and even paint on realistic lips using a choice lipstick color.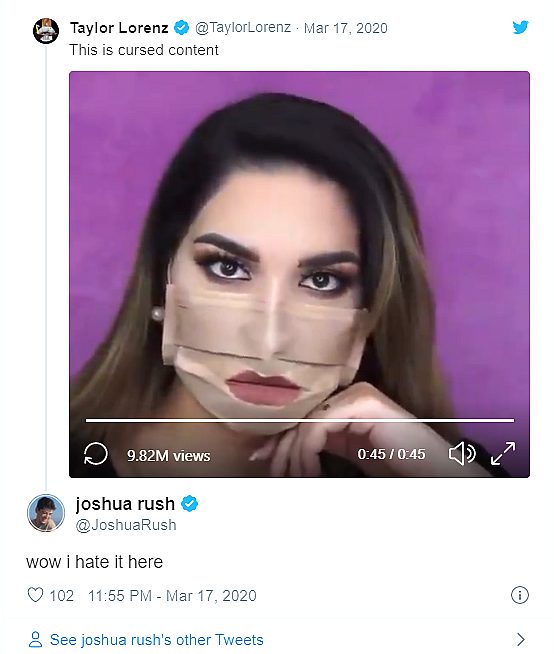 There are a few reasons why this "lifehack" video was slammed by viewers. Many pointed out the potential waste from using a surgical mask for a creative project. This comes after the Centers for Disease Control and Prevention asked that masks be reserved for caregivers due to a potential shortage.
How fans reacted to this cursed content 😲
✔ @PeterGodmez "why we wastin face masks tho"

✔ @JoshuaRush "wow i hate it here"

✔ @i_see_you_pan "Mmmm, breathing nothing but those fumes directly"

✔@pink_funk "Help! I need content! Don't care how stupid or vain or tone deaf it makes me look!"

✔ @iTzNikkitty "Honestly I just feel bad for anyone who feels like they need to do something like this."

✔ @JHWeissmann "I wasn't upset until the lips."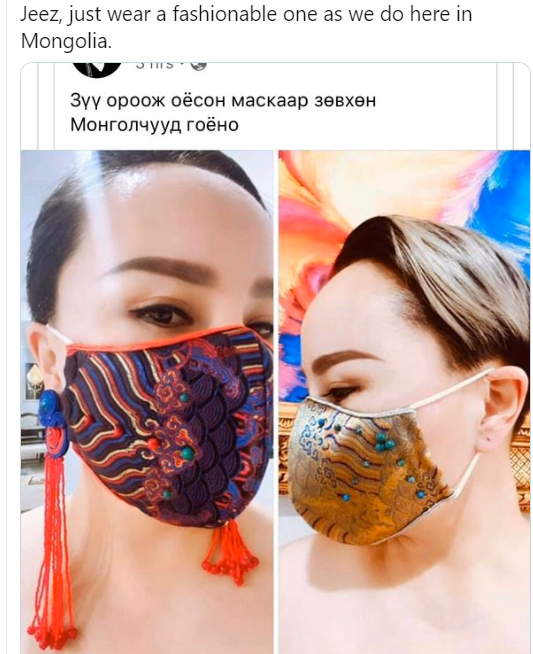 Others claimed it was a waste of makeup. The most common response, though, seemed to be bewilderment at why the video was created in the first place. The makeup artist is seen to have a full face of makeup applied under the mask, some pointed out with irritation Otherwise, though, commenters didn't seem to understand why putting full-face makeup on a surgical mask was important to begin with.
While this makeup tutorial appears to be one of a kind, it's not the only cringeworthy life hack on the internet. YouTubers like Danny Gonzalez and Cody Ko have entire series dedicated to trying ridiculous life hacks and crafts.
There seems to be a common entertainment value in watching people commit to crafts that aren't really necessary.
One YouTube channel in particular, 123GO!, often provides beauty tips and tricks that are met with backlash or laughs from viewers. One of the most recent videos on the popular YouTube page, which boasts nearly over 5.7 million subscribers, is titled "Weird Beauty Hacks For Smart Girls" and features how to make fake braces using earring backs and a rubber band.
---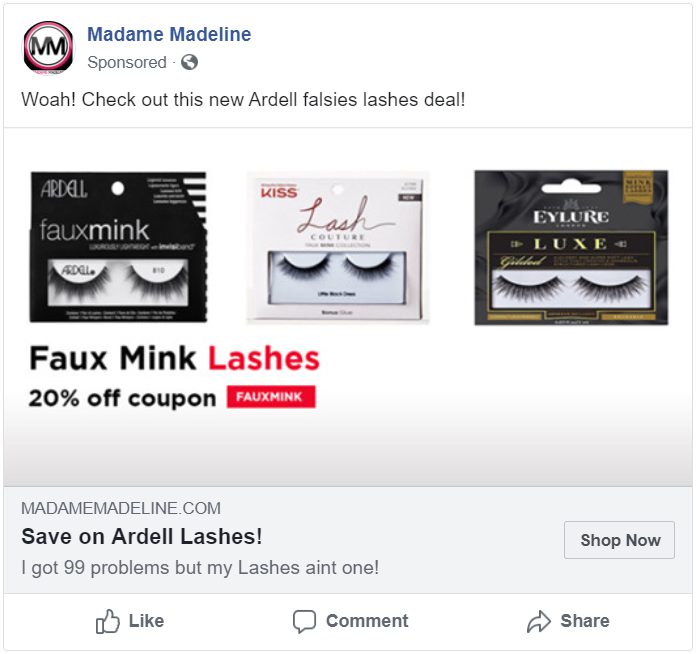 ---
Read more..

Curly Eyelashes Is The Nightmare Fashion Trend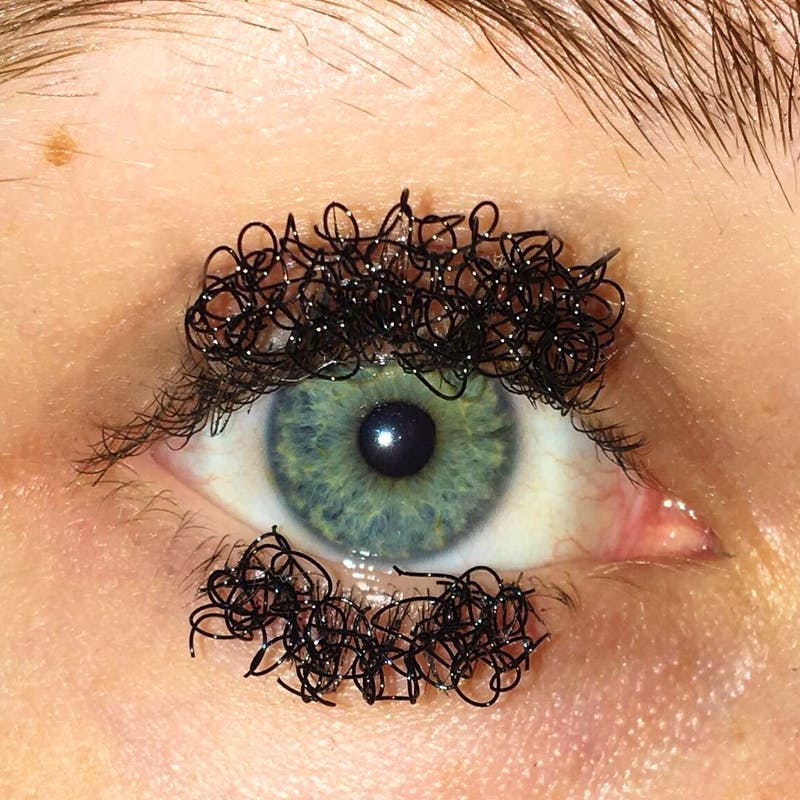 Apparently makeup artists and fashion bloggers are constantly cooking up new trends that go viral. Recently curly eyelashes became one of those viral trends.
This new form of curly eyelashes was recently introduced by Sofie Petersen on Instagram. Sofie has shared several photos of herself donning the weirdest looks and creating the most awkward eyelashes make up – leaving many of her 28.000 followers incredibly uncomfortable.
Even though the post went viral we can all attest to the fact that these eyelashes look hideous. Be honest, Would you walk around with these crazy lashes or is this trend a step too far?

Curly Lashes Are The Upside Down Nightmare
It's not uncommon for artists to constantly push their limits and try new ideas, but Sofie's latest piece of art completely missed the mark. Apart from looking completely unnatural, these thick, dark curly eyelashes look super awkward.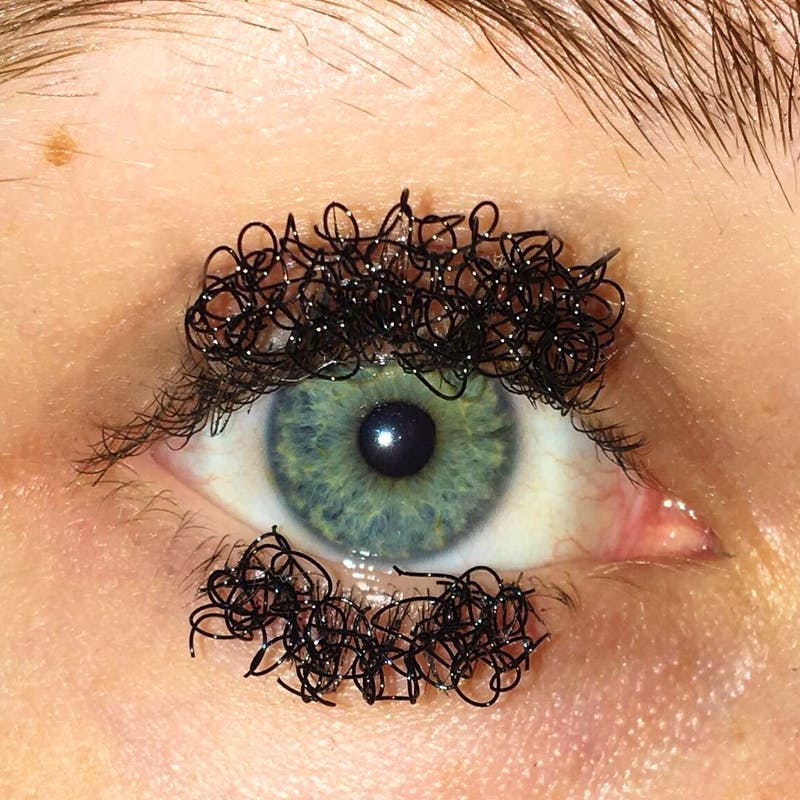 As if the eyelashes weren't bad enough, Sofie captioned the photo with the line "Puberty isn't over." Now good luck with getting the thought of pubic hair as eyelashes out of your mind.

She donned weirder looks though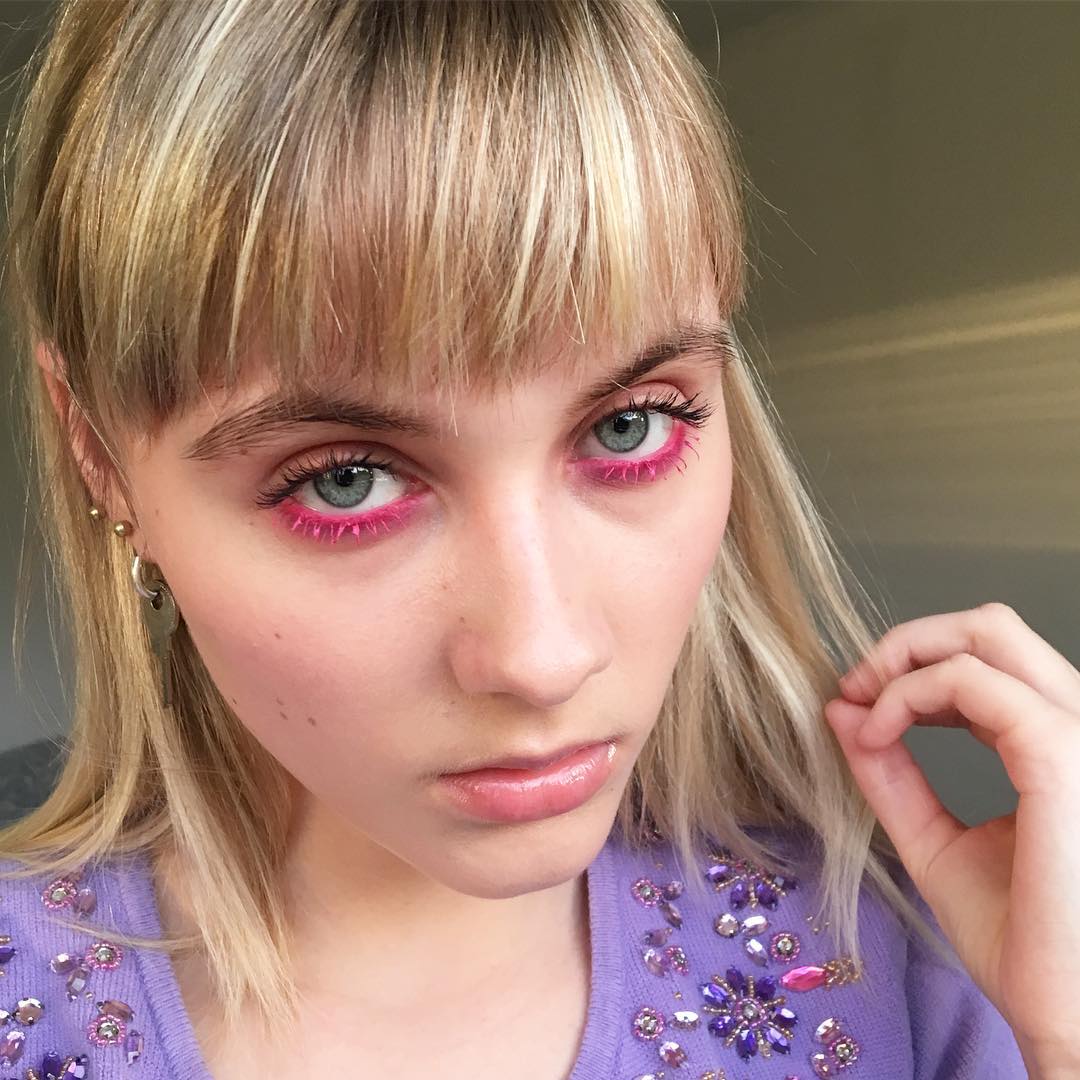 As a make-up artist who specializes in weird but unique eye looks, Sofie has sported weirder looks in the past. She once attached tiny rocks to her eyelids to create a beach scene and one time she wore bright pink mascara only on her bottom lashes.
Other extraordinary looks include using real blood as an eye shadow, freezing her lashes in ice and stitching her eyelids together using needles.
If you're like other normal human beings than none of these eye looks will appeal to you, but would you still consider nose hair extensions?
---

---

Are nose Hair Extensions the next trend?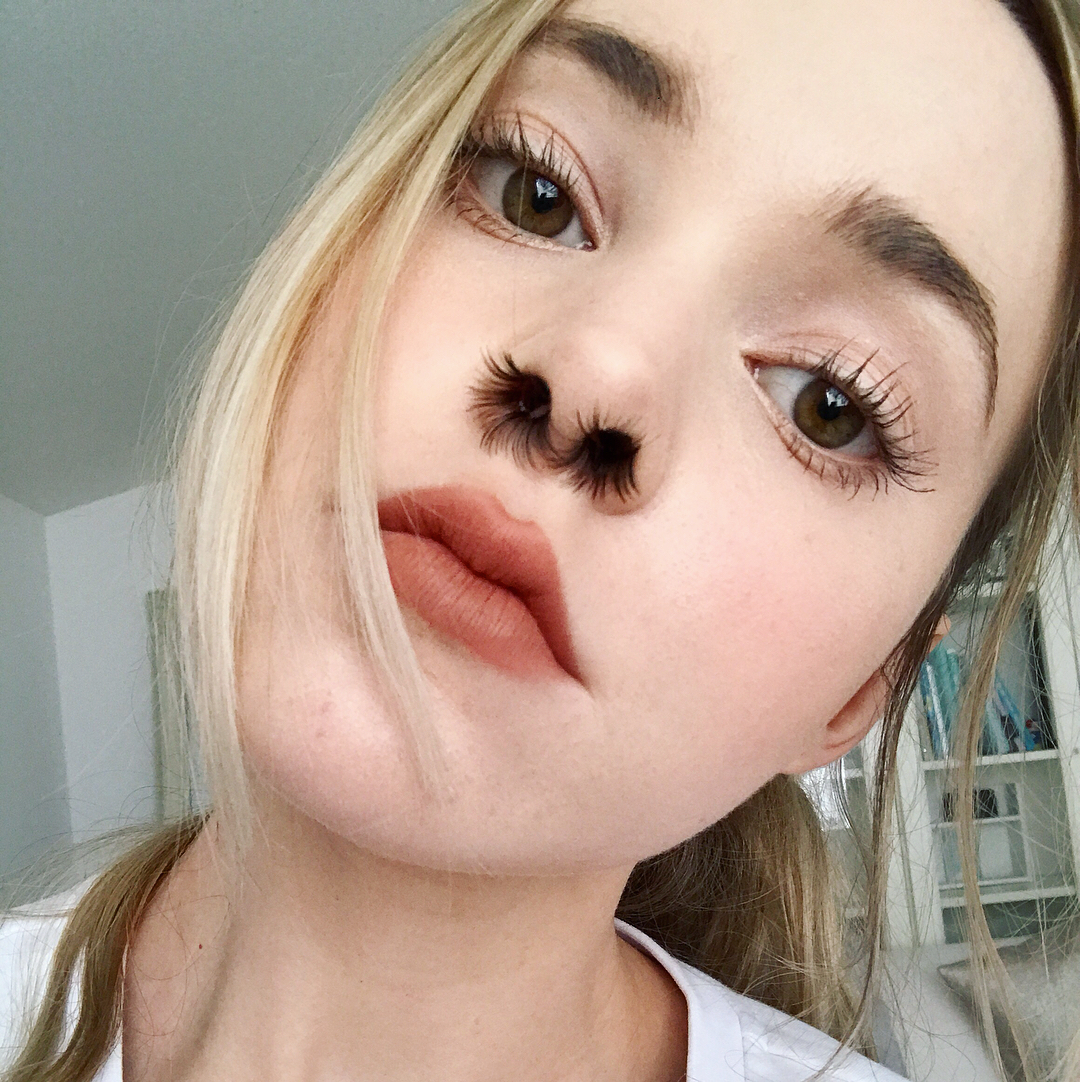 Nose hair extensions could very well be the next weird makeup trend. This look was introduced by Instagrammer @gret_chen_chen back in 2017.
The trend wasn't picked up immediately, but in 2019 other makeup artist have picked up the trend and many are posting photos on Instagram with their nostril hair extensions.
Teeth Nails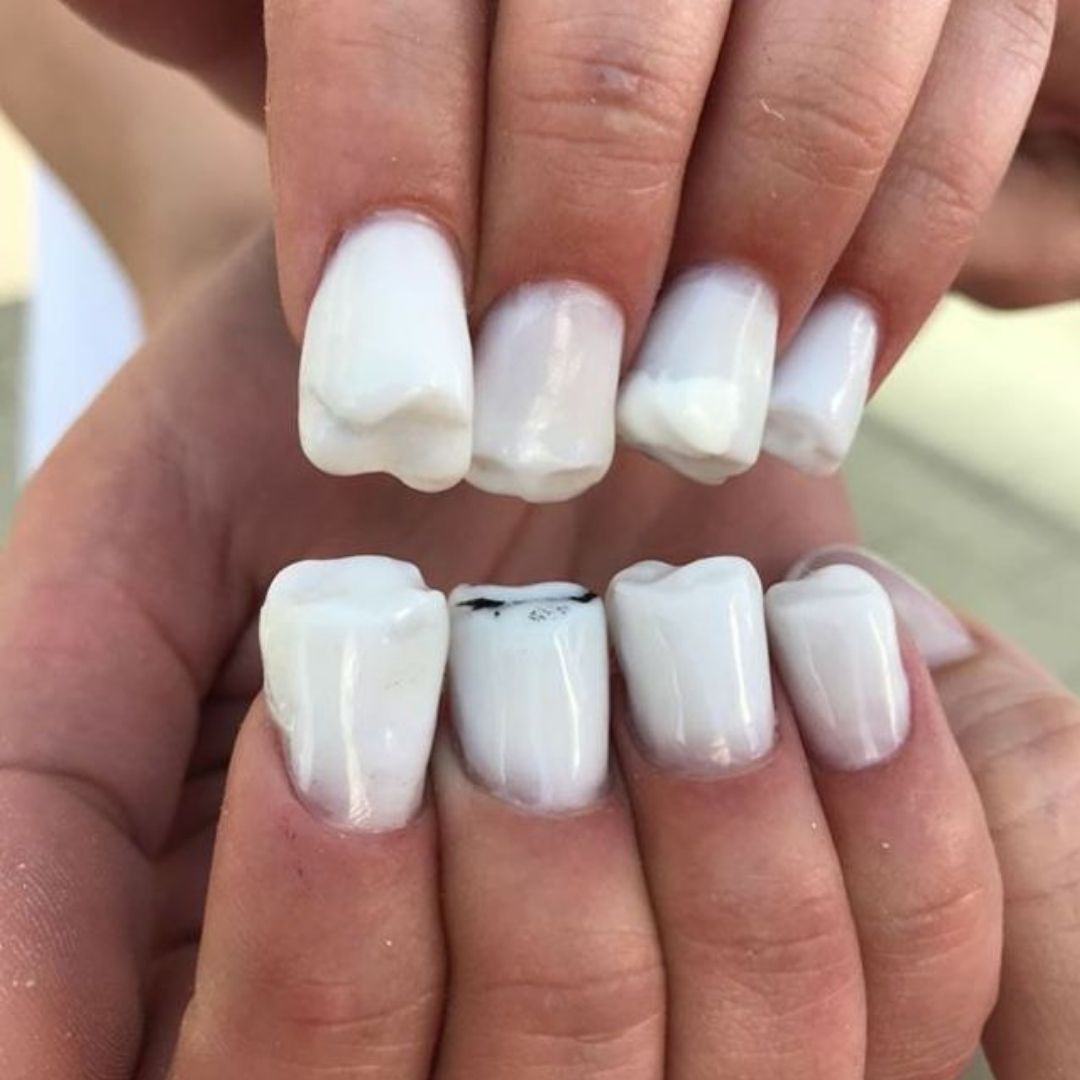 It seems like these horrendous beauty looks are not limited to the face, as manicure salon Nail Sunny shared some nightmare-inducing tooth nails on their Instagram page. These tooth nails are chomped together and sculpted out of acrylic.
Just like Sofie, nail sunny is known for sharing some strange looking nail arts on their Instagram page. Acrylic nails with fake babies on them, acrylic nails with gummy worms are just two of the many awkward nail designs by this nail shop.

Feathered Brows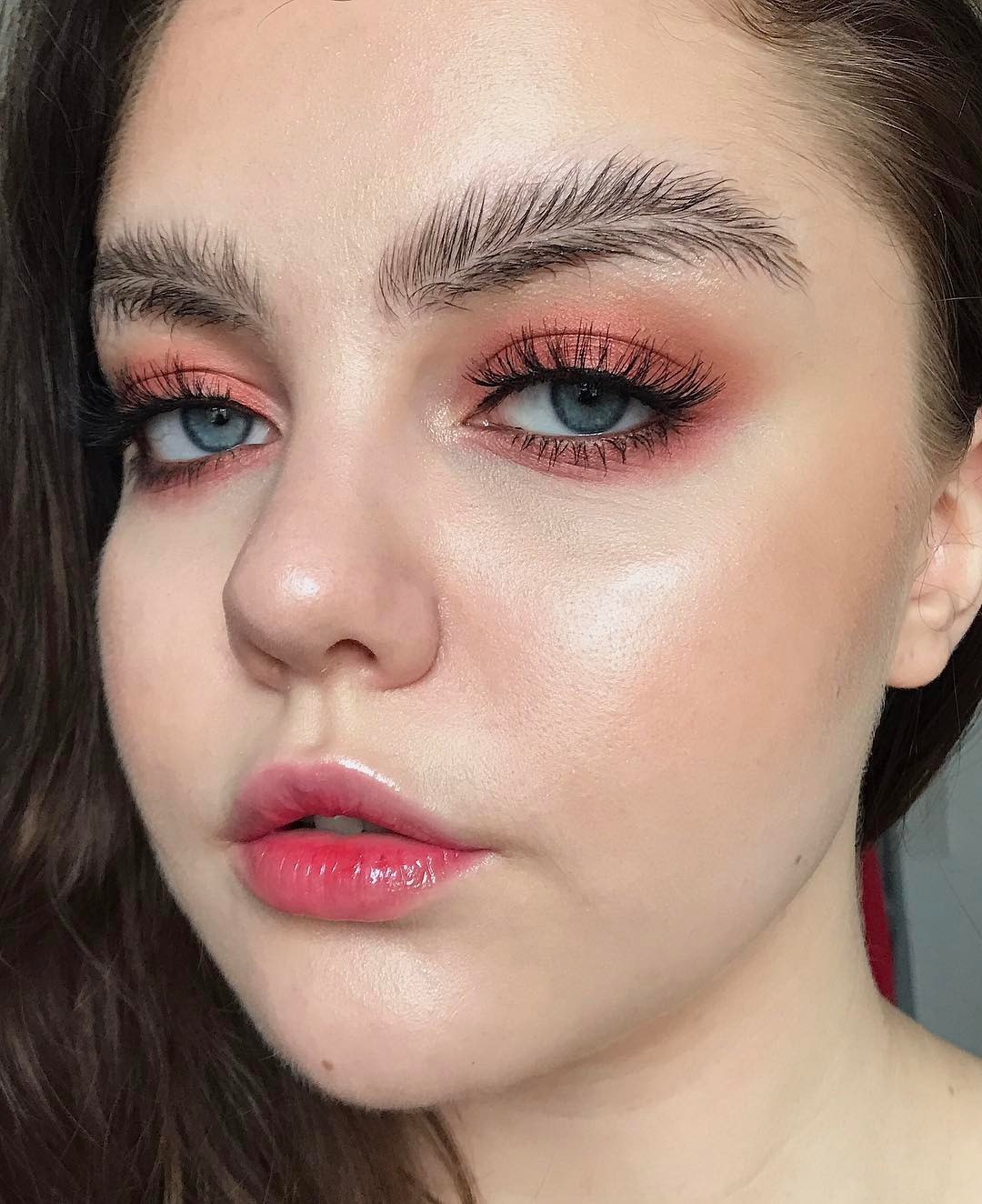 Eyebrows are all the rage tight now and it seems they also take the brunt of bad make up trends. Not too long ago we were introduced to "halo brows", "fishtail brows", glitter brows and people went so far to create the McDonald's brows. Feathered brows have joined the group of strange eyebrows. However, feathered brows are not as bad as one would think.
Swoosh Eyebrows


Pictures Of Nike Swoosh Eyebrows On Instagram Prove This Trend Is No Game. Recently heading up social media by store, pro makeup artist and beauty product extraordinaire Huda Kattan, who boasts almost 22 million Instagram followers, regrammed a shot of brows shaped in the famous shoe line's symbol from mua YouTuber @slayagebyjess.
The bizarre look features a straight angled brow tail, aiming towards the edge of the face, with the iconic Nike 'tick' shape in the middle

It is definitely weird but thick, textured brows have been a big hit with models like Cara Delevingne so we're willing to make an exception.
Would you try out the trend?? If not like the rest of us, maybe consider it as part of your spooktacular Halloween beauty looks!!

---