Has it ever crossed your mind how your favorite stars end up looking absolutely amazing while performing on that Sunday variety show? Besides their God-given great looks, these celebrities have a team of makeup artists, stylists, and hairstylists who make sure their image is always on point. But what the general public doesn't realize is that it's actually mayhem in the dressing rooms before these stars go on-camera.
The star generally rehearses for a very long time and the styling team usually has a small amount of time, usually only about 30 minutes to finish their job and make sure the celeb is show ready . The makeup artist usually works double-time and one sure-fire way to play up someone's eyes quickly is to apply false eyelashes. For women who want that instant define, false eyelashes work wonders. The effect can range from a few subtle strands to a full glam look.
The application process of lashes on your self can be ​challenging compared to having a professional makeup artist putting them on you. It takes a lot of practice to master a technique that works best for yourself.
Here are a few tricks and tips to make lash application simple, as well as some brands that are known to be proven which you ladies should definitely check out. TIPS AND TRICKS Try on you lashes without the glue and measure your lashes. Then trim around them untill your desired length.Alot of the times The falsies are too long and require some trimming to avoid the corners of the strip from irritating your eyes.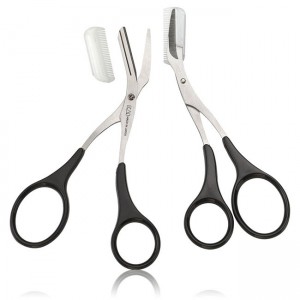 To apply the glue, apply a heavy-duty eyelash like Duo adhesive on the base of the false lashes with a cotton bud or a small spatula. Let the glue dry for about a minute so th​e ​glue is tacky enough for the lashes to stick easily onto the skin before applying the falsies.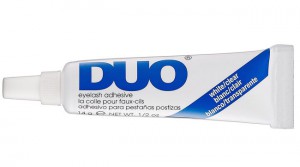 ​
Use sturdy tweezers ​with a slanted end to clamp on ​to the of the center of the false eyelash hairs. Using a small compact mirror on a low table and angling to your face and applying the falsies with tweezers is usually a very good technique. Apply the lashes using your tweezers while looking down into the mirror. ​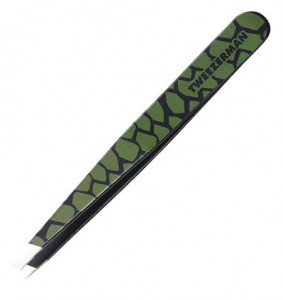 Clean up any excess glue and press down on the base of the lashes with a cotton swab. If you have to , adjust the angle and position of the lashes using your fingers. Once the lashes are dry completely ​, curl both natural and false lashes at the same time with an eyelash curler. Blend both the ​natural and falsies together by combing through the lashes​ with a brow/lash comb.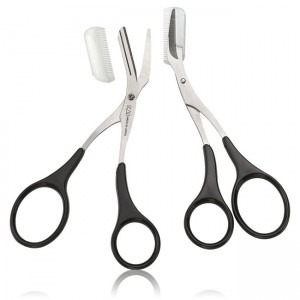 TRIED AND TESTED ​
The Natural Effect
For lady's who want to look like they were bor with a natural full set of lashes then falsies are a lady's best bet!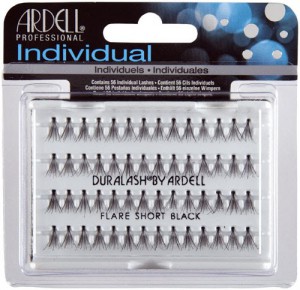 ARDELL Individual Lashes in Flare Short Black, here.
The Eyelash Addict
If the individual lash process is too tedious, the lashes below also provides the natural effect and are sold in multiple pairs so you don't have to worry about running out.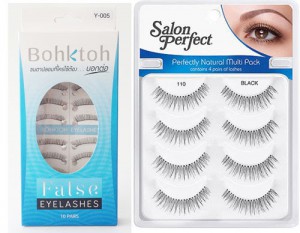 #110 Eyelashes (Pack of 10 Pairs), SALON PERFECT or ARDELL Natural Multi Pack in 110 Black
For First Time Users
For women who question wearing a full strip of false lashes, half lashes offer a subtle density that accentuate the eyes.​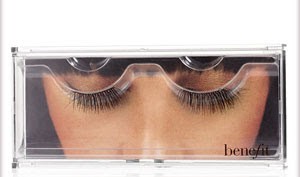 BENEFIT Starlet Lash.

ARDELL Accents #318 Eyelash, Madame Madeline Lashes
For That Perfect Cat's Eye
To add drama to that flawless winged eyeliner technique you learned and mastered by using the styles or similar styles below to give you lashes more length and volume to the outer corner of your eyes.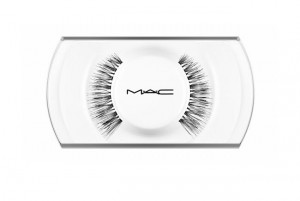 M.A.C. 36 Lash. Similar to Ardell Demi Wispies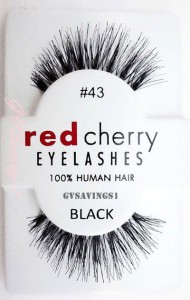 RED CHERRY Eyelashes #43, www.madamemadeline.com
For Instant Glamour
​Inspired by the 60s-era and rebooted by the 21st century, the limited edition of the ​Courrèges Estée Lauder collection provides a long, voluminous, natural eye look for a striking flutter and next-level definition.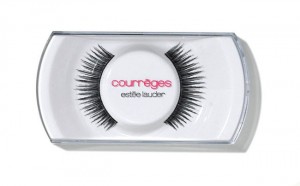 ESTÉE LAUDER Courrèges Super Lashes. Similar to Red Cherry #43.