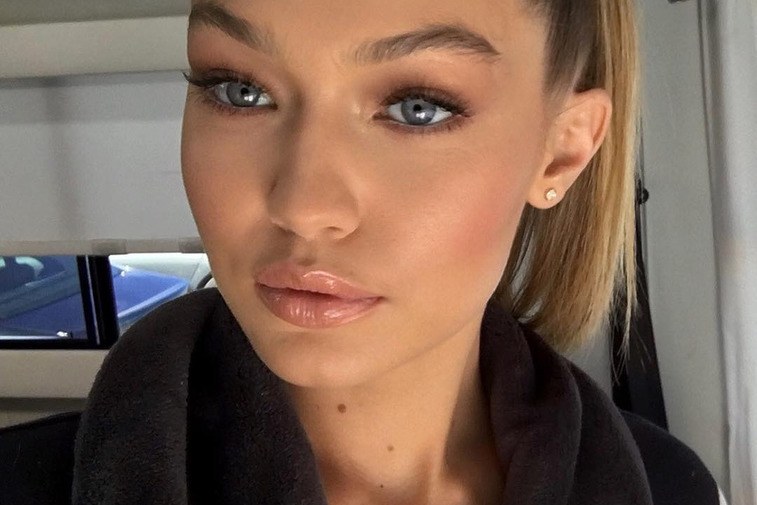 It's that time of the year again,  yep holiday party season is back! Which means you're most likely to bring your A-game in cosmetics for all the sparkly nights ahead. One of our mystery tricks for looking significantly glitz is popping on a couple of fake lashes. From strips to flares there's a form for each look you'll shake this month. As a matter of fact, getting those suckers to stay on can be a little distressing. So we requested that our MUA buds spill their best lash application tips. Master the process like a professional by reading the following tips.
One size does not fit all.
Wouldn't it be nice that  every single pair of lashes was perfectly customized for you. Sadly for all of us that is not the case, and you're gonna have to bring out the scissors. Celebrity make up artist suggests  "Start by measuring the lash, lay it down above your real lashes (without glue!) and then open your eye. This will give you an idea of how the lash will sit and how much to snip away. Trimming makes them more comfortable to wear and prevents them from popping up."
Half is good.
Many times you don't even need to use the entire strip. You can always just use half. Cut the strip in half and apply it to just the outer corner of your eye. This is a simple trick many like make-up artists suggest. Half false lashes creates a cool cat eye effect. They go perfectly pairing this with some winged liner!
Always consider the band.
"We usually buy lashes depending on length and volume. But, something else to look out for is a thin band. This is so important when it comes to wear," pro makeup artist Ricky explains. "The thicker the band, the easier it lifts up! I tend to use invisible band lashes whenever possible. If I'm working with a thicker band, I use extra lash glue to make sure it doesn't budge."
Curve the band.
It is very important to shape the band of your lashes. "I like to remove the lashes from their packaging and wrap them around the handle of a medium eye shadow brush," says Ricky. (The glue that holds them in their tray will help them stick to the brush!) "This helps to reshape the lash so it will hug the curve of your eyelids, making it easier to apply."
Don't use so much glue.
We all try our best to avoid sticky situations while applying the adhesive. Black/dark tone lash adhesive blends right into the lashes. Never squeeze the glue from the tube directly onto the lash base,  iot is wise to put a drop of glue on the middle of a Q-tip and drag the lash through it. This adds just the right amount and its creates a clean and mess-free application. Use this trick to avoid making a mess.
Give the glue time to set.
It's important to wave the lash around for a bit after adding the glue. This lets the adhesive formulation enough time to dry to become tacky, preventing you from getting glue all over the place.  Letting that glue set a little helps it really grip when you place it down. It's important to give the glue at least 30 seconds before you apply your falsies lashes.
 One of the last steps should be adding the lashes.
"I always do lashes after shadow and liner," says Ricky. "If you do them first, you might end up with eye shadow fallout on top of them. Sometimes, I add a little liquid liner to conceal the lash and finish the makeup."
You can always use mascara.
Adding a touch of mascara to the fake lashes will help blend them with your real lashes. But, doing so will limit the use of the pair to a couple times only s. It's really not safe to keep reusing mascara-ed up falsies more than twice because bacteria can build up.
Individual and strip ?
Ricky explains that "Individual lashes tend to look more natural. Strips are so much fun and can really glam up the eye, so I tend to use them when creating a smoky or graphic liner look," .
Curl or no curl?
Ricky explains "Curling the lash beforehand makes it more difficult to apply," Ricky says. But, after you've applied your lashes, curl away! "It helps blend the falsies with your natural lashes!"
Make sure not to glue your lids shut!
This should be  an easy decision, yet there's a simple hack to keeping glue far from your waterline. "Always keep your eyes open when applying," says Bailey. She tells us that holding a mirror beneath you will make it easier to see your lash line while looking straight ahead.
Use an eyeliner as a guide.
Battling with where to put your lashes? Ricky recommends using a  dark pencil along the lash line. It's an easy way to help you where to place your falsies. super easy!
Related: Make The Most of Your Eyes with These 9 Best False Eyelashes
[page_popup id="1″]