Here are 16 tricks to help you never go out with crooked liner ever again!
1.

 Use Concealer to keep the liner in place all day.

Using a brush, dab and blend concealer directly under your lash line.
2.

Tightlining is great if you don't want an overly "done" look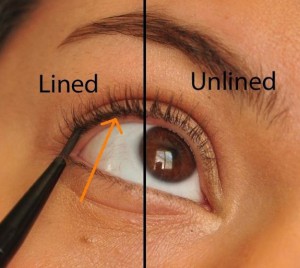 Take a small brush dipped in gel liner or a liquid eyeliner with a superfine tip and dot liner in between your lashes above your waterline for subtle definition.
3.

Using white liner will open up your eyes  in a few ways.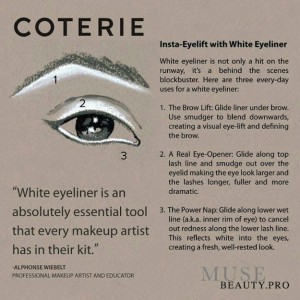 White eyeliner is not only a hit on the runway, it's a behind the scenes blockbuster. Here are 3 everyday uses for white eyeliner.
Step 1. Brow lift:
Glide liner under brow. Use a smudger to blend downwards, creating a visuak eye-lift and defining brow
Step 2. A real eye opener:
Glide along top lash line and smudge out over the eyelid making eye look larger and the lash longer, fuller and more dramatic.
Step 3. The power nap:
Glide along lower wet line (aka inner rim of eyes) to cancle out redness along the lower lash line. This reflects white into the eyes, creating a fresh, well rested look.
4.

 Don't let your waterline eyeliner disappear or run during the day.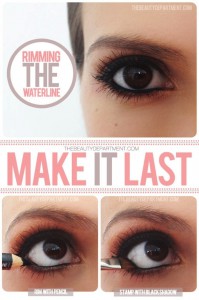 Lock in your pencil with shadow and see how much longer your liner will last.
6.

 Try this for a more toned-down look.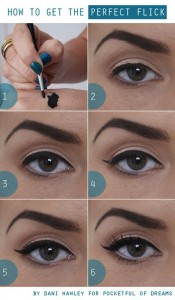 Your choice to how dramatic or subtle you like.
7.

 An even more easy trick is to use Scotch tape as a stencil.

How to Be a Girl: Cat Eyes By Magic!
8.

 For a much softer look, use and angled brush and eyeshadow.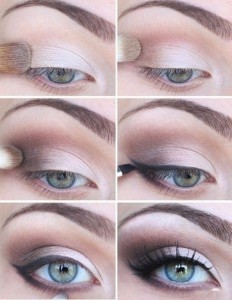 You can use powder eyeliner if liquid eyeliner is too intimidating.
9.

Or you can just use a decal like this one.
Like the Eye Rock decals
10.

 You can get more colorful as soon as you master one of those techniques.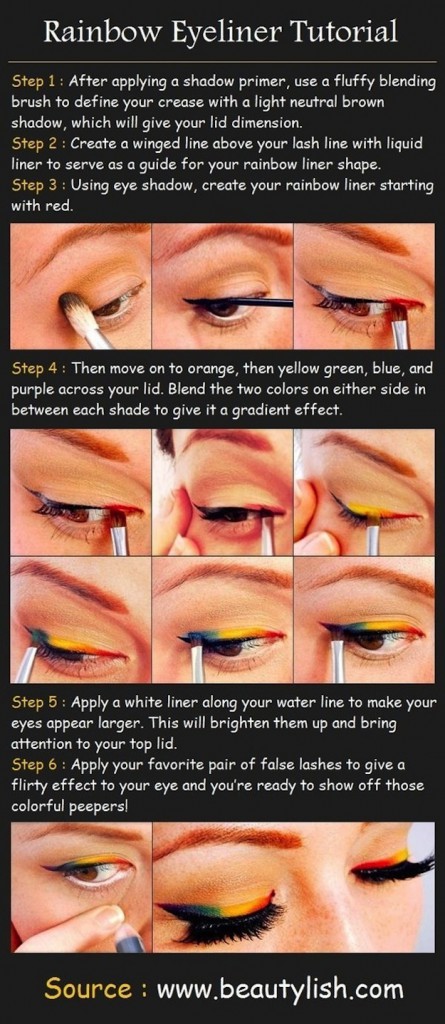 Rainbow eyeliner tutorial:
Step 1. After applying a shadow primer, use a fluffy blending brush to define you crease with a light neautral brown shadow. which will give you lid demensionStep 2. Create a winged line above your lash line with liquid liner to serve as a guide for your rainbbow liner shape.Step 3.
Using eye shadow, creat your rainbow liner strating in red.
Step 4.
Then move on to orange, then yellow green, blue, and purple across your lid. Blend the wtow colors on either side in between each shade to give it a garient effect.
Step 5.
Apply a white liner along water line to make your eyes appear larger. This will brighten them up and bring attention to your top lid.
Step 6.
Apply your favorite pair of lashes to give a flirty effect to your eye and you're read to show off those colorful peepers.
11.

 Use the runway as inspiration!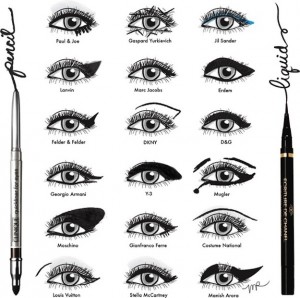 You have many options to choose from.
13.

Get glittery.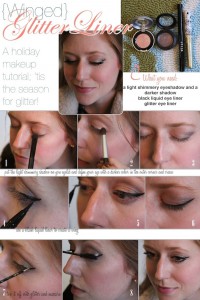 Use a good primer to help you keep it in place.
14.

Get scalloped look to be a bit unique.

This can easily be done with home made stencils.
15.

Figure out the type of winged liner look best suit for your eye shape.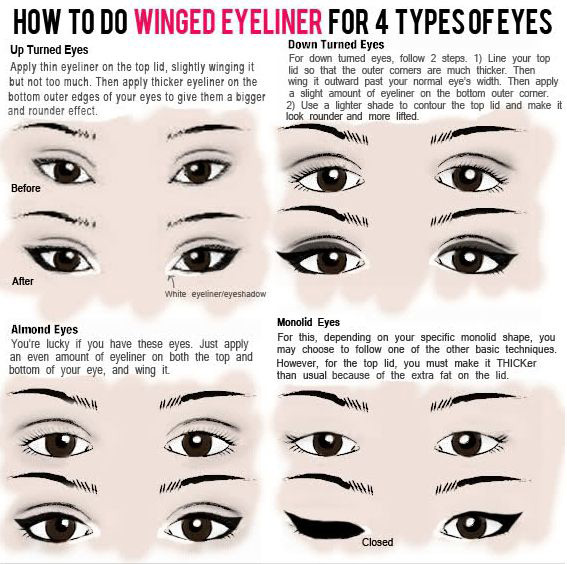 Up turned eyes: Apply thin eyeliner to the top of the lid, slightly winging it but not too much. Then apply thicker eyeliner on the bottom outer edges of your eyes to give them a bigger and rounder effect.Down turned eyes: Step 1. Line your top lid so that the outer corners are much thicker, then wing it outward past your normal eye's width. then apply small ammountof eyeliner on the bottomouter corner.Step 2.
Use a lighter shape to coontour the top lid and make it lok rounder and more lifted
Almond eyes:
you're lucky if you have these eyes. Just apply an even amount of eyeliner on both the top and bottom of your eye, and wing it.
Monolid eyes:
For this, depending on your specific monolid shape, you may choose to follow one of the other basic techniques. However, for the top lid, you must make it thicker than usual because of the extra fat on the lid.
16.

And last but not least, a heavier cat eye look.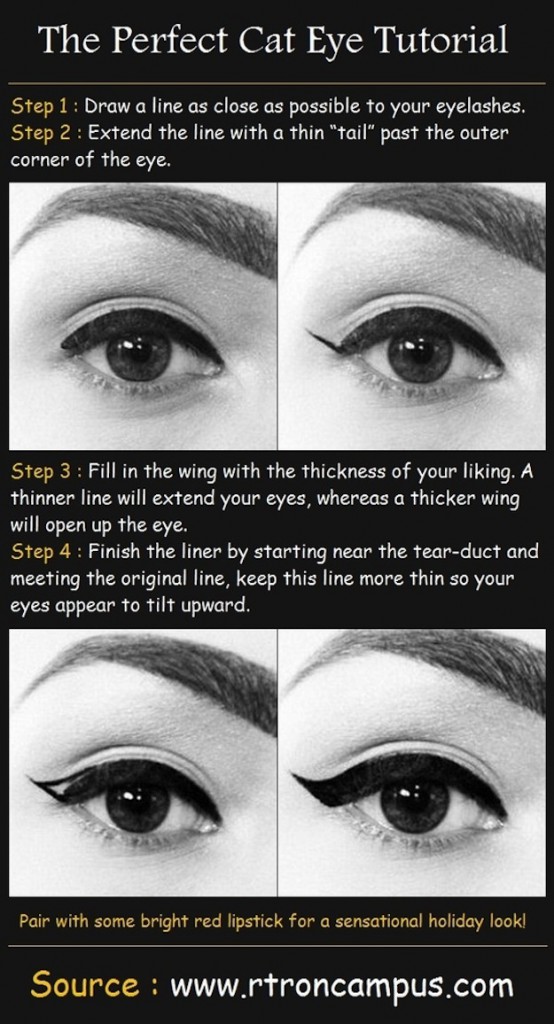 Step 1.
Draw a line as close as possible to your eyelashes.
Step 2.
Extend the line with a thin "tail" past the outer corner of the eye.
Step 3.
Fill in the wing with the thickness of your liking. A thinner line will extend your eyes, whereas a thicker wing will open up the eye.
Step 4.
Fnish the liner by starting near the tear-duct and meeting the original line, keep this line more thin so your eyes appear to tilt upward.