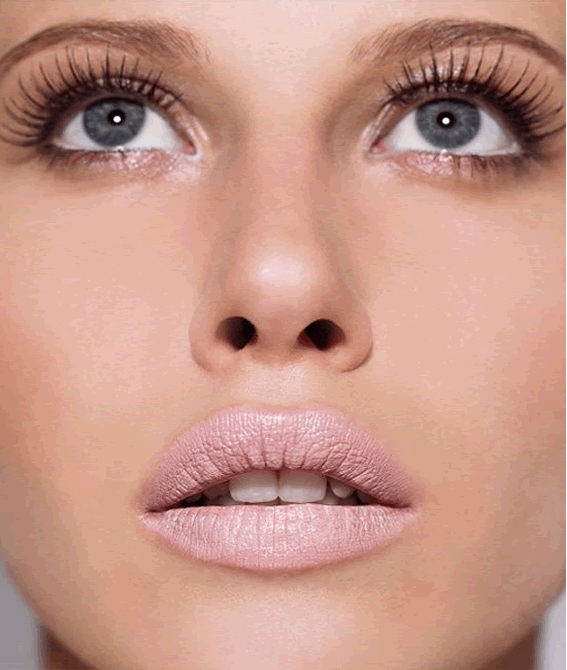 On the nights when an extra coat of mascara just won't do, bust out a pair of false lashes and turn some heads. Don't be afraid – I promise it's not as hard as you think.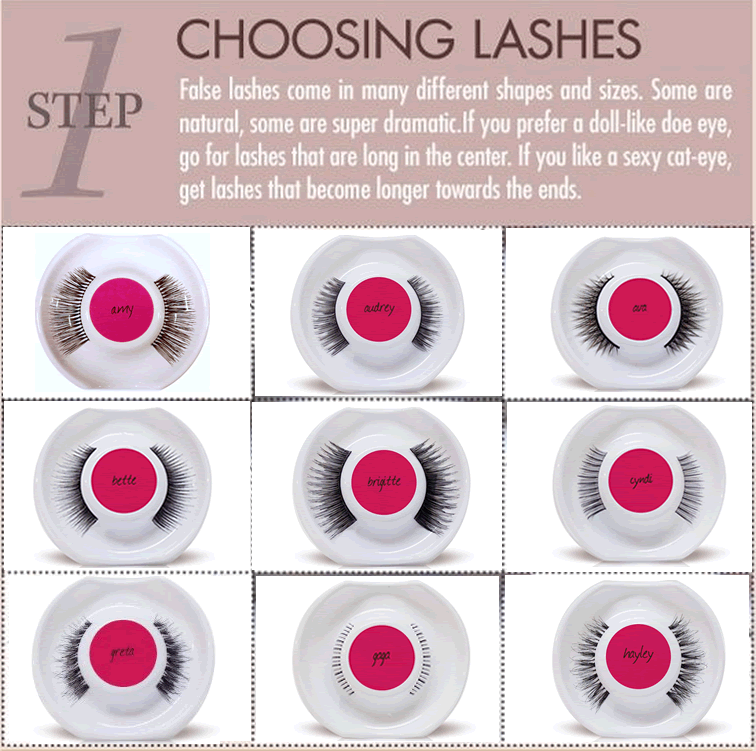 CHOOSING LASHES
False lashes come in many different shapes and sizes. Some are natural,some are super dramatic. If you prefer a doll-like  doe eye, go for lashes that are long in the center such as bullseye
Amy
or
Cyndi
Lashes. If you like a sexy cat eye, get lashes that become longer towards the end like bullseye
Greta
Lashes.

SIZING LASHES
Remove lash strip from package and gently bend back and forth. This helps loosen up the lash strip making it more pliable. Visually measure to see if trimming is needed.  Sizing your lashes by snipping off the outer corner of lash band with
small scissors
. Now place lashes directly above lashline.  Lashes should begin few millimeters away from the inner corner of your eye.

CURL LASHES
Now is the time to curl your natural lashes (try
Ardell Professional Lash Curler
). Once the lashes are glued on, it will be difficult to curl unruly lashes. don't give too severe of a curl. Remember, your falsies need to lie against your natural lashes.

APPLY ADHESIVE
First only use quality lash adhesive such as
DUO Adhesives
available in flexible latex or latex free hold. You can apply  glue directly from the tube onto the lashes, but this method often results in excess glue. I like to deposit a dab from the tube on to the back end of an eyeliner brush or toothpick. Now, hold lashes between your finger and gently run the glue evenly along the strip.

APPLY LASHES
Don't be nervous.Using either your finger or a pair of tweezers, grasp the lash side of the falsies (lash strip facing you), tilt your head back (so that you are looking down, into your own mirror) and gently place lash strip directly above your natural lashes.

FINISHING TOUCHES
I like to apply a few light strokes of water based
mascara
such as Ardell LashMagic after the falsies lashes are on. It's a good to blend your natural lashes with the false ones. It also lifts the lashes so you don't feel like you're looking through a curtain of hair.

REMOVAL
Grasp the outer edge of lashes and gently pull up, toward the inner corner of your eye. If the falsies are stuck on your natural lashes, use soap and warm water  to dissolve the glue a bit. Once the glue is more pliable, it should peel away more easy.