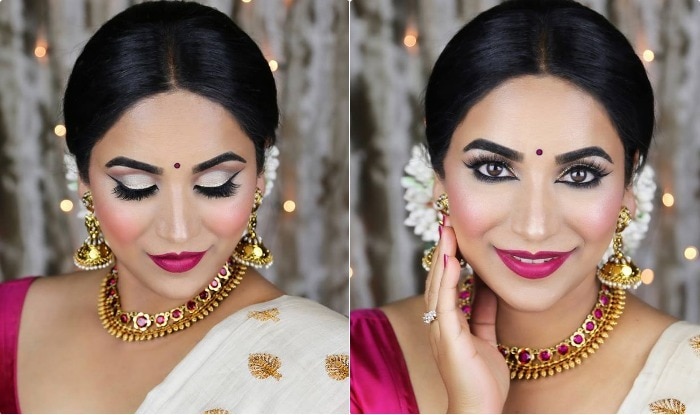 Onam is the biggest festival of the state of Kerala. It is a harvest festival and is celebrated by people of Kerala with joy and enthusiasm. As per the popular legend, on the festival is celebrated all over the state by people of all communities to welcome King Mahabali. The celebrations of Onam lasts for 10 days and people celebrate the festival in a grand way to impress King Mahabali and to wish him well,whose spirit is said to visit Kerala on the festive occasion of Onam. This year Keralites are celebrating Onam 2017 on September 4.
Onam is marked by elaborate feasts, folk songs, boat race, elaborate flower mats called Pookalam. Women indulge in cultural activities and get dressed in their traditional best outfits. On this day women wear Kerala sari or Kasavu sari, which typically is an off-white handloom saree with beautiful golden border. Women exude grace and elegance wearing this traditional outfit. They also sport subtle makeup and adorn their hair with flowers. If you wish to dress up and get the look of the traditional Kerala woman, we will share with you how to get your makeup right this Onam.
Begin with clean skin. Use little vitamin E oil to hydrate your skin and start applying a foundation that matches your skin tone. To highlight your face, use a dark shade of color near the outer rim of your face; hairline, jawline. On the other sections use a slightly lighter shade of foundation to highlight the area. After applying it with a brush, start blending the foundation in using a makeup sponge.
Use some concealer under your eyes, on the bridge of your nose and any other area where you have spots or blemishes. Also, using a contour stick, contour the hairline and jawline. Make sure you blend well using a sponge or brush. Apply some translucent powder using a makeup brush to set your base makeup. To enhance the contour more, use some bronzer to your hairline and cheekbones. To add a hint of color to your cheeks, use some blush on your cheek bones. This will make your cheek bones pop!
Before you begin your eye makeup, use some primer on your eyelids, this will even out the skin and also makeup your eyeshadow look bright. Set it with some powder. Then start with the lightest shade in the nude palette apply from your inner crease to the outer as a transition color. Use some dark brown on your crease-line after the transition color. Use some highlighter on your brow bone to define the arch. Use a shimmery shade all over your lid. Softly blend the shades to get perfect smokey eye makeup.
Use black eyeliner to and wing out the upper lash line. Also, use it on your lower lash line and using a brush smudge it a little. Use a shimmery shade of eyeliner just above the black to make your eyes pop. To add some more drama, apply apply false lashes and add a dash of mascara to blend in the falsies with your real lashes.
Use a bright liquid lipstick in the shade of red or maroon to go with your traditional outfit. Apply a red stick on bindi, wear your traditional jewelry, adorn your hair with jasmine flowers and wear your Kerala saree to look nail the traditional look.
The above video guide will help you to get this makeup look. This step-by-step video guide will help you to get your makeup right for the traditional look that you are planning to flaunt on the occasion of Onam 2017.
Makeup details:
On My Face:
Vitamin E-Oil as primer
Maybelline New York Fit Me Dewy + Smooth Foundation
L'Oréal Paris True Match Super Blendable Makeup
wet n wild Photo Focus Concealer
wet n wild MegaGlo Makeup Stick – Contour
Artistry US Exact Fit Perfecting Loose Powder
Physicians Formula Murumuru Butter Bronzer
SEPHORA Blush – So Shy
On My Lips:
wet n wild MegaLast Liquid Catsuit Lipstick in berry recognize
On My Eyes:
Smashbox Cosmetics Full Exposure Palette
Sigma Beauty 'Line Ace' Liquid Eyeliner
Revlon PhotoReady Eye Art Lid + Line + Lash
Source: India.com