Before the advents of false eyelashes, people of the past used dark liners around the eyes to accentuate their look for pastimes, religious rituals, or for everyday norm for cultural significance.
In the mid-Victorian era, the French demimondaine, or "it girl" of the time, used paint to whiten her face, rouge her cheeks and lips, and line her eyes. She also was said to have worn false lashes. This look was bemoaned by the conservatives at the time, as it conflicted greatly with their feminine ideals of natural beauty. Plenty of disapproval went on, such as in the Chambers' Journal written by William and Robert Chambers.  Specifically spoken out against Madame Rachel, a woman who could be considered one of the first makeup artists, as she was said to have been paid well for "enamelling" a lady's face. The Chambers brothers referred to layering colour on the face as living lies and an instrument of deception.
False lashes were born in 1916 when they were invented by American film director D. W. Griffith. It was during the making of his movie " Intolerance " that Griffith first wanted these lashes to grace the cheeks of the beautiful actress Seena Owen. The first false eyelashes were made of real human hair and were woven by a wig maker. False lashes have remained really popular among famous celebrities and many leading actresses alikes for decades since then to enhance and accentuate prevailing Hollywood glam look.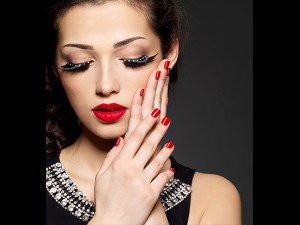 Fringe was mainly used in the beginning stages of lashes. It was carefully attached to the thread, but failed to provide a natural look. That caused a decrease in popularity of false lashes. The trend of falsies lashes began to raise again in the 1950's after finding a way to use plastic materials (synthetic hair fibers) rather then real 100% human hair, which actually gave it more of a natural look and regained the attention of the audience.
In 2009, Madonna wore a mink and diamond pair of lashes by Shu Uemura which cost $10,000. Some of us balked at the extravagance, while others didn't bat an eyelash, snatching up the 1000 pairs produced until they were sold out. 2009 also saw models on the fall runways bedazzled on the lash front, in tulle and sequins at Chanel by makeup artist Peter Philips, to outrageous fluttering lengths at Dior by makeup artist Pat McGrath. Both Milan's Dolce & Gabbana and Versace featured enhanced versions that seemed more typically glamour girl compared to the former, but which still helped created high demand that season for falsies.
Fast forward to 2015, and the popularity of false eyelashes continues! They are still worn by top celebrities and even B-town divas such as Mumtaz, Rekha, and Sharmila Tagore. ​False eyelashes today are now an extra make-up accessory essential to applying cosmetics for everyday women and have evolved into different brands and hundreds of styles to accommodate different looks from photo-shoot, Hollywood Fx, fashion/runway walks, and everyday make-up look for night out.  They have become a staple in every makeup artists' kit.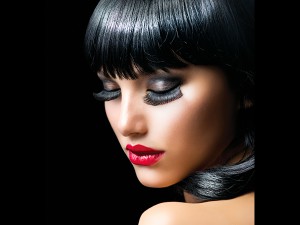 Below are our favorite brands of brand name falsies lashes:
Ardell, Andrea, Bullseye, DUO, Eylure, Kiss, ModelRock, Red Cherry, Revlon
Use discount code GIMME10 to save 10% off these already discount false eyelashes here at Madame Madeline Lashes.