MODELROCK Lashes' Guide To Applying Your Favourite Style of Falsies from the experts
With a lash to suit every eye and every occasion, more and more women and makeup artists are lashing out with MODELROCK Lashes, using these premium false lashes to enhance their look or that of their clients – whether it be from glamorous,  bridal or fashion forward to red carpet, every day, editorial and event beauty!
But how do you apply the different lash styles, ranging from strip lashes, Under lashes and Individual lashes ?
Celebrity makeup artists Sue Marshall, Michael Brown and  Chantelle Baker are here to help and provide the professional's guide to lash application!
GOING UNDER!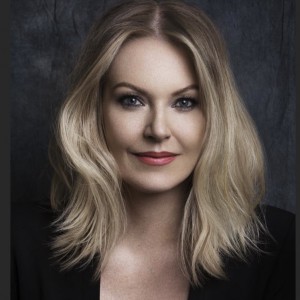 "For the bottom lash trend, I would save these for night wear or special events to add a touch of mod glamour," says celebrity hair & makeup artist Sue Marshall. Sue's step-by-step application guide for bottom or under lashes is as follows.
1. Always curl your upper lash prior to applying your liner or eye makeup. Always apply the top lash first.
2. After ensuring your eye makeup and liner is complete, add a little glue to the end of your tweezers and swipe your tweezer across the base of the bottom false lash. This controls the amount of glue applied. Add a little more glue to either end of your false lash this helps adhere to the outer edges of your eye where there is the most movement when you smile etc. Wait until the glue is a little tacky to the touch. Then you are ready to start application.
3. Looking straight at the mirror, take either end of your lower lash and start placing it at the base of your eye – underneath your lashes. Try to adhere the middle of the lash to the centre of your lower eye first then you can release one end and press that end onto the skin under the lashes on the eye. Repeat with the other end of the lash. Ensure the entire lash is adhered to your skin. Wait for the glue to dry. Try not to move your eye around too much while the lash glue is drying.
4. Add some extra mascara by using your mascara wand vertically. That way you have more control of the amount of mascara you use and also less chance of irritating smudges around your eye.
5. Then apply your liner lightly to the glue on the lash to make sure it blends with your lash line.
I'M AN INDIVIDUAL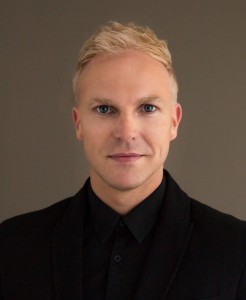 Celebrity makeup artist, Presenter, Beauty Writer and Tutorial Expert, Michael Brown tells us his key steps on applying Individual Lashes:
1. Ensure your eye makeup look is complete – I use individuals as a finishing touch.
2. Place a dot of glue on the back of your hand (or mixing metal plate) ready for the base of lash to be slightly dipped into.
TIP – Less is more with lash glue, you definitely don't want to overload your lashes with glue, plus it dries faster.
    * I personally only use black toned lash glue, so no white is visible, you can then walk out immediately with no glue dots visible.
3. With your MODELROCK individual lash palette, very gently tug on the length of the lash hairs, exposing the base line and releasing from packaging. (I love using my fingers as I find the process so quick and a wider grip than tweezers, so I don't break/pull the lash hairs. Of course tweezers can be used if you find it easier).
4. Dip exposed base line of lashes into glue, only a small amount to not flood base line.
5. With eyes closed (not squinting) place individual lash right in the join of natural lash to skin. No base should touch the skin of eyelid, only in the join lashes to skin. Always place flat, they can easily twist.
6. I start on the outer eye and work in, no closer than the width of each individual lash for a perfect balance.
7. Make sure you open eyes after a minute; to see any gaps in the lash look – add more to fan lashes.
8. If when eye is open you want a fuller look, add one more row of individuals in the gap of each base (the part in between the width of each lash), this should overlap first row perfectly for a fuller, double row effect.
Michael Brown PRO TIP –  "My favourite look is using the 'long' lashes at the outer corner and then using medium through the middle for a fabulous winged outer corner look."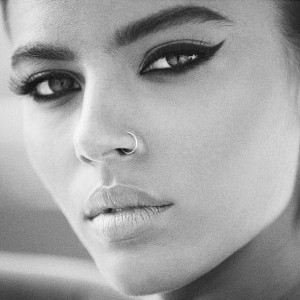 Makeup Artist: Chantelle Baker . Photographer: Jennifer Stenglein
STRIP DOWN!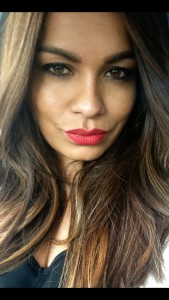 With Jennifer Hawkins and Nadia Bartel among her client roster, Chantelle Baker is a red carpet makeup guru, choosing MODELROCK Lashes to enhance every look. Here Chantelle shares her tips on applying Strip lashes :
1. Apply one thin coat of mascara
2. Choose your desired lash and measure against your eye – cut to the size required so they fit the eye
3. Apply a thin strip of lash glue to the strip of the lash, not too much, but just enough.
4. Wait 30 seconds for the glue to dry and become sticky
5. Using your MODELROCK Lashes applicator or a pair of tweezers, apply the lash to the lashes (not the skin) and press down from one corner to the other
6. Use the applicators to press the lashes together with your natural lash so they are secure and comfortable
"And viola! Your lashes should be looking gorgeous! Another optional tip is that you can apply another thin coat of mascara to your natural lash once your lashes are on; I find this helps blend both lashes together for a more natural effect," says Chantelle.
ABOUT MODELROCK LASHES
MODELROCK LASHES are available through professional make-up artists, beauty salons, beauty wholesalers, hairdressing salons, luxury hair salons, and spa/beauty lounges. The brand has an impressive and established cache of high profile professional & celebrity makeup artists who love using these lashes including Sue Marshall, Chantelle Baker, Dale Dorning, Martin Bray, James Vincent, Roshar, Nigel Stanislaus, Merton Muaremi, Stephen DImmick, and Rae Morris.
Get #Lashed with ModelRock Lashes at www.MadameMadeline.com
MODELROCK's best selling Lashes: Smokey Velvet – Double Layered Lashes