This charming puppy has beautiful, long eyelashes that many women would kill for.
Back in August, Chloe Shaw, 20, from Romford, Essex, purchased her adorable pooch Walt for £1,500 (~$2120 USD) and revealed that she was instantly attracted to his beautiful piercing eyes and extremely long eyelashes. Walt is a Cocker Spaniel x Miniature Poodle (Cockerpoo) mix.
Chloe shared that strangers often stop her and Walt in the street to comment on the Pooch's remarkable luscious lashes and doe-eyes. Many study suggests that very long eyelashes length are perceived to be most attractive as part of culturel bias, it is no surprise this is extra attention and love at first sight coming from people walking by this adorable pooch.
Chloe revealed that Walt basks in the attention he receives for his long eyelashes, stating: 'He is a super cheeky and cute dog who loves the attention he gets from people during our walks.'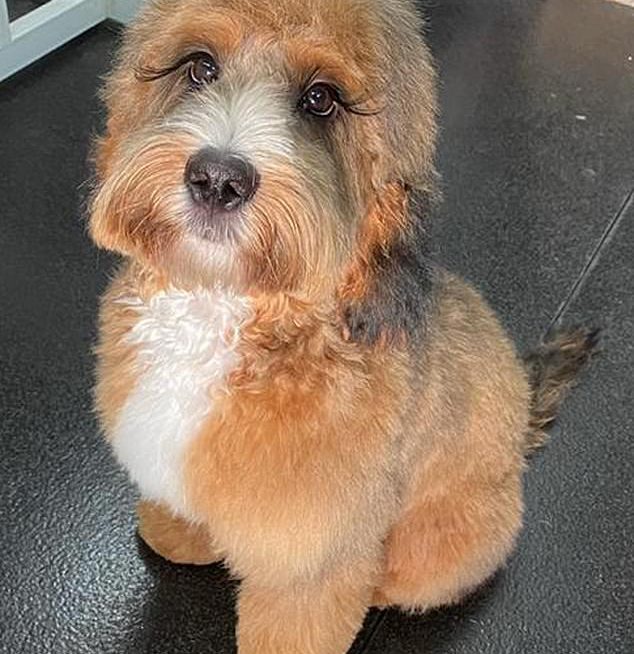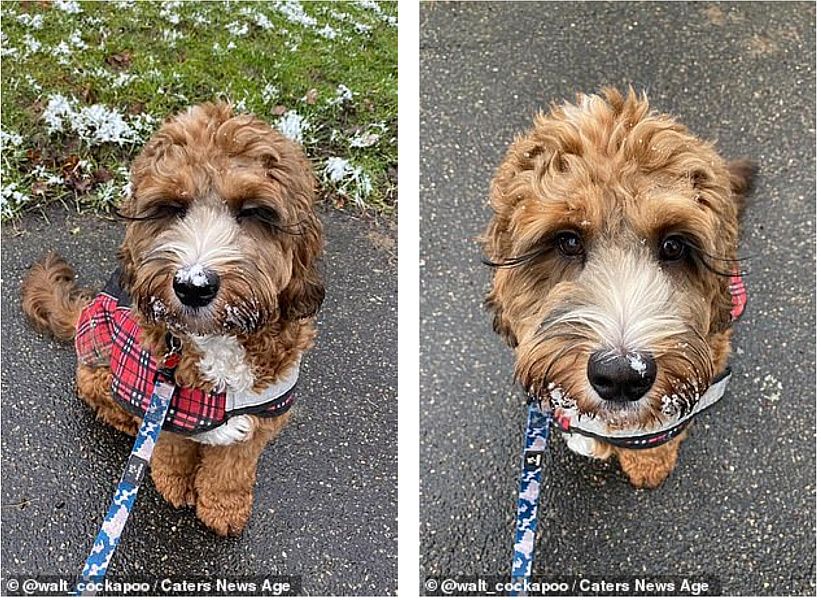 Chloe said that maintaining Walt's attention grabbing looks can be time consuming as she explains: 'He is brushed daily and is groomed every four weeks which includes the full works such as trimming and nail clipping.
'He can be a bit cheeky when grooming him as he gets a bit excited and doesn't standstill.'
Chloe added that she is smitten with the pooch's lashes and that they are her favorite feature on Walt, saying: 'Walt has eyelashes to die for. They are so long and curly, I absolutely love them.
'Some people think they are fake as he looks like he has had an eyelash extension.'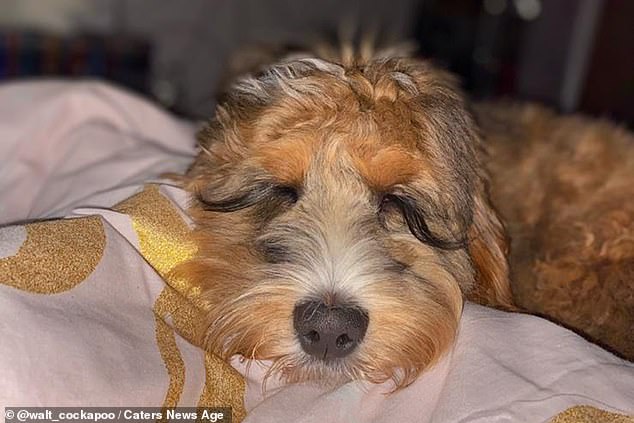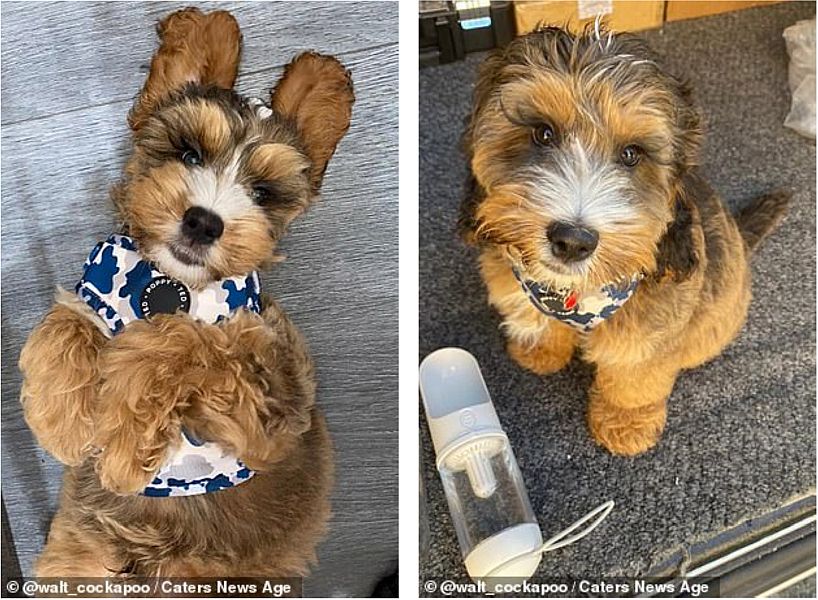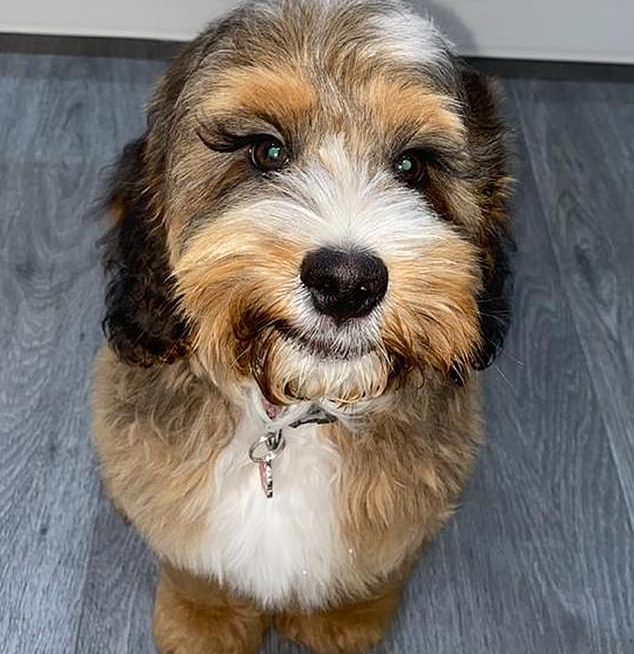 She added: 'He is such a sweet boy, I love him and his lashes!'
The professional dog groomer has now set up an Instagram account specifically to share photographs of Walt, which has over 2,000 followers as we speak.
Among the many cute snaps is Walt relaxing on a summer bed, indulging in a pancake on pancake day.
One person who was in awe of his look commented: 'Wow. Look at them lashes.'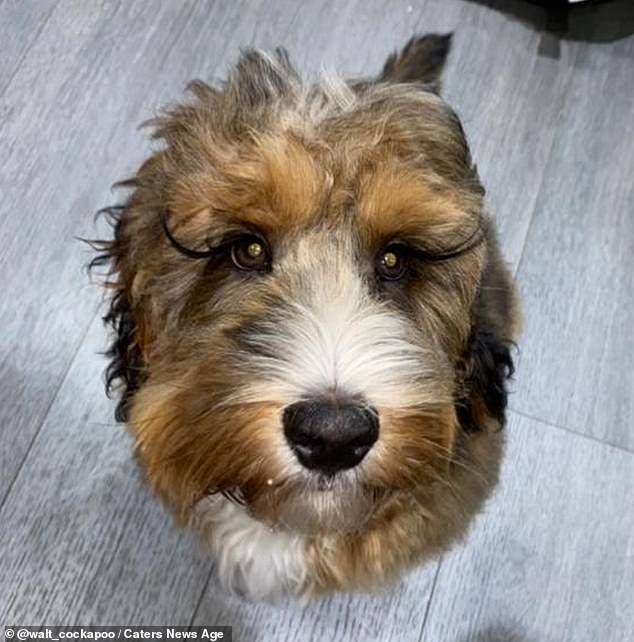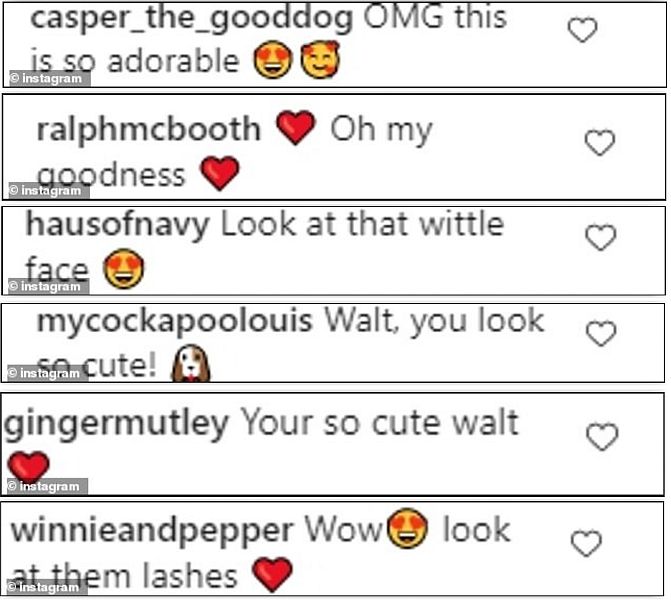 A commenter wrote: 'Look at that wittle face', another added: 'Walt, you look so cute.'
'OMG this is so adorable,' another added.
According to dog website, Oodle Life, lashes that are too long can lead to gunk accumulation and obstruct the vision of your canine. Other conditions such as redness and itching can also cause discomfort in the eyes.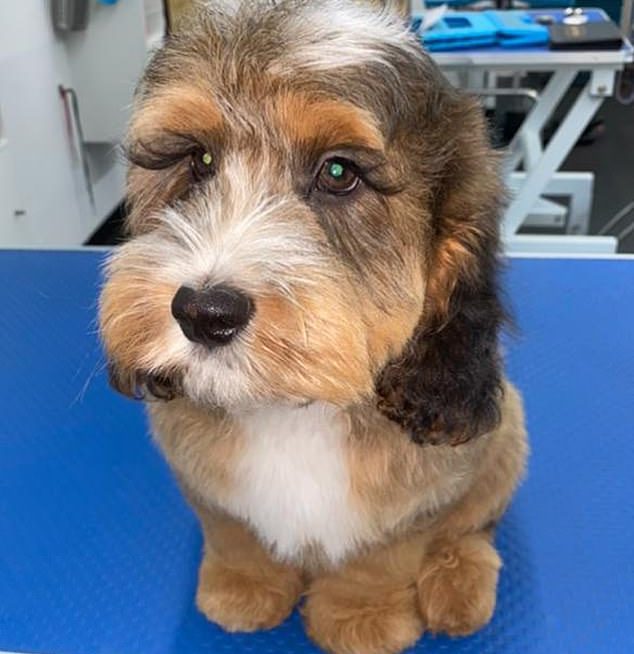 ---
---
---
Can dogs have naturally long eyelashes?
Just like humans, dogs' eyelashes protect their eyes.
When dogs play outside or explore the park, their lashes protect them from debris and other harmful object to enter their eyes and settle under their eyelids.
Unlike humans, dogs only have eyelashes on their upper eyelids.
It is O.K. to trim dog's eyelashes, but if they are at the proper length and do not bother the dog, it is best to leave them alone so they can offer the proper amount of protection to the dog.
Dog lashes that are trimmed will grow back.
Certain breeds, like Long-haired pooches such as Cocker Spaniels, are more likely to have long lashes than others.
Other breeds that are known to have strikingly beautiful lashes are Maltese, Yorkshire Terriers, Lhasa Apsos, Shih Tzus and Poodles.
The current World Record holder for dogs with the longest eyelashes as of 2014 is an Australian Labradoodle that lives in Tokyo Japan and was named Ranmaru. Ranmaru's eyelashes were measured at 17 centimeters long.
---
---
FAQ
1) Is It Safe to Cut Your Dog's Eyelashes?
If you decide to cut your dog's eyelashes, you must do it very carefully or you might end up hurting your dog during the process. If you notice that your dog is not in the mood or simply unwilling, that may be a cause of concern.
Cutting your dog's eyelashes can be dangerous. Damaging the dog's eyes while cutting or trimming the lashes is one of the most significant risks.
Without the proper care and laser sharp focus, you might damage your dog's eyes while you trim or cut the lashes, which can also happen if you use a trimmer that is way too sharp for the job, or if your dog is feeling uneasy and keeps fidgeting.
2) Is It Okay to Leave Eyelashes Uncut?
As your dog's eyelashes are growing longer, you might ask yourself, should I let them be? You might even think that there is no risks to leaving them uncut.
Well, there are actually risks to leaving your dog's lashes uncut, such as:
Long eyelashes can form gunk
Long eyelashes can blur your dog's vision
Long eyelashes can cause infections like trichiasis
However, eyelashes naturally protect your dog's eyes, so if they are at the proper length and not bothering your dog, you should let them be.
3) Will the Dog's Eyelashes Come Back?
If you're afraid of cutting your dog's lashes because you think that they won't grow back, here is your answer.
Dog lashes will always grow back, no matter how much you cut or trim them.
Dog lashes usually grow back to their original length within five or six weeks, so don't worry if you cut your dog's eyelashes too much, as they will always grow back.
4) Which Dog Breeds Have the Longest Eyelashes?
Some dog breeds have long eyelashes. Here are a few of the breeds with the longest eyelashes:
Yorkshire Terriers
Maltese and Maltipoo
Cocker Spaniel and Cockapoos
Shih Tzus
Lhasa Apsos
Poodles
---
---
This puppy with gorgeous, salon-worthy eyelashes will melt your heart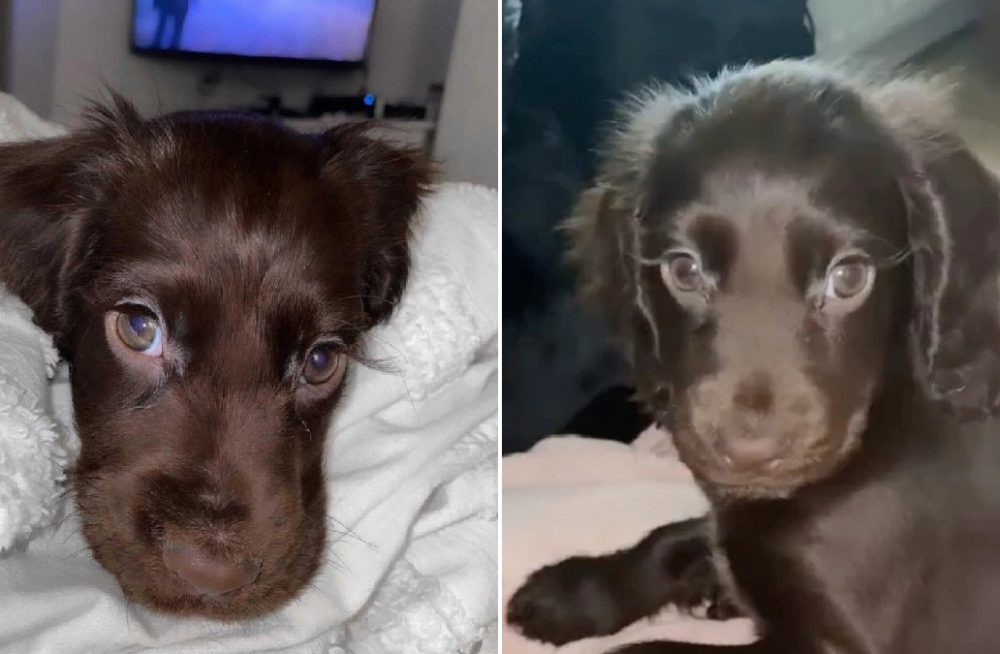 Meet Mabel – the stunning puppy whose lengthy lashes are enough to give Disney characters a run for their money.
The chocolate working cocker spaniel, from Warwickshire, has captured the hearts of the nation with videos on TikTok, which have racked up more than 2.3 million likes.
Her natural expression is quite literally the definition of 'puppy dog eyes' and there's no doubt that a flutter of those big, innocent lashes means she can get away with anything.
Mabel's owner, Caitlin Baker, is actually an eyelash technician. The 20-year-old said she fell head over heels in love with the canine when she first saw her spectacular lashes.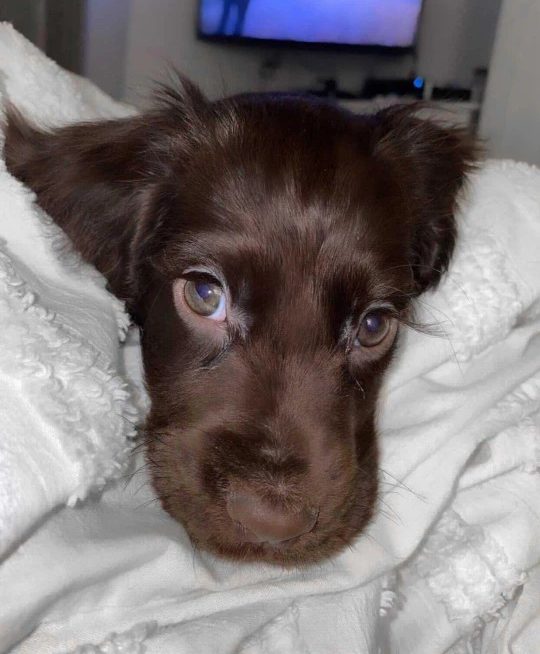 Caitlin, who is currently out of work due to Covid-19 restrictions, said: 'Mabel's eyelashes are natural.
'When we first saw her we fell in love with her and then noticed her lashes and instantly loved her even more.
'People think she's amazing and often say she looks like Cindy Lou from The Grinch, which is my favourite Christmas movie.'
Cindy Lou in the hit film was played by actress Taylor Momsen, who actually needed lash extensions to achieve the fluttery look. Mabel, on the other hand, is blessed with natural ones.
It's safe to say we could happily gaze into the pooch's eyes all day.