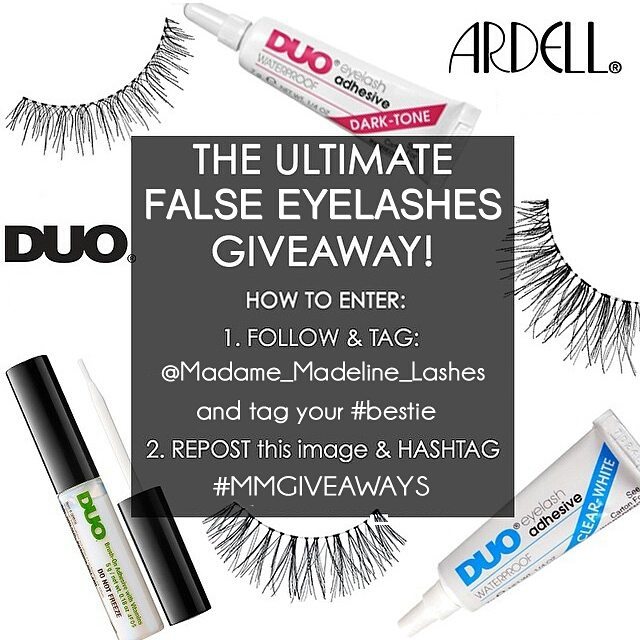 💟 GIVEAWAY TIME!!! 💟

The Ultimate False Eyelashes Giveaway 💕

We are in the giving mood!@Madame_Madeline_Lashes on Instagram

TEN (10) Lucky Winners have a chance to win $50 dollars worth of Lashes & DUO Adhesives in this ultimate False Eyelashes Giveaway!

You also have the choice to choose your winning selections from our other popular brands, including Ardell, Andrea, Bullseye, DUO, Gypsy, Kiss, Lash beLong, Miss Adoro, ModelRock, Ooh La Lash, Red Cherry, Revlon, Sherani and more.
See entire selections at www.Madame-Madeline.com

HOW TO ENTER: 👇
✅ 1. FOLLOW & TAG: Follow@Madame_Madeline_Lashes and Tag your #Bestie in the comments below
✅ 2. REPOST this image and HASHTAG#MMGIVEAWAYS
✅ 3.  ADDITIONAL ENTRIES: Repost this image to Facebook or Twitter and HASHTAG#MMGIVEAWAYS

1 entry per person. Instagram profile MUST be public at end of giveaway. Madame Madeline will randomly select (10) winners from the entries submitted that follow all criteria. Giveaway starts Friday, January 29th 2016 and ends Monday, February 11th 2016. Winners will be announced February 12th 2016. Please ask your parents permission if you're under 18.

For rules details, visit https://www.instagram.com/p/BBIWoujgBhx/?taken-by=madame_madeline_lashes
#falseeyelashes #giveaway #free #follow #tag #mmgiveaways #falselashes
[ Update: This giveaway has ended. See winners here. Make sure to follow us on Instagram @madame_madeline_lashes for future updates and giveaways!