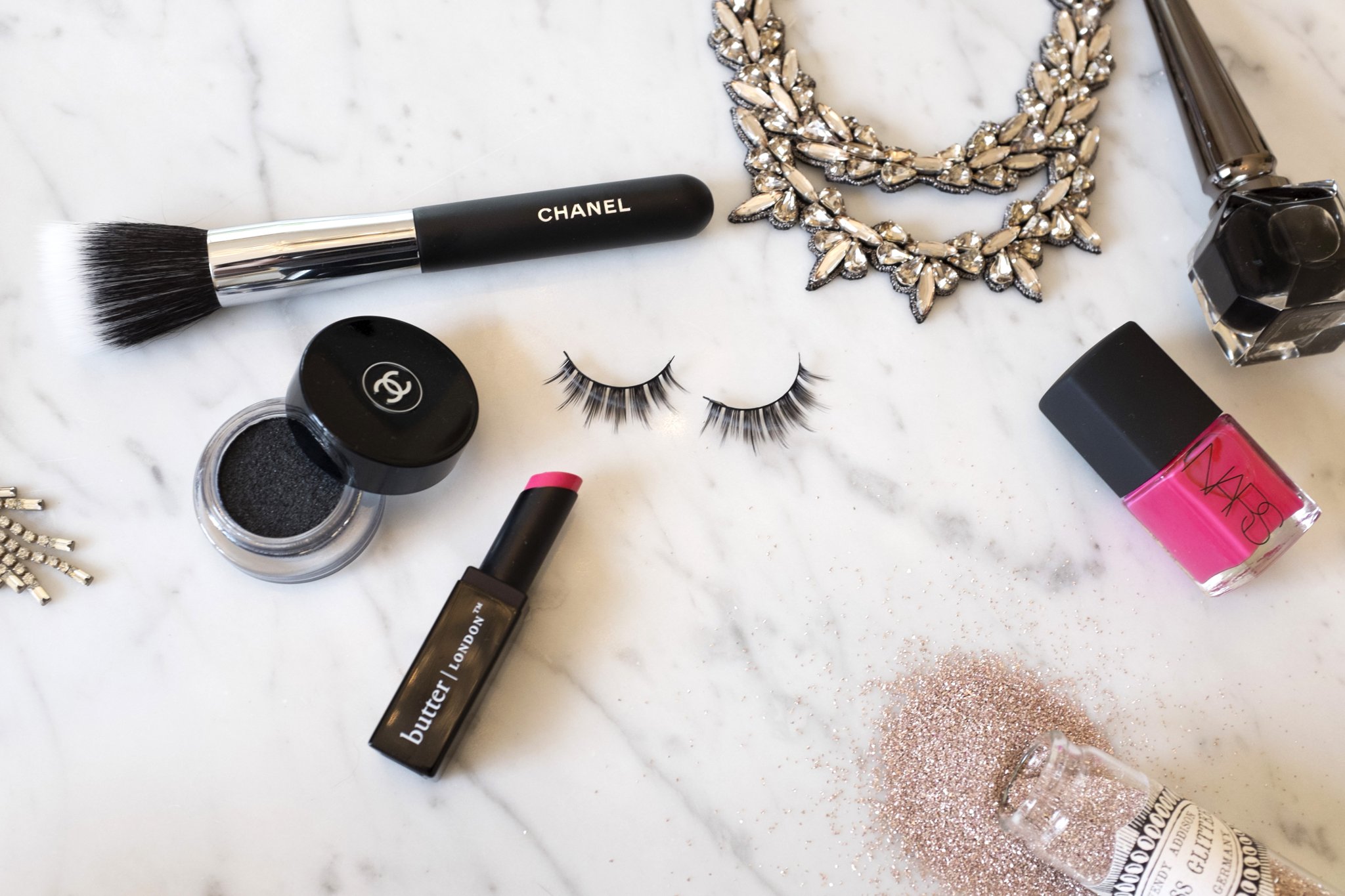 So I hear many of you have trouble applying false lashes.
You hear horror stories about adhesive and about smeared eye makeup that occurs right before a night out to party or am important date. I also see pictures of some of you at a major business event or at a red carpet and see your lash hanging on for dear life by a thread.
Well your in luck!  I would like to help you learn to apply falsies the right way.  Mostly because you deserve to have beauytiful lashes. And secondly, if you know how to do it yourself, then I won't really have to.
Try not to misunderstand me, I completely cherish how a full arrangement of eyelashes can change a lady's look. I generally support my customers, particularly the individuals will's identity shot, to have lashes applied. So in case that I never needed to stick on another lash, I would be excited.
Any beauty expert and makeup artist who lets you know that he or she appreciates doing lashes is lying your face. We as a whole joined this calling since we adore the enchantment of makeup. We appreciate applying skin care and color to make your assets sparkle. We are artists and we cherish attempting new items and strategies; we love finishing a wonderful look; we love the "before" and "after." I don't consider any us are getting up in the morning and saying, " I really can't wait to stick objects slathered in crazy glue into women's eyeballs. That's not the way we see it.
There is something in me that tells me a lot of you are all making the same mistakes, which really is not letting you apply lashes the correct way
Here are 6 things that you need to stop doing to make life a whole lot better! ( And mine as well:)
1. Buy the right lashes for you
You don't need to spend a whole bunch of money on fancy and expensive lashes. Most artists I know usually use cheap lashes that can be found at any drugstore. So brand is not a big deal as much as the style.
The eyelash section of a store can be exceptionally overpowering as there are such a large number of decisions. Try not to be enticed by that gigantic overdramatic lashes. You are most likely not prepared for those. These overwhelming lashes look fun, yet this entire attempt can get to be distinctly similar to "the smoky eye." You like it in principle and you like it on superstars on Instagram, yet likelihood is high that you won't care for it on yourself. Begin little. In normal day to day, less is more! This is a concept I subscribe.
When you are first learning, it is a great idea to stock up  a few cheap lashes in different lengths and styles to try to figure out which best suits you. My personal favorite is the Ever EZ Trio lashes by Kiss . They are small little clusters of lashes that you can easily pluck onto your lash line with a pair of tweezers.
The awsome thing of these is that you can get a natural look with only two clusters or truly heap them on for dramatization. They are less demanding to maintain than a full strip. You can really perfect your art by using these for practice.
2. Your are using the despicable glue that came with the lashes
When you open up your falsies, inside you will find a little tube of "lash adhesive."  Make sure to throw that thing away. When you purchase your lashes, you will need to also purchase DUO lash glue. Which is much better.
It comes in clear, white, gray, or black. They are all great, but I like the white. You can see it when you are applying the lash and it dries clear. dou will ensure is that you won't have lashes hanging off of your eyeball at your photograph shoot. I have been known to cry, work out, and shower  while wearing lashes followed with DUO adhesive.
3. Don't use glue when its cold and thin
The moment you open up your lashes and start this procedure, the main thing you ought to do is squeez out a bit of adhesive onto the plastic lash holder. Give it a chance to sit for a moment time you apply eye base to your cover.
The adhesive needs to warm up and begin to solidify a bit. As it thickens it will be less demanding and it will stick faster to your lash line without slipping and sliding everywhere on your top.
4. You are squirting glue from the tube directly onto your lashes
Avoid doing this! Work from your little adhesive puddle utilizing a pointy cotton swab. Dunk the swab into the adhesive and tenderly coat the band of the lashes with simply enough adhesive to cover it. This won't look like a bunch of glue , however it is enough to take care of business. A typical mistake is squirting adhesive from the tube. You wind up with an abundant excess, and once more, you will discover the lashes slipping and sliding everywhere.
5. Don't use your fingers
Using your fingers works very well once you are an expert,  but if you are just figuring this all out, using tweezers really helps. The tweezers will help you to gently lift the lashes out of their container without messing them up  and then you can easily pop them as close as possible to your natural lash line.
These 5 tips should really help you . Individuals ask different questions like, "Should you put on your eye makeup before or after lash application," or "Should you apply mascara to the false lashes?" There are no standards. Rehearse distinctive techniques and see what works best for you.
6. Try cutting full strip false Lashes
False lashes are so much fun and they can change your whole look. But you may not be too comfortable to apply them, things can get quite lamentable. The vast majority utilize strip lashes which cover the whole lash line. You can also purchase 3/4 lashes which are my top choice. With strip lashes, it can be somewhat difficult to get them to bend correctly so they take after the bend of your eye. But if they don't bend appropriately it can make them significantly more prone to lifting along the edges. That usually will mean that through your day you'll either need to reapply or you'll be jabbing the lash ends into place which doesn't look great. Yet, there's a simple solution. You should simply cut the lashes into pieces before you apply them. This will  help in case you're not acquainted with applying lashes as it's much more simpler to place pieces than it is to put a whole strip.
Really all you need to do is get some scissors and cut the lashes into thirds. You'll likely lose a couple lash strands however simply slice the band to ensure you won't lose too much. Here is how to apply them. We will do the center first since it's less demanding. Apply a thin line of adhesive to the lash band and delicately put it to the center of your eye closest to the  lash line. Next apply the inner corner one and then external corner. In case  that you have never applied false lashes in the past, it's smart to wait until every segment is dry before applying the following one.
This is because you don't want to ruin the section you just did by bumping it with the next one. Experiment with different types of adhesives as well because some work better with different skin types. I'm actually allergic to a lot of different glues so the one I use is lash grip eyelash adhesive waterproof. Once the glue is completely dry go ahead and add a coat of mascara or you can pinch them your natural lashes to make sure everything looks smooth and natural.
And  that's it really. It does take a little practice and patience but it's do-able. If you liked these lash pro-tip, chances are you'll like our others too. Subscribe to this blog then check out www.MadameMadeline.com for hundreds of beautiful, head-turn false lashes.
One last suggestion: after all of this hard work to prep for a hot date , or a night out with the gals, wouldn't it be great to have these bombshell lashes on for Sunday brunch or maybe even for that Monday morning meeting?  Learn to sleep on your back!