1)
First you need to select the correct style that would fit that *look* that you are looking for. You can buy them here at our website…please make sure you pick the correct color.
2)
Before you put the lashes on, decide whether you will need to trim the length so that it fits the width of your eye. Remember, for demi lashes (eg #101 demi, 120 demi, etc.), the strip is shorter than regular Ardell Fashion Lashes. If your false lashes feel uncomfortable, then the strip is probably too long and needs to be trimmed.
3)
Pick the correct glue before applying the lashes. Ardell LashGrip , Sherani, and DUO Surgical Adhesive are, in my opinion, the best lash glues on the market. Skip those low quality, grade *cheap glue* because they can contain irritating ingredients. Note: Please do not use Duo Adhesive if you are allergic to "Latex."
4)
Use the wide end of a flat toothpick and squeeze a small drop of glue onto the tip. Then, take the strip of lashes and glide the glue from one end to the other. Next, using a pair of tweezers, gently place the lashes right above your lashline. Use a cotton swab, wipe off the excess glue.
5)
After the glue has dried completely, apply a thin line of eyeliner over the lashline (the base of your real or fake lashes) and the dried glue to help disguise the strip.
6)
Remember, practice makes perfect so be patient. It might take you a few tries before you get it down. :D
Below are some tips about mascara use from a poster (Thank you Kay). A must read for mascara users:
Kay wrote:I am a PROFESSIONAL MAKE UP ARTIST with a well know Rodeo Drive Makeup studio in Beverly Hills..............When applying lashes DO NOT, I repeat DO NOT apply mascara to your own eyelashes or put eyeliner on before the lashes. Big ugly mistake if you should accidentally sdmudge the glue or wet eyeliner when applying the lash. ONLY apply the mascara after the fake eyelash is secure, inplace and the glue is completely dry. Then coat the lashed with ONE medium layer of mascara. The mascara will act as a second "glue" and hold the fake lash to your real lash. After the mascara is dry, use a dry brush, a toothbrush is terrific for this and upsweep your lashes only two to three times lightly to clear and seperate the eyelash. Beleive me I have shown and taught many celebrities the art of fake eyelash application. You do as I mentioned and you will have what appears to be completely natural, uncluttered lashes. This is the best way to apply them!
Not sure which STYLE of Ardell false lashes to choose? Check out the brochure below: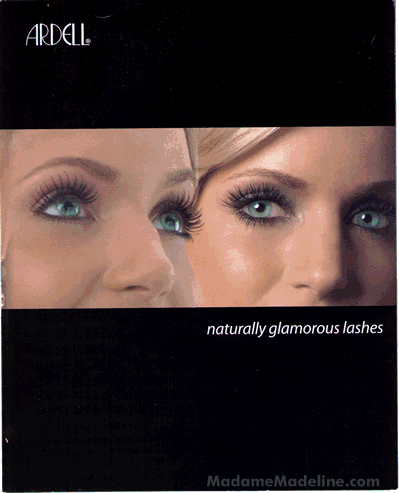 For another version of strip lash application instructions, visit post by Grace at
http://madamemadeline.com/forum/viewtopic.php?p=2737#2737