Good new :mrgreen: ! Andrea individual lashes are here!
Product: Andrea MOD PermaLash and MOD PermaLash Naturals
Description: ANDREA individual lashes, MOD Perma-Lash and MOD Permalash Naturals, are used the world-over by celebrity make-up artist, celebrities, high fashion models and beauty conscious consumers looking to update their look. Permalash individual lashes are made with sterilized, 100% human hair and are individually hand made and trimmed by trained technicians.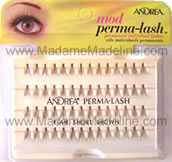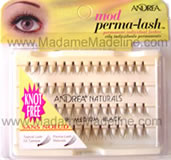 Andrea lashes are the similar to Ardell Duralash individual eyelashes. The only difference is the brand name:
Andrea Mod PermaLash Flare lashes = Ardell Duralash Flare Lashes
Andrea Mond PermaLash Naturals = Ardell Duralash Naturals
Find Andrea lashes at
http://madamemadeline.com/online_shoppe/categories.asp?cat=25