MadameMadeline.com would like to say THANK YOU for entering our #111LashesContest giveaway contest. Below are some of the contest details so you can make sure you give yourself the best possible chance to win!
Our next winner will be announced on December, 29 2017 both on our Facebook Fan Page on the date of drawing and via our Newsletter!
This includes 111 pairs of brand name falsies lashes completely FREE deliver to your door from our eyelash selections from brands including Ardell, Andrea, Bullseye, Gypsy, Kiss, Miss Adoro, Red Cherry or Revlon. You get to pick the styles you like!
Look out for our emails which will contain more ways to increase your chances to win as well as our other regularly held contest details. Make sure to "whitelist" our email address (info@madamemadeline.com) so you don't miss what we send you.
🙂 Sharing on social media will increase your chance to WIN by reposting the contest image (here) and hashtag #111LashesContest on Facebook, Twitter and Instagram!
🙂 Increase your chance of winning by going to madamemadeline.com and FIND any lash product you would like for free and POST a picture of this product in the comment section of the contest image (here) and hashtag #111LashesContest. We will also pick a winner randomly each week from the product picture posted in the comment section and send the winner the posted product for FREE!
If you haven't done so already make sure to share/repost contest image (here) on social media and also to post a picture of the product you like in the comment section of the contest post (here).  Also share on your facebook wall and tag a friend or lash enthusiast so your friends and follow lash enthusiasts can enter!… Just copy and paste the below message to your Facebook wall
I just entered the 111 FREE Lashes Giveaway Contest! You can too just visit them online at bit.ly/win-111-lashes
Don't miss out! The easiest way to know if you won the contest is to be connected with us! Connect and follow us for additional giveaway contests and more ways to win! Here's how you can connect with us right now –
Become a Facebook Fan (if you're not already) – 
Follow us on Twitter – Follow madamemadeline Follow @madamemadeline
Follow us on Instagram – Follow Our Instagram
All of these things will increase your chances of knowing if you win the 111 falsies lashes giveaway contest plus help you stay connected with us for additional promotional offers and freebie giveaways!
Our Past Contest Winners…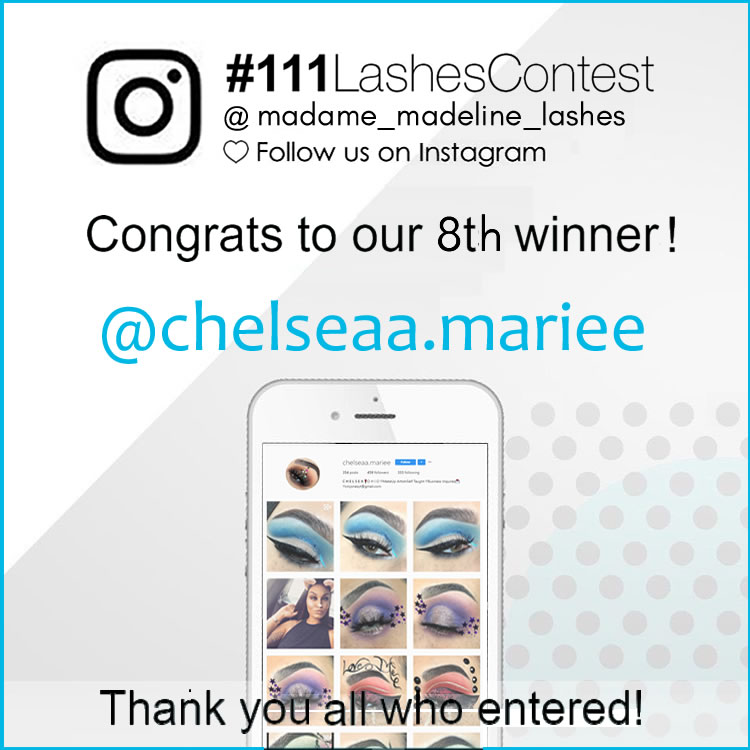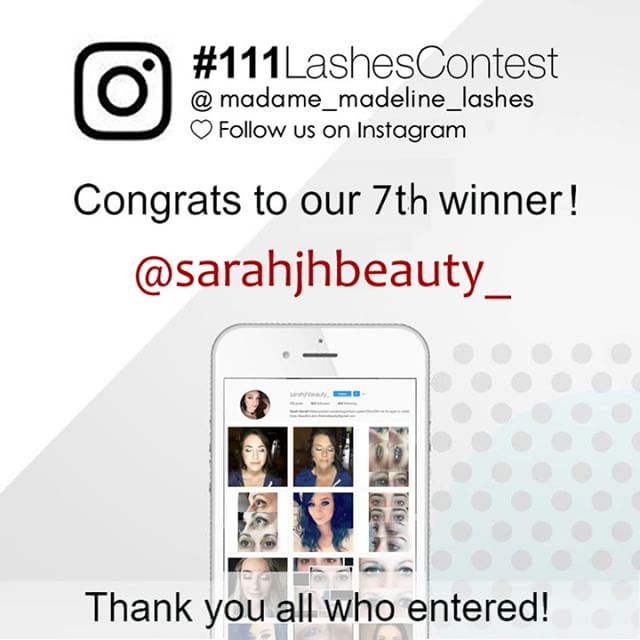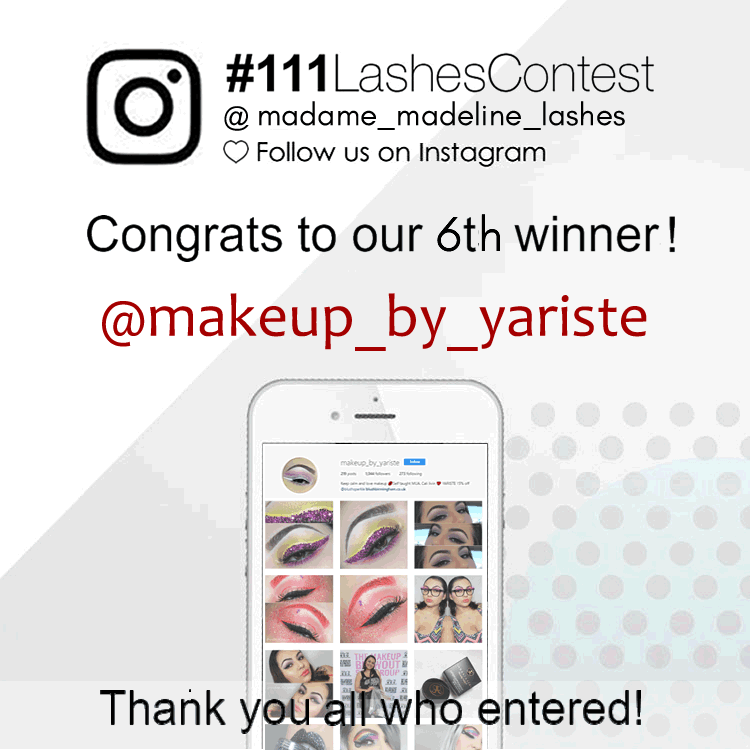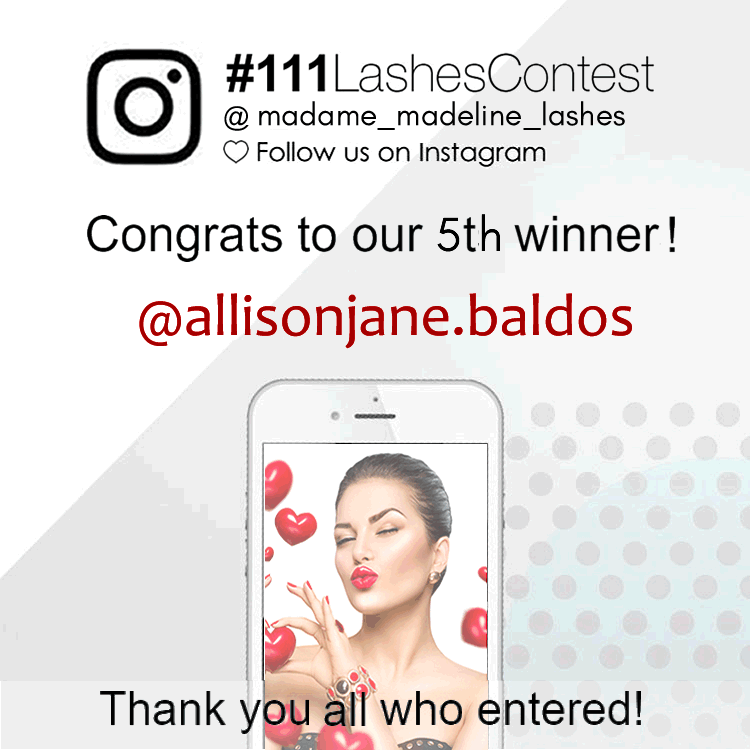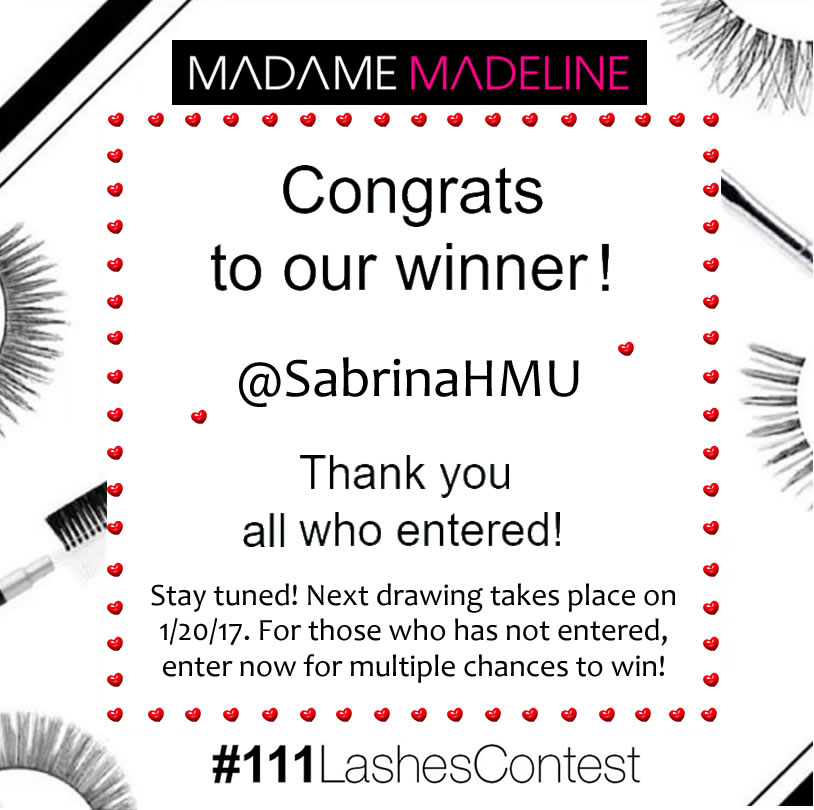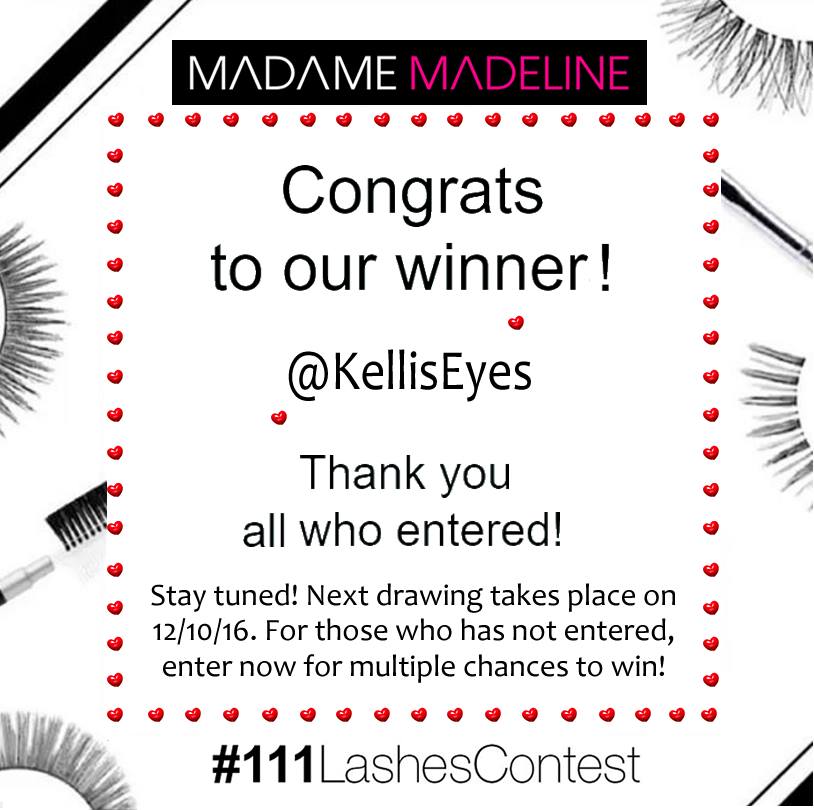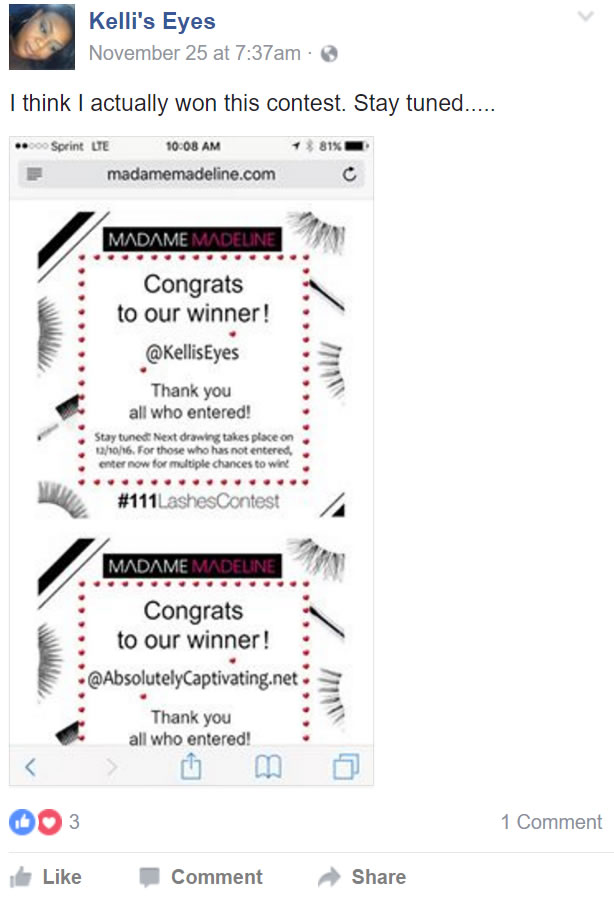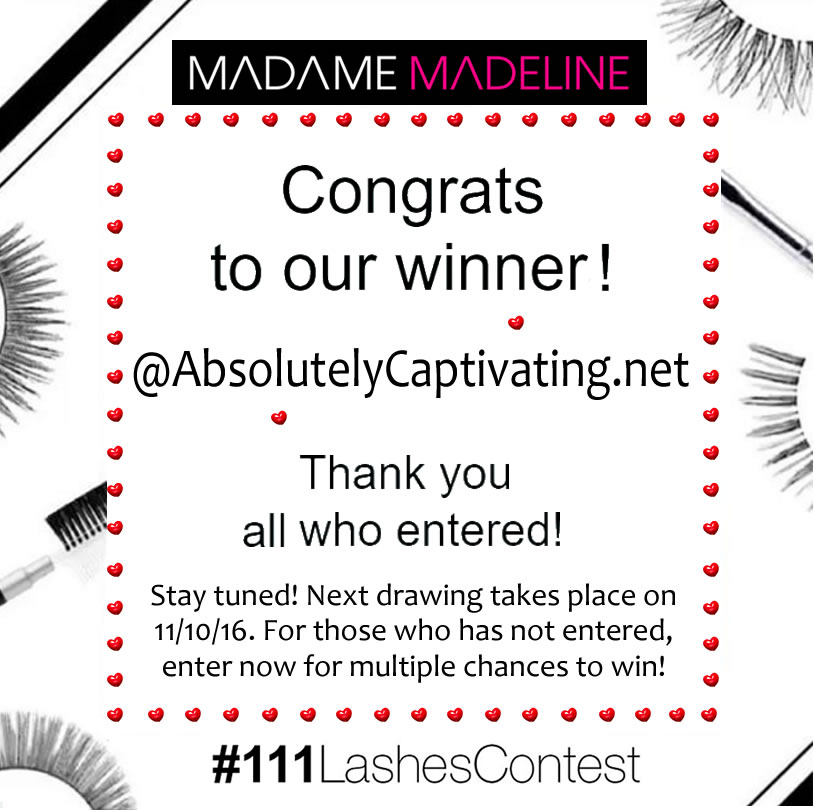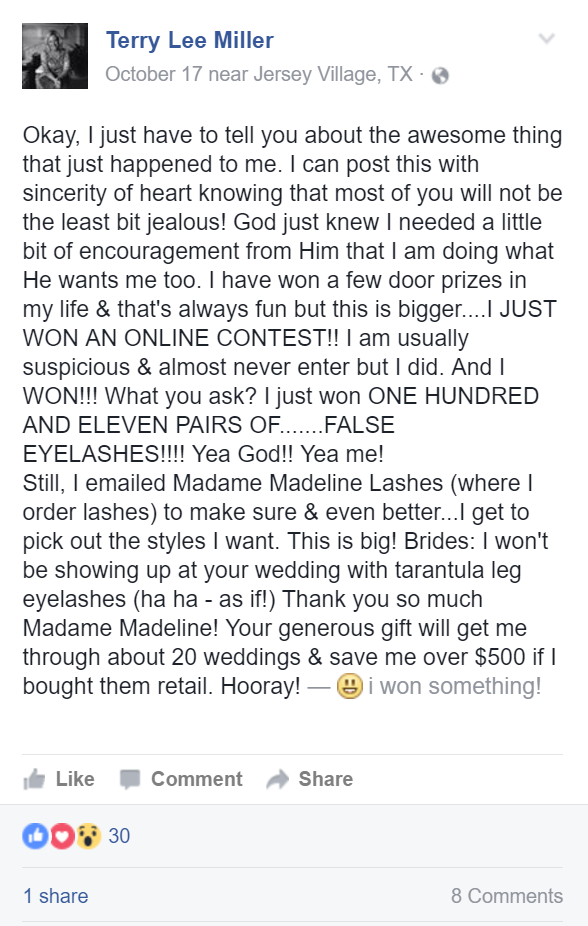 Exclusive Subscriber offer below.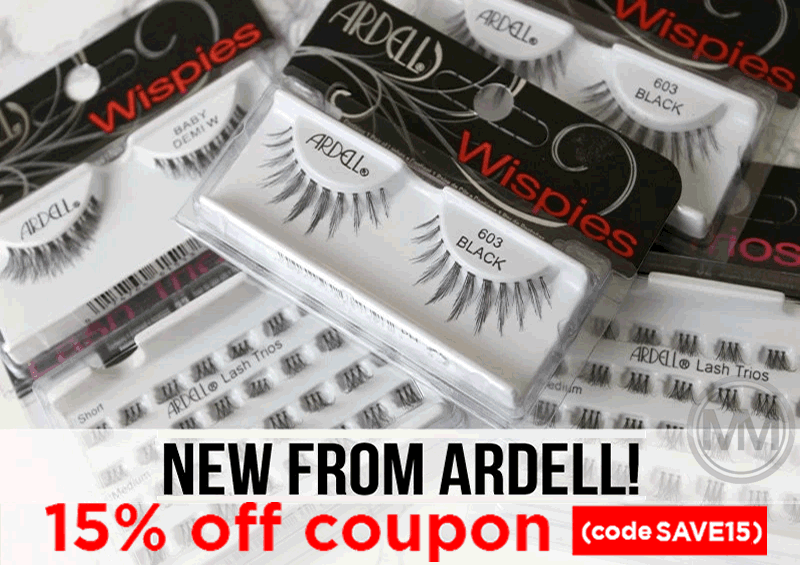 Enjoy 25% off @MadameMadeline best selling Ardell strip lashes until the end of Month, yay! 💕 https://t.co/t344cgwcz4 (use code SAVHUGE) pic.twitter.com/b3GOUiJmJj

— ALL False Eyelashes (@MadameMadeline) October 26, 2017